Over 200,000 people light up Bucharest's Victoriei Square in biggest protest Romania has seen in years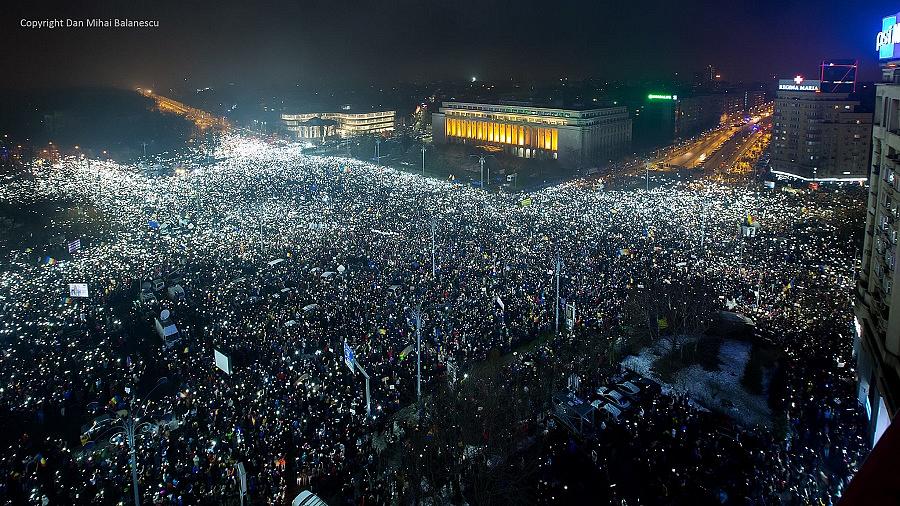 More than 200,000 people lit up their mobile phones in Bucharest's Victoriei Square at 21:00 on Sunday evening, in the biggest anti-Government protests Romania has seen in the last 25 years. This amazing photo was taken by Dan Mihai Balanescu, a local photographer who has managed to capture the amplitude of the protests taking place these days with his aerial shots of the square.
Although the Government repealed on Sunday the controversial emergency ordinance that weakened the anticorruption fight in Romania, which got hundreds of thousands of people to the streets in Romania in the past five days, the protests continued for the sixth day in a row, setting new records.
See PSD leader Liviu Dragnea's answer to the historical protests in Romania targeting his Government and party.
The square in front of the Government's building in Bucharest was so full that the subway trains couldn't even stop in the Victoriei Station any more. The boulevards around the square were also full. Videos of the square lit up at 21:00 like this one became viral on Facebook.
Here's another one uploaded by Romania's public television TVR1
And another one by Stirileprotv.ro
Besides the 200,000 people in Bucharest, or even 250,000 according to some estimates, there were 40,000 people in the streets in Cluj-Napoca, 37,000 in Timisoara, 33,000 in Sibiu, 30,000 in Iasi, and thousands in other cities, according to local Digi24.ro.
The protesters now ask for the Government's resignation. However, Prime Minister Sorin Grindeanu said on Sunday evening that he wouldn't resign and that the only way his Government can be removed is if the Parliament votes a no-confidence motion against it.
Update: At 22:00, the crowd in Bucharest's Victoriei Square reached almost 300,000 people, according to Romania's public television TVR. Moreover, there were 50,000 protesters in Cluj-Napoca, and 40,000 in Timisoara, and close to 600,000 all over Romania. The country hasn't seen such ample protests in the last 25 years.
editor@romania-insider.com
Normal