Writing in Europe's best kept secret place: Expat authors move to Romanian mountain village, plan workshops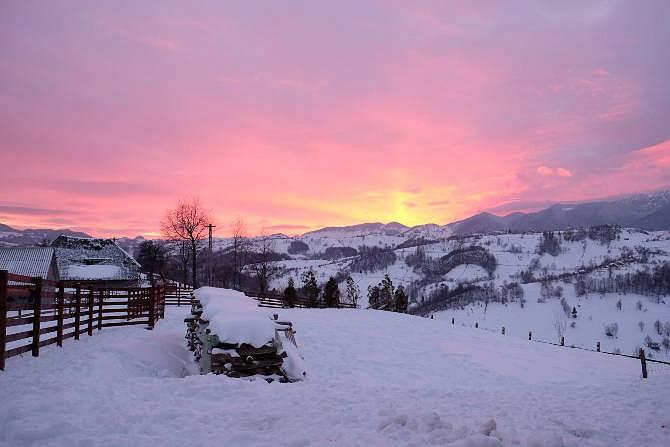 Three expats who decided to settle in Romania, and a Romanian who returned home after years as a global nomad welcome writing aficionados in an idyllic place in Romania's mountains.
An English writer, his Romanian publisher-wife, and two other expat writers in Romania strive to show foreigners and Romanians alike the beauties of Transylvania while helping them hone their writing skills. The four organize writing workshops in English, both for foreigners and for Romanians, in Magura, a village in Transylvania where three of the writers live. For the first workshop, they have already had inquiries from people from the US, Lebanon, and even Venezuela, Mike Ormsby, one of the organizers, told Romania-Insider.com.
Ormsby, the author of a short story collection called 'Never Mind the Balkans, Here's Romania', and his wife Angela, along with writers Philip O'Ceallaigh and Arabella McIntyre-Brown will welcome writing aficionados in the mountain village of Magura, near Bran, for two workshops, this spring and this autumn. The first writing holiday will last five days in the beginning of May, with the 12 participants encouraged to enjoy the rural retreat: discover the Bucegi mountains, relax, write, try the local food or just do yoga in their free time.  The team of four plan a similar week-long workshop in October 2015.
Ormsby and his wife moved to Magura in the summer of 2014, after first discovering it in 2008, as tourists. "We have lived in 18 countries in the last 17 years, including five years around Africa. So, as global nomads, we did have many options and we considered settling in some of those countries. But, all things considered, we prefer Romania," Ormsby told Romania-Insider.com.
Now they live in Magura with their four street cats brought from Baku. Life's not easy in Magura: it takes them 40 minutes to drive to the nearest shop, down hairpin bends, through thick forest. "In late December, heavy snow cut the village off and we did not leave it for a month. On Christmas Eve, ferocious winds blew down twenty meters of our fence, uprooting concrete plugs and posts," says Mike Ormsby. However, the couple loves the place, which they see as one of Europe's best kept secrets. "The quality of life is high, all year round: the light constantly changes, the mists are spectacular, and, most days, the only noise we hear are bells on sheep. Hmm... at night, our two dogs bark a lot, but that's their job!" the British writer goes on.
Angela and Mike, who've been together for 20 years and lived in many cities around the world, now enjoy the clean air and the incredible views of Magura. "We've made some good friends here. Local farmers have excellent produce - fresh milk, cheese, eggs, fruits and vegetables."
Bucharest was not an option for them. "We have lived in too many cities and wanted somewhere quiet." They are now neighbors with Arabella McIntyre-Brown, also a trainer in their program.  But the Romanian capital was the option for Irish writer Philip O'Ceallaigh - we wrote about Philip here.
The four writing coaches are also friends, and share a passion for – and make a living from - writing. "If all goes well, we will be looking for other speakers in future - there is lots of writing talent in this country, local and foreign," says Ormsby.
Upon the launch of his short story collection, the Romanian media dubbed Mike Ormsby "our British Caragiale", after the famous Romanian satirist.  A former BBC World Service journalism trainer, Ormsby believes writing takes time, passion, and commitment. "Many people feel they have a book inside them - we hope to bring it out! "
His wife Angela has been a broadcast journalist since the early 90s, and has lived and worked in 17  countries, including five  years in sub-Saharan Africa. She founded the Nicoaro publishing house, and both her and Ormsby are currently working on their books.
Irish writer Philip O'Ceallaigh, best known for his Notes from a Turkish Warehouse stories, is an essayist, critic, journalist, editor and translator currently living in Bucharest. His translation from Romanian of Mihail Sebastian's For Two Thousand Years is forthcoming in the Penguin Modern Classics series.
British author Arabella McIntyre-Brow moved to the village of Magura five years ago, leaving behind a career of 20 years as a business journalist and a decade of working in the arts.  She is now a freelance editor and writing a non-fiction book about life in the Transylvanian village.
The five-day writing holiday in May costs EUR 595 per person and includes half board and twin – shared accommodation at a guest house owned by a German /Romanian couple in the village of Magura, course fees, and the afternoon yoga. The course, named Write in Transylvania, will cover fiction, non-fiction, editing, and self-publishing.
Corina Chirileasa, corina@romania-insider.com
(photo source: www.writeintransylvania.com)
Normal