Unconventional Bucharest apartment building, shortlisted for prestigious European architecture award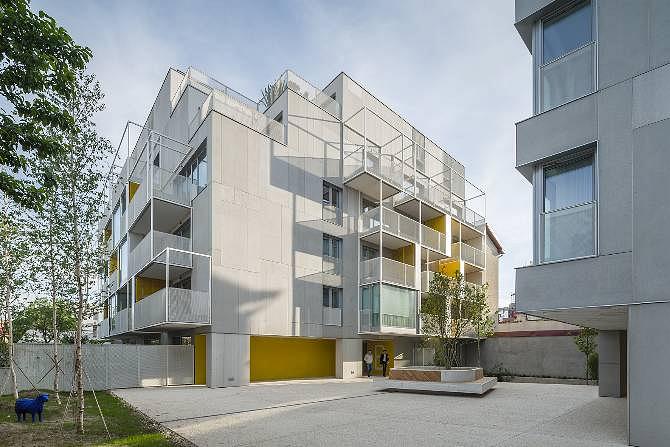 An apartment building in Bucharest is on the short list for the Mies van der Rohe  architecture prize for 2015 – the most prestigious architecture competition in Europe.
The building, called Urban Spaces and designed by the local architecture studio AND, is one of the only two residential projects shortlisted, among the 40 projects that made it to this stage. Only five of these will go to the final. Their names will be announced in London, at end-February, and the winners, in Barcelona, at the start of May.
The apartment building in Bucharest, located on Dogarilor street, 'tries to mediate between different sizes and densities, in a quite central neighborhood characterized by small streets, long, narrow plots and a puzzle of old and new buildings of all types and scales," according to the Romanian architects. The team that worked on the project is made of Andrei Serbescu, Adrian Untaru, Claudiu Forgaci, Valentina Tigara, Bogdan Bradateanu, and Simina Ignat.
Most of the apartments in the Bucharest project are different from one another, not only in size, but especially in typology: "they range from studios to four-bedroom apartments - each one of them laying on one, two or even three floors and having private courtyards, balconies or terraces of different sizes.," the architects say. "They all are complemented by several indoor and outdoor common spaces (terraces, party room, large halls etc.), while the ground floor offers several commercial spaces and ateliers to rent, towards the street and the inner courtyard."
The building consists in 77 apartments, and features 50 different types of flats. It is not the first time the project is shortlisted for a prestigious prize. It also made it to the short list of the World of Architecture Festival, and won the Bucharest Architecture Annual in 2014.
Salzburg Investments Group  built the Urban Spaces Concept Apartments, which it finalized in 2013. It invested some EUR 7 million in the project, which was brokered by Green Angels real estate consultancy, together with the real estate developer.
The full list of projects shortlisted for the award is here.
(photos by Cosmin Dragomir)
Normal