Top speakers come on stage at Sustainability Meets Profitability event on March 22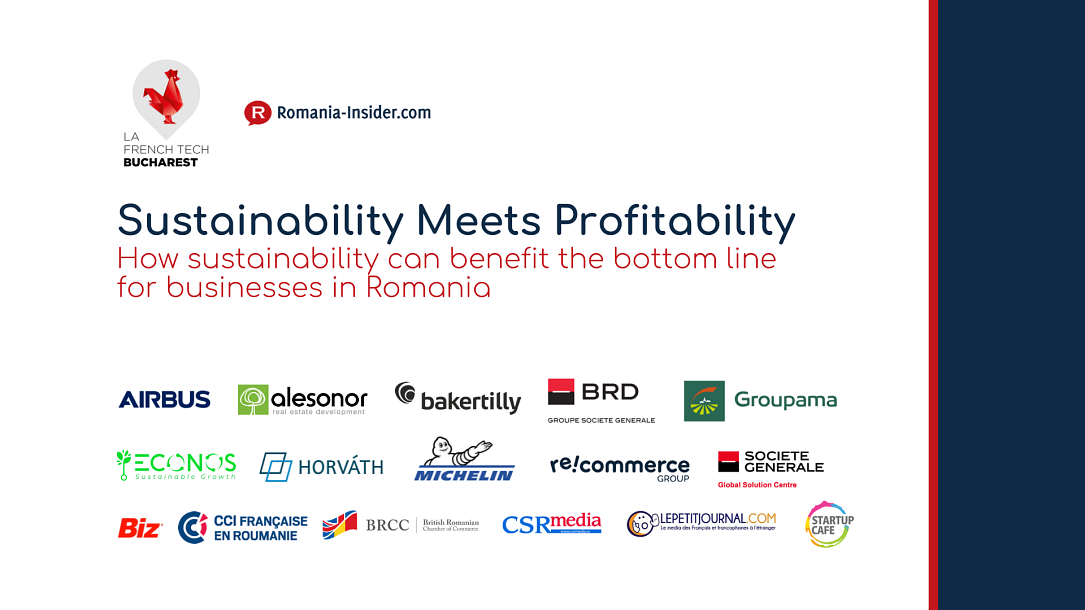 Top managers in large companies, startup founders and experts will share their experience on how sustainability can benefit the bottom line for businesses in Romania at the Sustainability Meets Profitability event on March 22, stating 18:30.
The event is organized by Romania-Insider.com together with La French Tech Romania and takes place in the cinema room of Luceafarul Hall (former Cinema Pro) in Bucharest.
Challenging macroeconomic conditions, shifting regulations, and increasing stakeholder pressures are stretching businesses to their limit. In this context, both small startups and large corporations must shift their attention to strategies and investments that meet new and increased sustainability demands to secure their long-term survival, while also delivering short-term growth and profits to shareholders.
On March 22, we will cut through the buzz and put the focus on real-life perspectives and challenges surrounding sustainability!
16 top speakers will join us on stage to talk about the new sustainability requirements that companies – small or big – must meet, and how they should cope with these new rules.
The speakers are:
Alex SKOURAS – Co-Founder & Managing Partner, Alesonor/ Amber Forest
Alexandra VOINEA – Co-Founder & COO, hello MOTUM
Augustin BECQUET – CEO, Recommerce Group
Corina CHICU – Marketing Director for Europe Central South, Michelin
Eric STAB – Managing Director Europe & AMEA, Global Networks at ENGIE - Chairman & CEO at ENGIE Romania
François COSTE – CEO, Groupama
Georges DURDILLY - Managing Director, Airbus Helicopters Romania & Head of Country Romania, AIRBUS
Ioana BOTEZATU – Head of CSR India and Romania, Societe Generale Global Solution Centre
Leonidas ANASTASOPOULOS – Co-Founder, Alesonor/ Amber Forest
Maria ROUSSEVA – Deputy CEO, BRD - Groupe Société Générale
Monica IOANNIDOU POLEMITIS – Director, Strategy & Management Consulting, Baker Tilly
Oana GROSANU – Executive Director, Ambasada Sustenabilității
Serge GONVERS – Country Managing Partner, Baker Tilly
Teodora GHENCIU – Founder, eEco
Yadine LAVIOLETTE - Environment & Sustainability Marketing Manager, AIRBUS
Zsuzsa BERESCHI – Senior Project Manager, Horváth
Laurence AUER, Ambassador of France in Romania, will join us as a Special Guest in the opening of the event.
The event's host and presenter is Grégoire VIGROUX, Serial Entrepreneur & President - La French Tech Bucarest, and the panels will be moderated by Marius ISTRATE, Angel Investor, Ex-Chief People Officer, UiPath.
After the panels, the event will continue with a networking cocktail.
Registrations for the event are still open at this link.
The event's partners are: Airbus, Alesonor, BakerTilly, BRD Groupe Société Générale, Chambre Française de Commerce, d'Industrie et d'Agriculture en Roumanie, British Romanian Chamber of Commerce, Econos, Groupama, Horvath, Michelin, Recommerce, Societe Generale Global Solution Centre, AM Social Space, Domeniile Averești, Les Amis de la Fête, One Beer Later.
Biz Magazine, CSR Media, Le Petit Journal Bucarest and Startup Café in Romania are media partners.
About Romania-Insider.com
Launched in March 2010 by a small team of local business journalists, Romania-Insider.com has grown into one the most-read source of English content on Romania, with over 2 million unique readers annually.
Currently, with a team of five journalists, we keep the world informed about business, politics, and life in Romania - with over 400 news articles, features, and interviews that we publish every month and 14 free and premium newsletters.
Romania Insider's goal is to spread the word about Romania to the world and help Romania Insider readers make informed decisions.
The readership base include expat top managers, entrepreneurs, foreign investors, analysts and experts from international financial institutions, foreigners interested in Romania, and Romanians living abroad.
About La French Tech
La French Tech is an initiative launched by the French government in 2014, to create a snowball effect that propels tech startups' growth, in France and across Europe.
What started as an accreditation idea to be given to French cities with a booming startup ecosystem, has now become an international brand, with communities in 100 cities worldwide.
In Romania, La French Tech has 500 members locally, mostly tech entrepreneurs and corporates.
In Romania, it represents 15 board members, dedicating their time, experience and connections as volunteers, to help startup entrepreneurs in need of guidance and business connections.
In Bucharest, la French Tech holds ten major business events annually around technology, entrepreneurship, female leadership and sustainability.
- This is a Press Release.
Normal