Thousands protest in Romania against ruling party's criminal code changes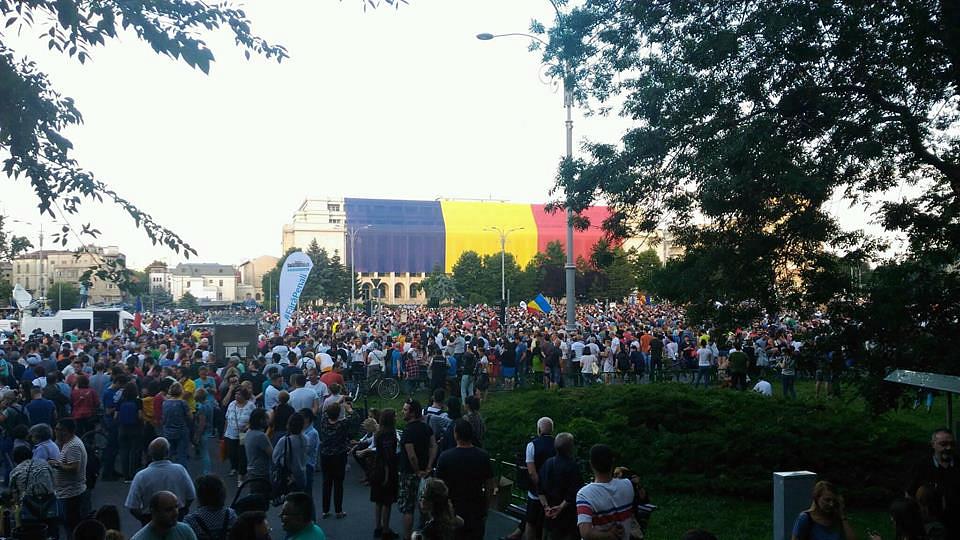 Around 10,000 people protested in Bucharest on Sunday evening, June 24, while thousands more took to the streets in other big cities in the country, such as Timisoara, Cluj, Sibiu and Iasi. They are mainly unhappy with the plans of the ruling Social Democratic Party (PSD) to change the criminal codes and fear that the Social Democrats will try to pass these changes by Emergency Ordinance (OUG), which would accelerate the adoption procedure.
The protesters believe PSD will try to change the criminal code as soon as possible, especially the provisions related to the abuse of office offense, for which the PSD leader Liviu Dragnea was recently sentenced to three years and six months in prison. Dragnea himself said late last week, after the High Court's ruling, that he was wrong to try and pass these changes through the Parliament and that the Social Democrats will be "more firm and radical" with what they have to do.
Protests have been taking place in Bucharest and other major cities almost every day since early last week, when the Chamber the Deputies passed the controversial changes to the criminal codes in a late evening vote. Then, the protests intensified after the High Court announced the prison sentence for Liviu Dragnea, with the protesters demanding the resignation of Dragnea, who is also the president of the Chamber of Deputies, and of the prime minister Viorica Dancila. However, Dragnea said he would not resign.
PSD previously tried to change the criminal code and decriminalize abuse of office through a Government Ordinance in January 2017, only one month after winning the parliamentary elections. However, the government repealed the Ordinance before it came into force, after massive street protests.
Deputy prime minister Paul Stanescu said on Sunday that the law should not be made by those protesting in Bucharest's Victoriei Square. Moreover, he added that the protesters should understand that PSD won the elections and if not, "we must force them to understand it, with the necessary quotes," local Hotnews.ro reported.
Meanwhile, the opposition party Save Romania Union (USR) called people to yet another street protest on Wednesday, June 27, when the vote on a no-confidence motion against the government will take place in the Parliament.
Irina Marica, irina.marica@romania-insider.com
(photo source: Uniunea Salvati Romania - USR on Facebook)
Normal