The restless business hunter with an eye on the future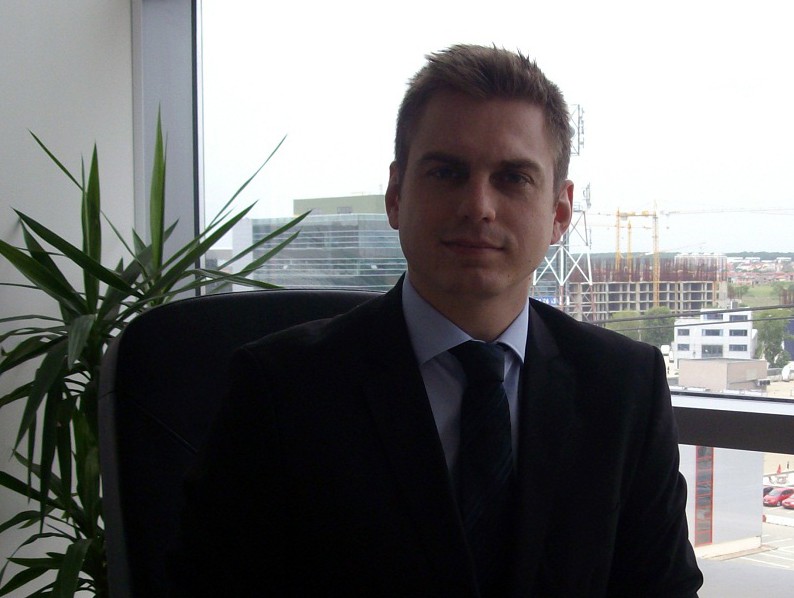 He was a high school athlete who changed paths and eventually became an entrepreneur. A business hunter, Gregoire Vigroux seems to always be in competition with himself and at all times to think about the next step. He chose to start his first business in Romania and, at 30, Gregoire already has a rich story to tell. We were there to learn it, so here it is.
By Corina Saceanu
Gregoire Vigroux says he's pragmatic and ambitious. And when he talks about his life so far, about his projects, it becomes obvious that he has these qualities. Gregoire set up a call center three years ago in Romania, together with a former business school colleague, although they didn't have experience in the sector, at a time when the competition was high on the segment and after many had told them they wouldn't succeed from scratch in Romania. His passion for CallPoint Romania - the business he had set up together with Yann Bidan - has helped him win several battles and get big customers along the way.
During the interview Gregoire talks fast and in detail about his business and about the path that brought him here. He seems unresting and full of energy – from the too many coffees he had during the day, he says. This is a habit he started in the early days at CallPoint, when they were working seven days a week and coffee was their fuel.
To understand how and why Gregoire succeeded in business so far, going from a small firm selling underwear over the phone to people in Germany, with 10 people in 2007, to a multilingual call center with 200 people and big accounts in 2010, you need to know a few things about his past.
In high school, he used to be an athlete. He used to run for the French National team. Back then, he was training for three hours a day and his goal was to go to a school which combined sports and studies. But he realized that if he was to take that path, he would have had a good situation for a couple of years and that was it. So he stopped competing as an athlete when he was 19 and chose school instead. He kept practicing sports and even now he's spending most of his week-ends at the gym, where he gets most of the good ideas for business.
Gregoire went to a business school and studied international management in France. In his third year of study he chose to go to New Zealand and study there for a year. "I just wanted to go as far away as possible from France. The university had a good reputation and I didn't know anyone who went there so I wanted to try. Most of my colleagues in the business school went to UK, Spain, Italy, Germany. I wanted something different," says Gregoire Vigroux.
New Zealand was not the only place where he studied or worked. He got a marketing diploma from the University of Edinburgh. He worked in New York for a couple of months pursuing one of his passions – he was promoting French cinema in the US. He also got an internship in Los Angeles, where he was promoting French businesses across US.
"I knew that, no matter what, my career was going to be related to business. I wanted to finance big movies. It was a bit cultural, a bit art, but still on the business side," says Gregoire. This was what brought him to Romania in 2005. He was no stranger to the country. He had already been here in 1991, when he was just 11, with his father, Jean Pierre Vigroux, who was then setting up PricewaterhouseCoopers in Romania.
Back in 2005, Gregoire wanted to work in the audiovisual industry abroad and was looking for jobs available at the French Ministry of Foreign Affairs. He found an open position in Bucharest, applied and got the job. He worked at the French Embassy in Romania as an audiovisual attache, promoting French audiovisual in Romania, until mid 2006. At the time, it was the job that fitted him better. He has an MBA with some specific options for audiovisual management and a master degree from Paris Sorbonne on audiovisual law.
Ambition kicked in once again. "The job was very interesting but I was thinking about myself in the future and I realized there might be some limits to my growth. I thought about entrepreneurship because it fits my personality and my ambition. I am a very ambitious person," says Gregoire.
He met two business people who were running the CallPoint call center in Bulgaria and decided to expand the business in Romania too. He called his former business school colleague Yann Bidan – to whom he had said early in their school days that they would make a business together one day - and together they started the business in 2007. They started with telemarketing, but soon after that, in 2008, it was obvious for them they will be more successful once they got their biggest account, an European e-commerce company. They 'stole' the customer from another call center company. "This was at the end of 2008. We were small and young, but we showed we could be better than a big outsourcing company," says Gregoire.
Their ambition gave them the strength to go to big clients and be convincing. "We believed in what we were doing. This gave us a lot of credibility in front of potential clients. It was a key for success. We were a small company which tried to convince big companies. We have showed we were passioned about what we were doing and that we wanted the project more than anything. Some of the people in front of us were impressed and told themselves: <this guy will do a good job, he won't mess up>."
Meanwhile, Gregoire got involved in two other businesses: the car advertising business Carmedia (we wrote about it here) and the safe storage business Hamilton Data Services (HDS).
But CallPoint stayed his main focus . "I think about CallPoint when I wake up in the morning, all day long, before I go to sleep, sometimes I even dream about it. Not because it is a stress or because I have to, but because it is a passion," says Gregoire. He and Yann Bidan also became shareholders in the CallPoint New Europe group.
For him, it is important to have a vision in business. "You need to see yourself in six months or in two years. One should be far sighted all the time. Don't think about the past except for when you want to understand what you did wrong."
Naturally, the question pops out: Where will you be in three years? "In three years I will still be in Romania, our operations will be extremely big, I really think we will have 2,000 people working in the company. I will still be based in Bucharest, but I will have trips in other countries in the region, we will have call centers in Ukraine, Macedonia and Serbia," says Gregoire.
Besides being involved in businesses, where he is more of a business hunter rather than a raiser, Gregoire is also involved in the life of the French community in Romania through UFE – the local branch of the Union of French Abroad. "I like to be involved in associations. When I was in school I used to do that a lot. I was the editor in chief of the business school newspaper and I was representing the business school all the time. I like to make things move. I am very pragmatic and I like when things are done," Gregoire concludes.
Normal