RI+
All aboard! A short guide to Bucharest's new train connection to the airport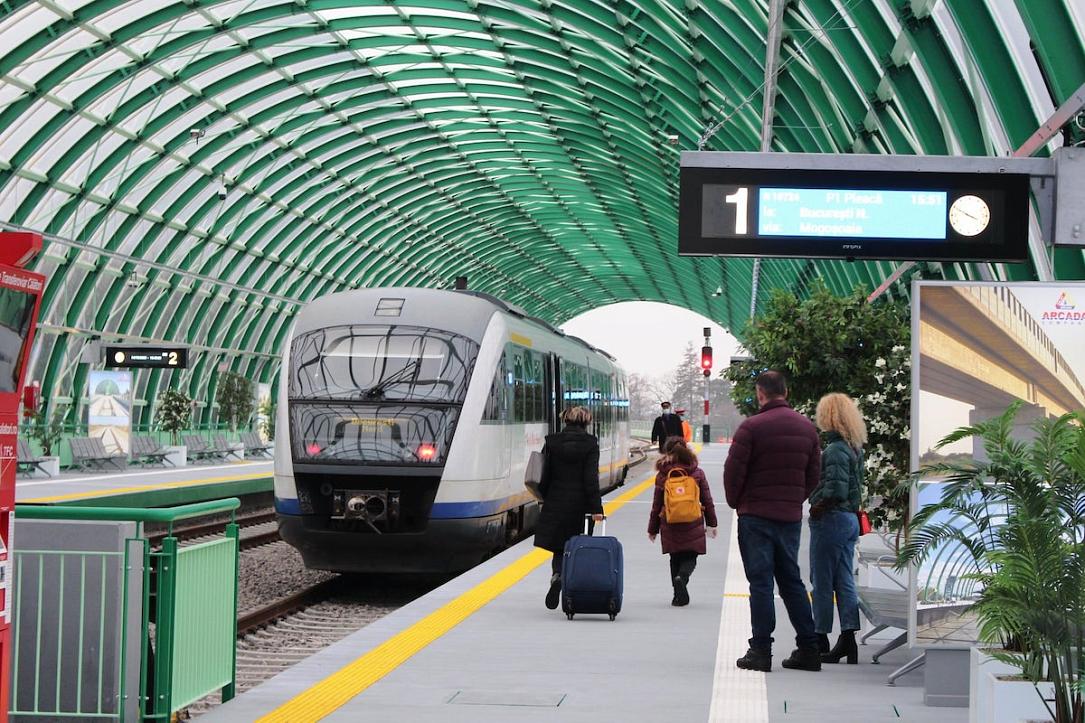 After many years of waiting, Bucharest finally has a direct train link to its biggest airport - the Henri Coanda International Airport in Otopeni. Find below a few tips for using this new service: ticket prices, train operators, and journey times.
Departing from Bucharest, travelers can get to the Henri Coanda Bucharest Airport (also called the Otopeni Airport) by car, bus, taxi, and the newly launched service - by train. And the latter is not only one of the fastest options, but also the cheapest.
The new train connection between Bucharest's largest train station Gara de Nord and the Otopeni Airport became operational in mid-December 2020. The project, which is one of the most complex infrastructure investments of the last years in Romania, included the construction of almost 3 km of double railway plus a 1.5-km viaduct that passes over DN1 national road and a passenger terminal at the airport.

___STEADY_PAYWALL___
Departing stations

Travelers departing from Bucharest can take the new airport train from the Gara de Nord railway station. Many buses, trolleybuses, and trams stop at the train station (just type Gara de Nord here to see the public transport lines taking passengers at the train station), but you can also get there by subway, taxi, or using a ride-sharing service.

Once at Gara de Nord, check the timetables to locate the platform from where your train is departing. You can also take a look at the main arrivals & departures board at Gara de Nord online from your phone, tablet, or laptop by accessing the webcam here.

If you've just landed at the Henri Coanda Airport, you can take the train from the new station in front of the Arrivals terminal. The train station is relatively small and easily accessible.

Railway transport carriers operating on this route & journey time

State company CFR Calatori and private operators Regio Calatori and Transferoviar Calatori operate direct trains on the Gara de Nord-Henri Coanda Airport route.

The trains run 24 hours a day, every 40 minutes. A one-way trip takes about 20-25 minutes.

Of course, most trains running on this route belong to CFR Calatori. To plan your journey and even buy tickets online, go to the CFR Calatori website - here, type the departure and arrival destinations in the "Domestic Timetable" box, choose the date, and click on the search button.

Private operator Regio Calatori also operates 20 trains on this new route to the airport, and the timetable is available here.

Then, there is Transferoviar Calatori, another private railway carrier taking passengers to the airport in Otopeni. Their timetable can be checked here.

Tickets - how much they cost & where to buy them

A one-way ticket for the new airport trains costs RON 4 (less than EUR 1), and travelers can buy them online, from ticket offices, ticket vending machines, or, in some cases, from the train staff after boarding the train.

For CFR Calatori trains, you can buy tickets online here (user account required). Tickets can also be purchased at the train stations - from the ticket offices or the vending machines with the CFR Calatori logo.

Plus, for frequent travelers, the state-owned company is also selling weekly and monthly tickets. The "Unlimited 7" weekly ticket costs RON 25, while the "Unlimited 30" monthly subscription has a price of RON 85. Further details here.

Transferoviar Calatori also has a ticket office at Gara de Nord, but travelers can also purchase tickets online from the company's website - here (user registration required). Those traveling from the Henri Coanda International Airport can buy tickets from the ticket vending machine at the platform entrance near the rightmost track. Alternatively, the operator also announced that passengers can also purchase tickets from the train staff, after boarding the train, but only using cash (RON).

In the case of Regio Calatori trains, tickets can be purchased online from the company's website - here, from the ticket office in Gara de Nord, or directly from the train.

Extra information:

The timetables in train stations show the number of the train, the time of arrival ("sosiri" in Romanian), the time of departure ("plecari" in Romanian), and the platform number ("linia" in Romanian). Most also inform travelers about delays.

Wearing a protective mask on board the trains is mandatory throughout the trip, as well as in the waiting areas - railway stations, platforms, waiting rooms.

newsroom@romania-insider.com

(Photo source: Facebook/Bucharest Airports)

Normal

-->