Satirical French TV puppet show causes controversy with Romanian director Cristian Mungiu in beggar's role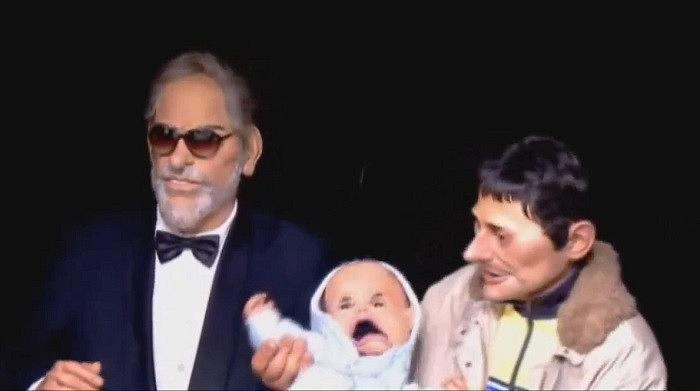 French satirical news show Les Guignols de Info, which uses puppets of celebrities to poke fun at the famous, has caused something of a stir with its depiction of Cannes winning Romanian director Crisitian Mungiu as a Romanian beggar. In the sketch, Mungiu begs fellow Cannes Jury member Steven Spielberg for a camera, holding out a baby and referring to a sick mother and a father in prison, with plenty of despairing "s'il vous plaît Monsieur Steven" along the way. See the video below.
The show has already been criticized by the French Ambassador to Bucharest and Cristian Mungiu himself has given a subtly critical, albeit diplomatic response, quoted by local news source Mediafax. On one level, the show has used a racial stereotype, particularly of Roma ethnicity Romanians, to get a quick laugh. But it could also be understood as a criticism of French attitudes: by putting a Cannes Festival winning director in the role of a beggar, the sketch could be asking the French questions over how they view Romanians and ridiculing the clearly racist and baseless view that they are all beggars. Mungiu is a jury member at the Cannes Film Festival which started on May 15.
Mungiu said that he did not believe that all French people hate Romanians and that he would not stoop to stereotyping the French in the way Les Guignols did the Romanians.
The Cannes Film Festival is currently underway with Jury members Spielberg and Mungiu joining the cream of the world cinema industry for the annual event on the Cote d'Azur. Last year, the lead actresses in Cristian Mungiu's film Dupa Dealuri/Beyond the Hills, Crisitina Flutur and Cosmina Stratan, won the Best Actress Prize jointly. In 2007, his film 4 months, 3 weeks and 2 days (4 luni, 3 saptamani si 2 zile) won him the prestigious Palme D'Or.
Liam Lever, [email protected]
Normal