Romanian film review – Sharks, dinosaurs and Brigitte Bardot: Caravana Metropolis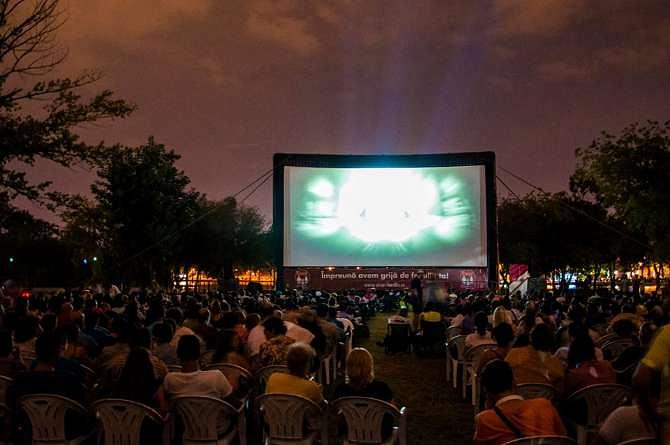 Summertime is open-air time. The fourth edition of Caravana Metropolis/The Metropolis Caravan has been doing outdoor screenings in five cities: Arad, Timișoara, Brașov, Bucharest and Sibiu. Currently, the caravan is in Bucharest, Titan park (until 6 September) and will soon hit Sibiu's Piața Mică (Small Square) between 18 and 23 August.
The selection is a wild mix of classics and new releases, from The Postman Always Rings Twice to Relatos salvajes/Wild Tales. It's a solid programme including family darlings Forrest Gump or Jurassic Park. To be honest though, I wonder who would rush to watch Forrest Gump at the cinema... I would however drop everything and rush to watch legendary New Wave directors Jean-Luc Godard and François Truffaut on a big screen, so kudos for programming Godard's Pierrot le fou, Le mépris/Contempt (two of his most accessible and likeable titles; the latter starring a breathtaking Brigitte Bardot and boasting a ravishingly beautiful soundtrack) and Truffaut's endearing Les quatre cents coups/The 400 Blows and Jules et Jim/Jules and Jim.
Romanian films are very few on the list. Actually, it's only two: Corneliu Porumboiu's delightfully droll Comoara/The Treasure and Tudor Giurgiu's legal drama De ce eu/Why Me?, both solid films, but I wish they had included more national productions in such an ample project. This is only a small annoyance though because the caravan has some perfect movies for a summer night out on and definitely some of my all-time favourites.
Among the films still to be seen this summer, I would highly recommend: Godard's Pierrot le fou and Contempt, for the more arthousy adventurous among you; Ruben Ostlünd's Turist/Force Majeure, a merciless and hilarious take on gender roles and marriage; Porumboiu's Comoara, Anthony Minghella's The Talented Mr. Ripley, a stylish thriller which can be watched again and again especially since it's set in Italy in summer, Tim Burton's darkly amusing Sleepy Hollow, Truffaut's lovely coming-of-age classic The 400 Blows, the Coen brothers' retro musical/comedy O Brother, Where Art Though?, and the Dardenne brothers' pulsating social drama Deux jours, une nuit/Two Days, One Night. And of course Jaws and Jurassic Park. Steven Spielberg always knows how to turn up the thrill.
And if all this hasn't yet convinced you to go to the movies, maybe the thought of happiness-inducing images against a starry sky and the free entrance will.
by Ioana Moldovan, columnist, [email protected]
(Photo source: Cinema In Aer Liber Facebook page)
Normal