Romanian film review- Family neurotics: Adrian Sitaru's 'Best Intentions'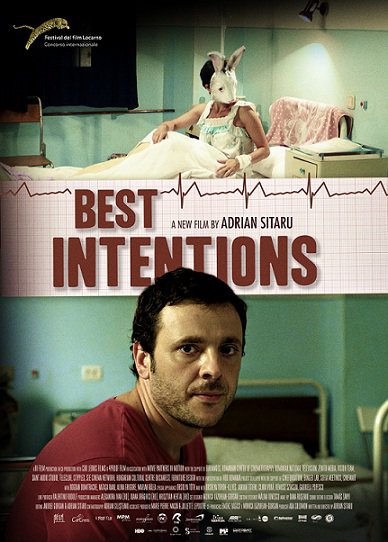 They say the road to hell is paved with good intentions, a wisdom the film Din dragoste cu cele mai bune intenţii (Best Intentions) illustrates with great imagination. The story circles around thirty-something Alex (Bogdan Dumitrache), who leads a seemingly carefree life in Bucharest before he suddenly has to behave like a 'responsible' adult when his mother ends up in hospital after having suffered a stroke.
He rushes to his provincial home town and straight to the hospital, where too much advice from everyone combined with absurd situations and downright twisted moments push the immature Alex to his limits. Unfortunately he is more than eager to pass on his anxieties, driving everyone to the brink of insanity with his exaggerated sense of responsibility and his 'best intentions'.
Although it sounds like pure arthouse tragedy, the film is anything but a tear fest. It has plenty of humorous moments, often making the audience simultaneously laugh, sigh, and slap their foreheads in despair over Alex's actions. It is an actors' film and thankfully they are all good, with a particularly funny turn from comedic actor Adrian Titieni playing the smooth-talking doctor.
The director opts for some daring technical devices, like making the actors suddenly turn and look straight at the camera when delivering their lines. The irritating technique breaks the illusion that one is watching a 'real' story and reminds the audience of the fact the films are inherently staged, making Best Intentions more of a cerebral than an emotional experience.
Adrian Sitaru made his debut on television before establishing himself as an excellent director of short films, like the hilarious Colivia/The Cage and the disturbing Valuri/Waves (trailers below). He also took up features (Pescuit sportiv/Hooked), followed by a return to the television format with the HBO series În derivă.
While Best Intentions is less funny or biting than Sitaru's previous films and its neurotic tone might not be everyone's cup of tea, it is definitely worth a watch due to its gentle and nuanced portrait of a generation stuck between the longing for perpetual youth and the necessity to grow up, especially when confronted by an aging parent. The intelligent picture snatched a number of national and international awards, including best director and best leading actor at the prestigious Locarno Film Festival in 2011.
The English subtitled picture can be purchased on DVD at the Cărtureşti bookshops throughout the country as well as from their online store.
By Ioana Moldovan, columnist
Normal