Romanian film review – A Man's Life: Yet to Rule & Love 1. Dog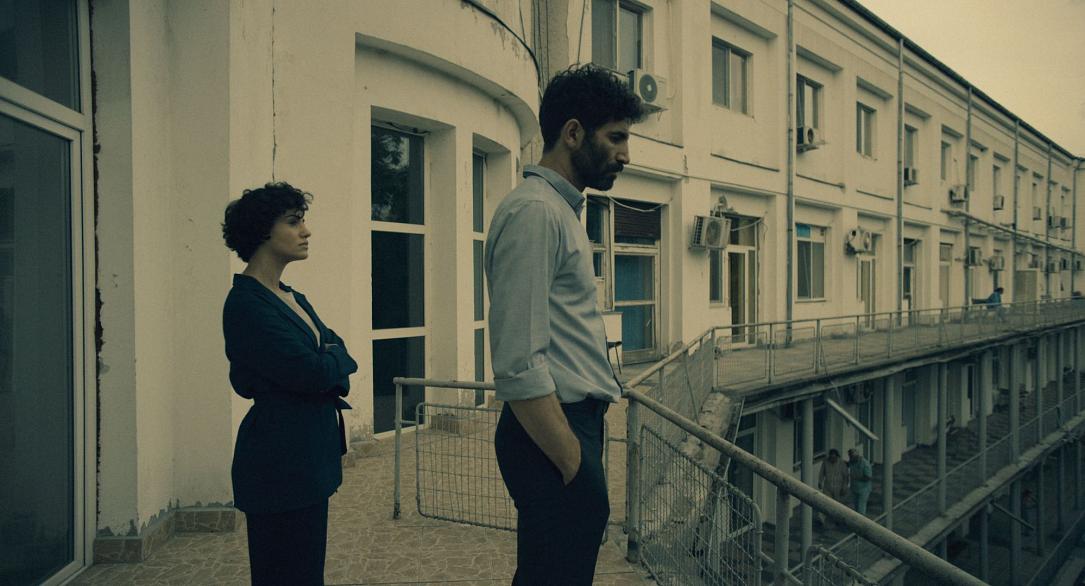 We recently covered two of the latest local premieres, A Decent Man and Moon Hotel Kabul, and this week it's time for the other two new films touring the country: Mihaela Popescu's În pronunțare/Yet to Rule and Florin Șerban's Dragoste 1. Câine/Love 1. Dog. They also centre on a male protagonist who finds himself in extreme circumstances but they are more daring in terms of style and concept.
The more interesting of the two, and generally the most interesting Romanian film I have seen in a long time, is Yet to Rule, an ambitious feature debut that announces a director to watch out for. The nameless, silent male hero in the film is shown as a torn figure between impulse and reason, the latter being embodied by a female figure (a nice reversal of gender expectations, I suspect due to the female director's perspective) who does not leave his side during the entire film. This is no spoiler though, as it's no big secret to figure out when watching the film, which allows the audience to focus on other aspects, such as the playing out of domestic scenes, and the ones in a court of law, where the character works. The concept stumbles at times, and Popescu is not the most subtle of filmmakers, but the film remains engaging throughout, also thanks to its wonderfully fluid, elegant photography and a lavish colour palette.
Yet to Rule has memorable scenes, and some are breathlessly shot and choreographed. There is a long, seductive scene in a night club that really stands out, and the series of court scenes that are impressively executed. When Popescu finds the right balance between concept, emotion, and technical means, she hits all the right notes. These sequences are the best I've seen in a Romanian film this year, and for them alone I could not recommend Yet to Rule more ardently.
The hero in Love 1. Dog is almost silent, but this time due to his isolated life. He lives in a cabin in the mountains, with the eponymous dog of the title and a donkey. His routine is troubled by a young woman he finds bruised and traumatised in the woods and whom he takes in until she recovers. When he suggests he take her down to the next town, she declines, making the two unlikely housemates and eventually more. But when the man finds himself overpowered by the new feelings, he acts with drastic consequences. The woman is even more mysterious, a character that is impossible to read.
Florin Șerban made his debut in 2010 with a big bang, the almost flawless Eu când vreau să fluier, fluier/If I want to whistle, I whistle. It was a breath of fresh air, a thrilling film pulsating with raw, pure energy. Unfortunately, his subsequent efforts were less impressive but he has managed to remain an original storyteller. Love 1. Dog is also not the revelation I was hoping for but it is a well acted, beautifully shot film, and the natural scenery is both breathtaking and a rare feast in Romanian cinema. His look at what we might call love and sexuality in a raw environment, and experienced by a protagonist living a life less ordinary, but not atypical for many, is a welcome addition to the genre. The film looks and feels atemporal, so the force it carries is more the one of a universal parable. But it also makes it alienating at times, and its characters' lack of any backstory makes it hard to both connect with them or understand their actions. The result is a beautiful film to look at, but one that keeps you constantly at arm's length. It is very much a concept film, but it is a compelling concept and what it lacks in characterisation or emotion it makes up plenty in visual beauty and an excellently crafted tension, an almost unbearable mounting feeling of dread and horror of what is to come. Love 1. Dog has an exquisitely menacing atmosphere and for those who appreciate thrillers and horror films, this is pure viewing pleasure. It is also, as the title suggests, part of a trilogy on love, and I cannot wait to see what the following perspectives bring.
With such fearless films, the year could not end better. Let's hope they are also a sign of a great one to come. You can check out the screening times and venues at Cinemagia.ro.
by Ioana Moldovan, columnist; [email protected]
(Opening photo source: In Ponuntare Facebook page)
Normal