Romania unveils 100-ton steel monument dedicated to anticommunist resistance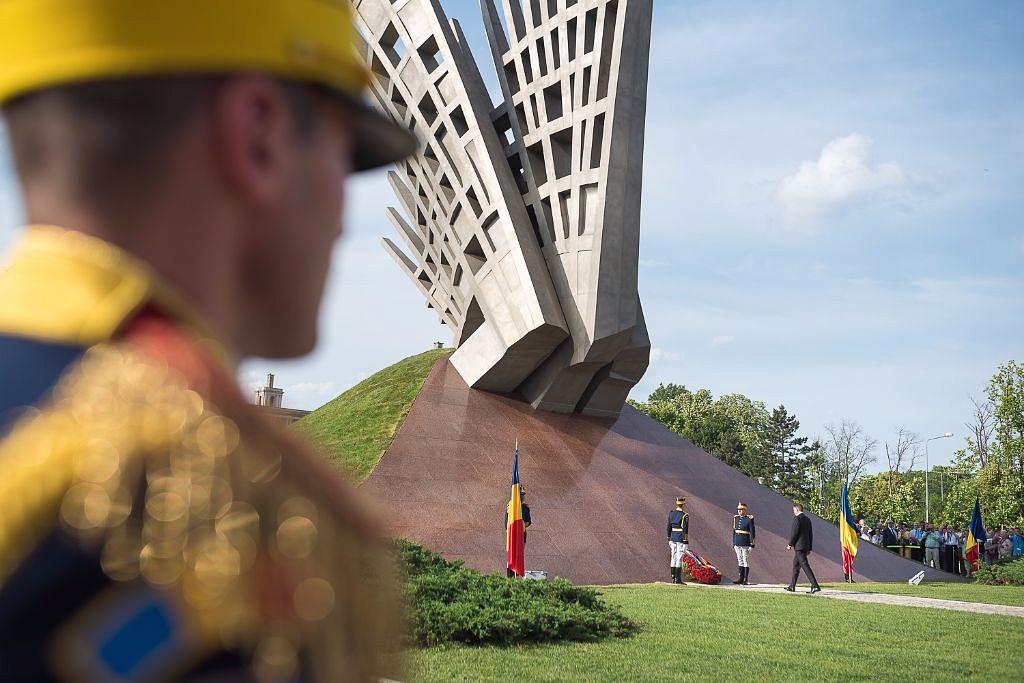 One of the biggest monuments created in the past 26 years in Romania has been unveiled in Bucharest on May 30, 2016.
The giant sculpture, which is called Aripi (Wings) honors the memory of the people who died in the anticommunist resistance fight in Romania and Bessarabia, between 1945 and 1989. The monument symbolizes three wings aiming to the sky.
It has been placed in Bucharest's Piata Presei Libere (Free Press Square), near the Herastrau Park, where everyone coming from the airport to the city center can admire it. The monument was installed in front of one of the biggest buildings constructed during the communist regime, Casa Presei Libere (The Free Press House), which resembles the Moscow State University. Lenin's statue stood there for 30 years and was taken down after the Romanian Revolution in December 1989.
Romanian sculptor Mihai Buculei, whose father was a political prisoner at the Aiud jail, created the monument. The sculpture is over 20 meters tall and weighs 100 tons, as it is made of stainless steel. It cost some EUR 3 million.
Romania's President Klaus Iohannis, former President Emil Constantinescu, and victims of the communist regime from Romania and other countries in the region participated at the unveiling ceremony.
President Iohannis said again that Romania should open a National Communism Museum as soon as possible, to make the young generations aware of the communist ideology, history, and legacy. "Today's generations need to be educated in the spirit of truth. The youth must learn that the communist regime has trivialized death and suffering, has systematically fenced the citizen's rights and liberties, and has committed countless abuses in the name of a criminal utopia. We mustn't allow that such tragic events repeat," Iohannis said.
He also called upon the prosecutors to make a priority of finding and punishing the people responsible for the deaths during the Romanian Revolution in 1989. The case is still unsolved after 26 years.
Mihai Buculei, 75, has created other important monuments in Bucharest, including a monument dedicated to the National Peasants Party leader Corneliu Coposu (also a political prisoner during the communist regime), and a statue of Simon Bolivar. He will also create the Great Union's monument, which will be placed in Alba Iulia.
Large monument dedicated to anticommunist resistance to be erected in Bucharest
(Photo source: Presidency.ro)
Normal