Romania's largest online retailer opens the country's first Apple Shop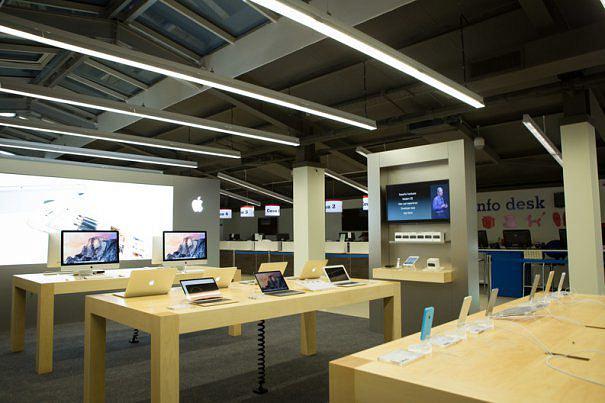 eMag, the biggest online retailer in Romania, opens the first Apple Shop in the local market on Friday, September 18. The shop is located within eMag's showroom in Bucharest and required a USD 1 million investment, according to eMag's CEO Iulian Stanciu.
"This is a natural step, given that eMag is the biggest reseller of Apple products in Romania and that our showroom has the biggest sales per square meter in Romania," Stanciu said.
He estimates that Apple products make about 10% of eMag's total sales, which last year reached EUR 280 million. This year, he expects Apple sales via eMag to increase by some 30%. The iPhone accounts for about half of the total sales, according to Stanciu.
"Apple products can now be found anywhere. What this Apple Shop does is bring the Apple products experience closer to the consumer. The sales people are trained by Apple, they know the products' characteristics and new features," eMag's CEO explained.
About 55 sales people of the 90 employees who work in the eMag showroom in Bucharest have been trained by Apple. They will offer consultancy to clients and will also hold weekly training sessions for customers to make them more familiar with the products.
eMag started talks with Apple for this shop about one year ago, but it took six months only to get the American group's approval while the preparations for the shop's opening took some five months. "They came here and measured everything to the millimeter," Stanciu said. "They brought everything you see here. The wooden tables, for example, were brought from Canada," he added.
The new Apple Shop is also the place where the American group will officially launch its products in Romania. However, as part of this deal eMag will probably stop selling Apple products before their official launch in Romania, via its Marketplace platform, according to Stanciu. Up until now, some online retailers that use the eMag marketplace platform used to sell Apple products they bought from the US before their official release date in Romania.
The retailer will also launch an online Apple Shop, which will be integrated into the eMag platform.
eMag is the biggest online retailer in Romania by sales. It started as an electronics and IT&C retailer and then expanded by adding new product categories, from baby products and books, to car parts, home decorations, and even food (in a partnership with supermarket chain Mega Image).
The retailer also has showrooms in Bucharest and ten other cities in Romania. These physical locations generate about 20% of the company's turnover, and only the Bucharest showroom makes 8%, according to Stanciu. "We have about 40 to 50 clients in this showroom at every moment, but there are also peaks when we have over 200 clients at once."
He expected one of those peaks at the Apple Shop official launch on Friday morning, as eMag announced discounts between 15% and 25% for Apple products on this occasion.
Dante International, the local company that owns the eMag brand, is controlled by South-African investment fund Naspers. Iulian Stanciu owns a minority stake in the company. In recent years, eMag has also expanded abroad, launching online stores in Bulgaria and Hungary. Its new target is the Polish market, where eMag bought a local online retailer earlier this year.
Romanian online retailer eMAG wants to reach 1 million products
Romanian online retailer eMag hires 500 and expands to fashion
Largest Romanian online retailer sets foot in Poland via acquisition
Normal