(P) New Romanian Cuisine Cooking Class in Bucharest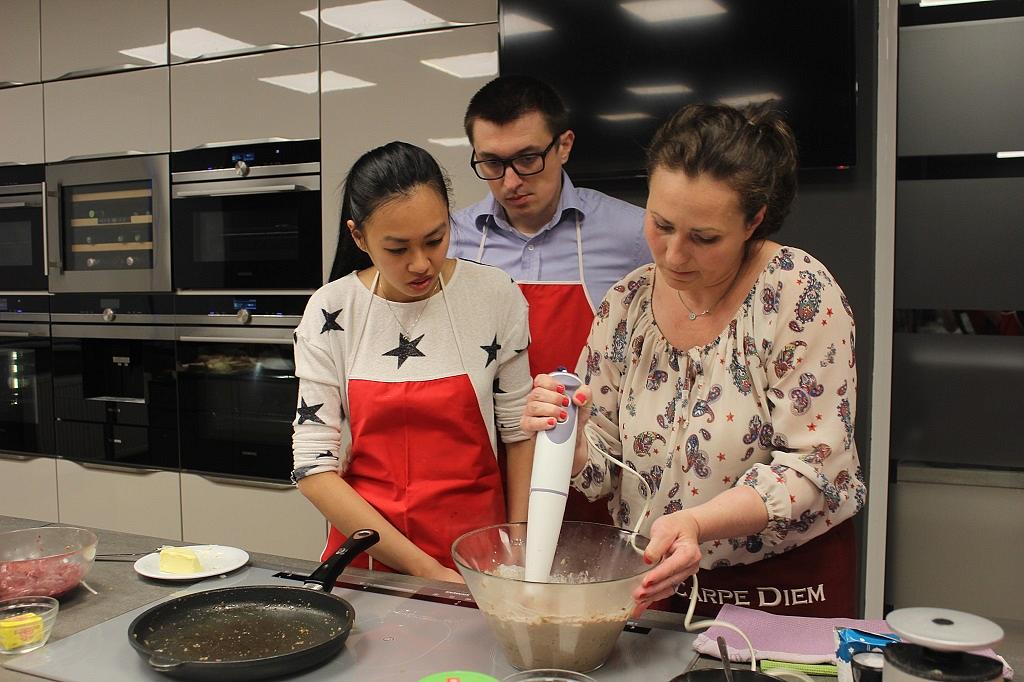 City Compass Tours & Events organised in April a New Romanian Cuisine Cooking Class in Bucharest together with their partners from Terra Carpatica. The participants discovered the unspoiled culinary treasures of the Carpathian Mountains, one of Europe's most amazing natural environments.
The event gathered a very diverse crowd of participants from toddlers to seniors and all of them enjoyed being part of the class. They were split into several teams and were assigned a part of the menu.
After finding out the story behind the ingredients and the recipes they started cooking under the careful guidance and instruction of Juranda who mingled and offered advice every step of the way. The children enjoyed in particular making the focaccia and the bread together with their parents whilst the adults found out more about several types of wine they could pair with the selected dishes.
The teams were also impressed by the choice of ingredients and spices and surprised by the use of some of them. Who would have thought about adding cranberries to the foie gras or replacing the mushrooms or cheese with prunes and quince confit in a turkey roll?
Juranda, co-founder of Terra Carpatica, combined traditional Romanian food recipes with international influences creating a unique Romanian slow food cuisine.
The menu included:
Homemade pate with cranberries
Turkey rolls with prunes and quince confit, red cabbage salad with apples
Stuffed focaccia with seasonal salad
Homemade bread with caramelised onion and cumin
Homemade bread with olives and goat cheese
Salty Caramel apple nests
You can find more of Juranda's slow food recipes here.

Enjoy the result!

Looking for fun company event ideas? We can offer a special culinary event for your corporate team building. We organise indoor team building activities in Bucharest or outdoor team building activities in the vineyards, in a castle or in the middle of the forest. More than 20 spectacular places are available. A cooking class can be the perfect choice if you are looking for quick team building activities for your company.

Contact us today for a tailored cooking class or other team outing ideas at [email protected] and visit our website for more inspiration and details.

Our partner for the event was Terra Carpatica, a provider of unique slow food concept that promotes fresh, regional and high-quality products from the Carpathian garden. A special mobile kitchen device and transport system that allows offering these events at extraordinary places. Mobile Cooking Romania is perfect for corporate or private events, product launches or for large tourist groups.

(p) - this article is an advertorial

-->

Normal

-->