(P) Careers in RO: The multicultural work environment - the perfect mix that makes a colorful team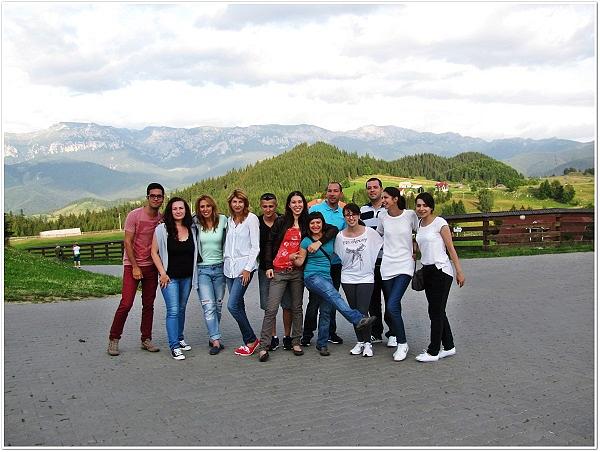 expat in RomaniaRenewals GRSC is one of the most interesting and colorful departments in Oracle Romania. Here you can find a wide variety of cultural backgrounds, young people who speak different languages and all of them share that one unique passion for their everyday job.
We visited the Renewals GRSC department and even got the chance to talk to a few employees about life in GRSC Romania, the Romanian Oracle Culture, the countries they work for, languages they speak and of course, their stories about how they got to work in Romania and what they like about this country the most.
Adrian Rovgalo is from Poland and works for his home country in his native language. He enjoys Romania and he got to work here, in a way, by chance: "I was a few months from graduation, and I saw a job offer in Romania and I thought, from a Polish perspective, that it's an exotic place to be". When asked about what makes GRSC exciting for him, he explained that "The atmosphere created by the multicultural environment, but also, what is important is the atmosphere created by Romanians, they are very helpful, very communicative, and I think this is what makes the perfect mix: the Romanians and foreigners that work at Oracle." When it comes to working environment "everyone here is willing to help: always. No matter if it's a manager, a colleague, if it's a colleague from different team… People here are always looking for perfect simple solutions to solve things in an efficient way" said Adrian.
In Ilker Nayman's case, moving to Romania was in a very different circumstance. He is from Turkey and he got married here: "I got married here. We met in Turkey and came after one year and I am now here for 3 years". Ilker works with Turkey in the Renewals department and describes working in GRSC as being "a miniature of different countries and cultures, where you can learn different traditions. You don't even need to travel around the world! You have a lot of countries here." For Ilker, it wasn't a challenge to get to work here in Romania: "It was not hard to adapt to the Romanian culture and it's mostly similar to the one in Turkey. It was easy to communicate, people like English and they are friendly, with a lot of humor."
Tomas Jirka is from Czech Republic, and he even got the chance to travel around Romania and work in different cities. Coming to Romania for him was a very spontaneous move: "I got here in February 2013. I actually moved to Cluj first and lived there for one year. I was looking for an experience abroad and a friend called that they are looking for a Czech native in Cluj. It was very spontaneous." He now works in Bucharest at Oracle in the Renewals GRSC department and he finds that here, people are really productive in about everything they do. "Romanians are very productive at work, and not only. It applies for the corporate culture in Oracle here as well. It's very motivational."
Maarten Bosma, from Netherlands, Amsterdam, came to Romania in 2005 doing volunteer work: "I had a great time and I kept coming back from holidays and did Erasmus here in 2010, and now in 2013 February I found a job at Oracle. I moved here because I was looking for an international working environment. The multiculturalism is important. It's great to work for a Dutch market in Romania and they are impressed about this. Every time we are on the phone, it makes for great conversations." He finds work here very structured, clear and well organized and "Besides business, it's a place worth visiting. Bucharest and its surroundings and have a lot to offer."
Alena Geambaşu is from Belarus, and what brought her here was a love story: "It's quite a long story, but in short: I met with my husband in Mamaia, for holidays then we got married. It's a love story."Alena works with Russia but also with India. She speaks Russian and English at work, and what makes GRSC exciting for her is that "People are very unite, organized, friendly and helpful and I can rely on every team member. They are hard working people, ethical, respectful and really funny."
When we asked the team members what they would miss if they were to leave Romania, their answers were mostly the same: their team, the people here, the surroundings, the food, the mountains and the friendly and calm Romanian atmosphere.
Here, at Renewals GRSC, we are looking for people who like challenges and who speak a European foreign language, such as German, Polish, Swedish, Danish, Slovak etc. If you have a passion for sales and an interest in IT this is the place to be!
Send your CV to [email protected] and follow us on Oracle Romania Facebook page
(p) - this article is an advertorial
Normal