Green is good: Ten large parks in Bucharest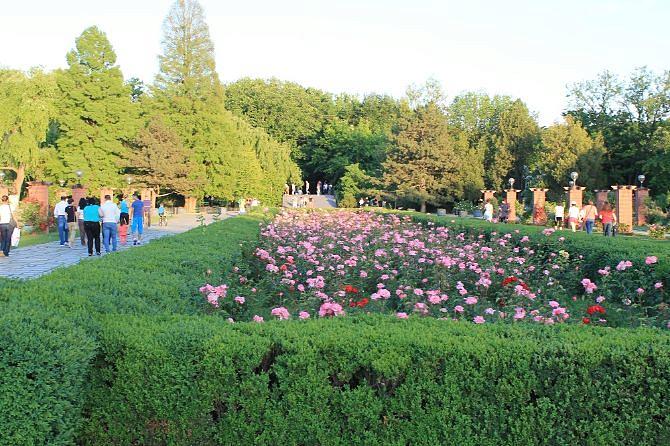 Although Bucharest is not the greenest European capital, the city hosts some large parks where you can relax, refresh during summer, and have fun with your loved ones. Herastrau, Tineretului and Cismigiu are the best-known parks in Bucharest, but there are many other smaller parks that should be visited.
Here's a list of ten large parks in Romania's capital.
Herastrau Park is one of the largest parks in Romania's capital. Located in northern Bucharest, it covers an area of some 110 hectares, while its lake spreads over more than 70 hectares. The park is bordered by Prezan Constantin blvd., Aviatorilor blvd., Beijing blvd., Nordului street, Elena Vacarescu street, Bucuresti-Ploiesti road and Kiseleff street. Some of its attractions are the summer theater, the exhibition pavilions, and the water and sport clubs.
It might be one of the best places in Bucharest for roller skating or riding a bike (there are also bike rental centers), because of its size. You can also rent a boat and have a nice, quiet ride on the lake, play with your dog in the special areas arranged for them, play some football with your friends, or just have a relaxing walk. You can also stop for a drink or have a nice meal in Herastrau park. Hard Rock Cafe and Beraria H are two of its best-known locations.
You may also want to visit the Village Museum while in the area, or the Antipa Museum in Victoriei square.
To reach the park by metro, you have to stop at Aviatorilor station.
Our Bucharest walks: Herastrau Park, the green oasis in the north.
Tineretului Park, which was created in 1965, is the main recreational space for southern Bucharest. Aside from green areas, the park includes many playgrounds and a large navigable lake for leisure boats. There are also special places for dogs, bike rental centers, bars and retaurants. It also hosts Sala Polivalenta, one of Bucharest's largest multi-purpose halls, used for concerts and indoor sporting events.
It might be the perfect place for children, as its south-east corner hosts Oraselul copiilor (Children's Minitown). The place offers small rollercoasters and other fun rides for all ages, as well as a beautiful dancing fountain. There is also mini train that takes people around the park.
In the south-west, the park in bordered by Bellu Cemetery, an important tourist attraction of the capital, as it contains the graves of well-known Romanian artists, writers, and actors such as Mihai Eminescu, Mihail Sadoveanu, or Toma Caragiu.
To reach the park by metro, you have to stop at Tineretului or Brancoveanu stations.
Located downtown, Cismigiu park is the oldest garden in the capital, being included among Bucharest's historical monuments. It has a surface of over 15 hectares and is bordered by Regina Elisabeta blvd., Schitu Magureanu blvd. and Stirbei Voda street. Gheorghe Lazar National College is located in the south-west side of the park.
Its Garden of Roses, the Roman Round, the Writers' Round, or Eminescu's Spring (located at the bottom of the downhill towards Stirbei Voda street) make Cismigiu Park a perfect place for a relaxing walk. You can also take a boat ride on its lake, or stop on one of its benches to read a book at the old trees' shadow. There are also playgrounds for children and a special place for dogs.
The park is located close to Univeristatii Square, which hosts the new building of the National Theater. The Old Town is just a 10 minute walk away.
If you want to reach the park by metro, you have to stop at Universitatii Square or Izvor stations.
Alexandru Ioan Cuza park (also known as Titan park or IOR park), is located in Bucharest's District 3. Most Bucharesters refer to it as the IOR park, a name that comes from Intreprinderea Optica Romania (the Romanian Optics Company), located nearby. The park is bordered by Camil Ressu, Liviu Rebreanu, Campia Libertatii, Constantin Brancusi, Baba Novac and Nicolae Grigorescu streets. It is one of Bucharest's largest parks, covering some 85 hectares.
It hosts a church, a lake, and playgrounds for children. The lake has five islands: the Pensioners' Island, the IOR Island, the Dogs' Island, the Roses Island, and the Sunken Island. It can be a good place for running, roller skating, or riding a bike.
If you want to get there by metro, stop at Titan station.
Although not as big as Herastrau or Tineretului parks, Kiseleff park is one of the most beautiful green spaces in Bucharest. Located near Kiseleff street, in northern Bucharest, the park is a green oasis in a crowded city. Once a forest, it is now a great place for relaxing walks, jogging, or roller skating. It was designed by Wilhelm Mayer , the same landscape architect as Cismigiu Park.
The park hosts several statues of Romanian personalities such as Nicolae Leonard and Barbu Stefanescu Delavrancea, and a group of 4 statues signed by George Apostu. Places to see nearby: Antipa Museum, National Geology Museum, and the Romanian Peasant Museum.
To get there by metro, stop at Aviatorilor or Victoriei stations.
Carol park, located in the southern-central area of Bucharest, on Filaret hill, was named after King Carol I of Romania. Besides its beautiful vegetation and panoramic views, the park also includes several monuments such as the Mausoleum (built in honour of revolutionary socialist militants), the Cantacuzino Fountain, and the Technical Museum. The Roman Arena is also located in the park, an open-air theater that hosts some of the capital's biggest cultural events and concerts.
Visitors can also find terraces and restaurants there, special spaces for dogs, areas dedicated to sport activities, and playgrounds for children.
There is no metro station near Carol park, but you might get there from Tineretului park, which is located nearby.
Izvor park is the perfect choice if you want to also have a nice view of the Palace of the Parliament (House of the People – the second largest building in the world) while you walk your dog or ride your bike. Located near Unirii square, downtown Bucharest, the park also includes a large playground for children.  Back in 2009, famous singer Madonna performed in this park in front of thousands of people.
The park is bordered by B. P. Hasdeu street and Splaiul Independentei, Natiunile Unite and Libertatii boulevards. Dambovita river flows nearby. If you want to get there by metro: Izvor station is located right next to the park. The park is also not very far from Cimisgiu park.
Gradina Icoanei is a small park located in the heart of Bucharest, between Romana and Universitatii squares. It is a green, coquette place, with several playgrounds for children, special places for dogs, and a nice fountain in the middle. Bulandra Theater, Icoanei Church and the Anglican Church are located in the park's immediate vicinity. Patria and Carturesti Verona bookstore are also close to this park.
There is no metro station close to the park, but you can easily get there from Romana or Universitatii squares. If you come from Romana square, on Magheru boulevard, turn left after Carturesti bookstore, on Verona street.
Circului Park is another large park in Bucharest, covering some 26 hectares. Its main attractions are the State Circus building (Globus Circus), and a lake on which visitors can see lotus flowers. The lake is also a proper habitat for wild ducks and fish. The long alleys border the park's diverse and rich vegetation which also includes rare species of trees such as Ginkgo biloba and plane trees. It is a perfect green space for hot, sunny days, as it offers a lot of shadow. It is also a great place for long walks or jogging.
Dinamo football stadium and Colentina hospital are located near the park. The closest metro station to Circului park is Stefan cel Mare.
Moghioros park (also known as Drumul Taberei park) is the largest park in Bucharest's district 6. It was reopened in late-May this year, after 2 years of revamping works. There are paths for bicycles, special places for dogs, playgrounds for children, sports fields, a skate park, and a lake. There is no metro station in the area, so you can get there by car, or by bus. Plaza Romania and Afi Palace Cotroceni mall are located in the same neighborhood.
Other large parks in Bucharest: National Park, Tei Park, Eroilor Park, Crangasi park (Morii lake).
Irina Popescu, irina.popescu@romania-insider.com
Normal