Friedrich Niemann, upon departure: Sitting back and relaxing is not my cup of tea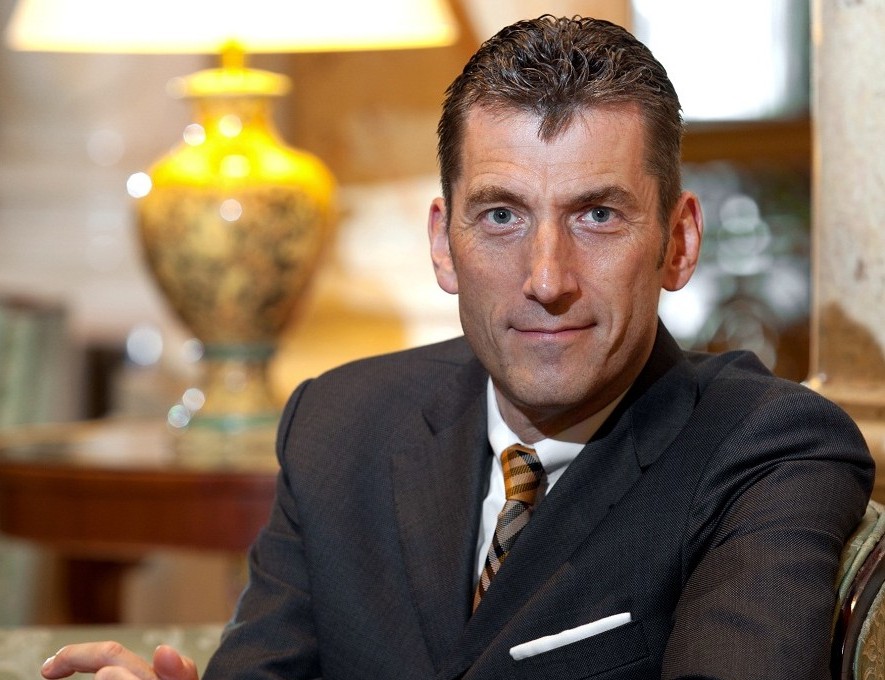 After five years at the helm of the Athenee Palace Hilton five-star hotel in Bucharest, Friedrich Niemann has decided to change scenery. He will leave towards the end of August to run the Waldorf Astoria in Berlin. Before embarking on the new journey, he has talked to Romania Insider about the past five years in Romania and about the life of a hotel manager.
By Corina Saceanu
If you ever went to the Athenee Palace Hilton hotel downtown Bucharest anytime in the last five years, you have surely seen around Friedrich Niemann – the hotel's manager. It was hard not to notice him, he was almost always around to greet people or supervise activities.  "I walk the floor of the hotel up to five times a day, particularly the restaurants, the lobby, the public areas, to meet and greet guests, I also go to the back of the house," he says.
Frieder, as most of his friends call him, gets deadly bored sitting at a desk, in an office.
"This is something I cherish about this job - it is very dynamic and flexible, it goes hand in hand with my personality; after two hours at the desk, I get impatient, I have to move around."
But for five years in Romania, he didn't get impatient. It was his longest term in the hotel industry so far. Usually, hotel managers stay on a job abroad between two and six years. And Romania was not the easiest task.
"The first three years have been different from the last years – the economic environment, the financial situation of the country, businesses have changed. The dynamics I experienced here in the first years is not necessarily gone but has decreased quite dramatically."
"The market changed completely. Staying ahead of changes was a daily challenge. Particularly in our business, where a room we didn't sell last night is gone. The challenge is every day."
Adjusting to the Romanian way of doing things was among the hardest.
"It was harder at one point, I have to admit it took me a while to adjust to the Romanian culture, because people are quite demanding and emotional," he says.
Adventure on Transfagarasan
It was in Romania where Freidrich Niemann had the most life threatening - and in the end fun- experience. He was hiking with a friend on Transfagarasan in February 2008.
"We got stuck in this gondola, there was a snow storm, it was starting to get dark, the thing was like a tin can moving from one side to the other, it also started hailing. Eventually we had to break through the floor of the gondola on ropes. At the end of the day it was fun, once we got out of that thing. But that very moment was a little bit scary."
He likes to ski and hike – he has been hiking in the Carpathian mountains. In fact, he has seen most of the country, except Maramures. Traveling is also part of his job description- so business and pleasure fit quite well for Friedrich.
"I wouldn't say my job is my hobby, but very often it overlaps. I like entertaining, which is part of the job description, I like to eat and to drink, go out, meet friends, have a good time. Due to this job, obviously you meet a lot of people, out of which a lot of friendships and personal relationships develop. There is no clear cut line."
Although he doesn't like to sit and work at a desk too much, sometime he does so for writing. Friedrich likes to write – he has been writing travel and tourism articles for Vivid magazine and articles on marketing, advertising, communication in the past. He was even pondering the idea of writing a travel guide about Romania – but he found himself a little bit short of time.
Life-long hospitality story
Friedrich Niemann joined the Hilton chain about ten years ago. Before coming to Romania, he was the manager of the Hilton hotel in Sofia. "Before Sofia, my previous job was in Munich, and before that I worked for different other companies, predominantly in Germany; for a period of time I was in the US, in Boston. [...]  In our industry you move around, on your own initiative or the company is moving you around."
Hospitality is a life-long story for him. Although he hasn't quite figured out if he was 'born for it', as the saying goes.
"I finished education and went into the industry. If I was born for it, I still didn't figure it out after all – I guess it fits quite well, but there was not necessarily any reason, I had no family ties into hospitality, we didn't traveled that much, I don't even think that I had seen any big hotels prior. I had a discussion with my mother and she said ' you always wanted that'. Never question what your mother tells you, so there must have been something in the past."
He first came to Romania in 2004, on a road trip from Sofia, where he was working. Later on, he was offered the possibility to come to the county as the manager of the Athenee Palace Hilton.
"When I was in Sofia and my company offered the possibility to come to Romania, I said 'yes' thinking I had been to Sofia for a couple of years and I though I would know my way around, but very soon I found out it was completely different in Romania."
He has made a lot of friends here, he says.
"What I learned here is difficult to say, the culture is different from my country's, and whether this is good or bad, it depends on the situation. Occasionally it is good to have a relaxed approach or to be emotional, but it is also good to be structured and planned like we Germans are."
Among the things he didn't like in Romania is something  he doesn't like in general: people blaming somebody else but themselves.
"What is happening with you as a person, nation or country is your responsibility. It is not the Government's, the EU's, the neighbor's, my wife's or my parents'. You cannot wait, rely on somebody else and relax hoping that somebody else will take care of it. It won't happen until you take initiatives."
"You can sit back and relax and let things happen, which is not my cup of tea," he goes on.
During his term in Romania, the business environment changed, the legislation changed, but "we managed to be market leaders for the last four-five years, even during the time when business was not very strong, even when business decreased."
In the last five years, he has seen change in Romania – new businesses, infrastructure. But it is far too slow for his taste. "Unfortunately there is a lot of change and not always for the better. I have seen lots of changes in the government and in the political environment, but not too many improvements."
Friedrich Niemann is involved in several organization in Romania:
Chaine des Rotisseur – board of directors

AmCham – board of directors

Hospice of Hope Honorary Board

Rediscover Sinaia

Ovidiu Rom Advisory Board
-->

Normal

-->