Painting by Romanian Adrian Ghenie, auctioned in Romania for the first time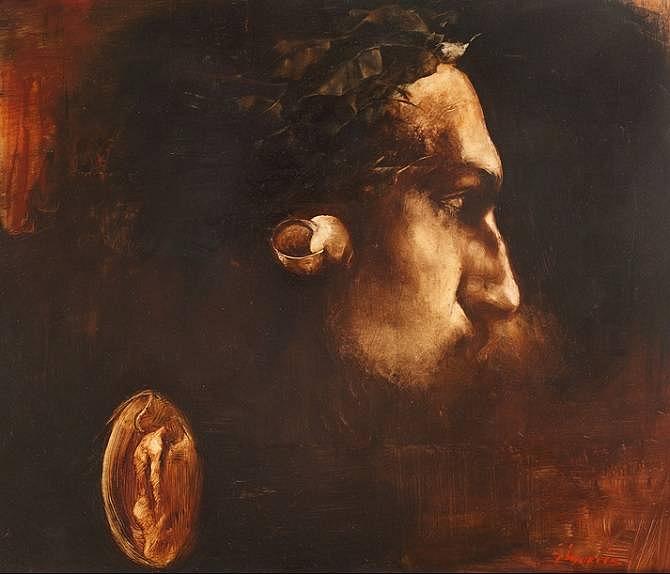 A painting by Romanian artist Adrian Ghenie will be on sale in a Romanian auction for the first time at the end of March.
Adrian Genie, a contemporary painter, born in Baia Mare, in northern Romania, gained international fame last year. Some of his paintings sold for millions of euros in international auctions organized by Sotheby's in July and October.
Ghenie was the best-selling young contemporary artist in the world in 2014, according to a ranking made by artnet.com. His paintings have only sold via international auctions, so far.
One of his paintings will sell via an online auction organized by Romanian art auction platform Lavacow, on March 30, 2015. The work, which is called "Self-portrait with Laurels"  is valued at EUR 6,000-9,000 and has a starting price of EUR 5,000, according to Lavacow.
The auction includes works by Romanian and international painters. A painting by French-Hungarian painter Simon Hantai is also on sale in this auction.
Lavacow presents itself as the first auction house dedicated to Emerging European Art.
"With us, you can find a fresh selection of affordable, high-quality art. Promising artists, on their way to public acclaim, are presented alongside internationally established artists," according to a presentation on the platform's website.
Lavacow is a subsidiary of the Artmark Holding, based in the Netherlands, which owns the largest art auction house in Romania, Artmark. Lavacow's founders are Alexandru Baldea and Manuela Plapcianu (Artmark's shareholders) and Cristina Olteanu, who coordinates the project.
(Photo source: lavacow.com)
Normal