Romanian producer on The Hollywood Reporter's list of most influential women in international film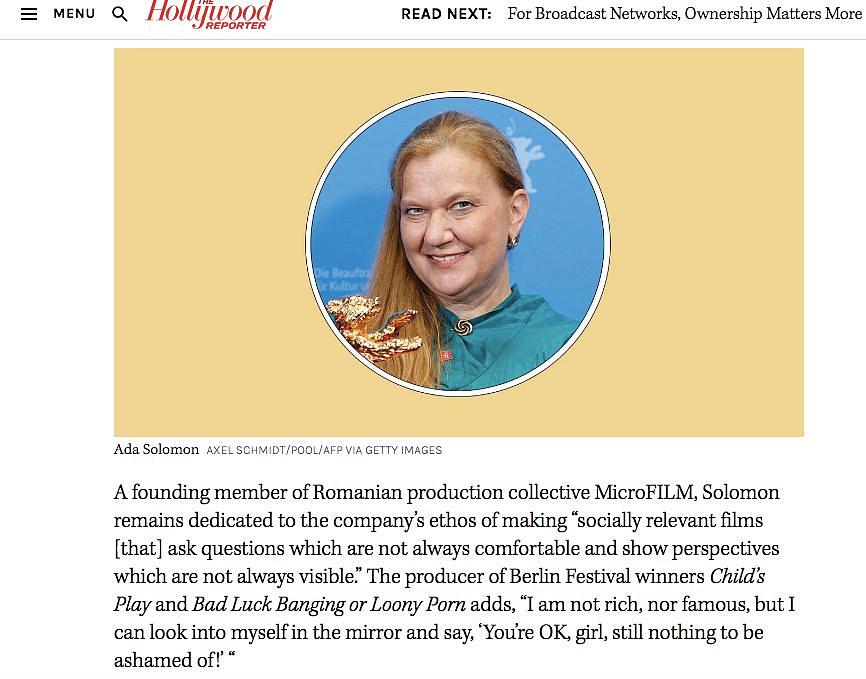 The Hollywood Reporter has published a list of "40 most influential women in international film," and Romanian producer Ada Solomon is on it. The American magazine says the innovators selected for this report "are bringing stories to a global stage and nurturing new voices despite a disrupted film market."
Ada Solomon is one of Romania's leading film producers, collecting numerous awards at festivals around the world. She is the founder of Hi Film Productions and the co-owner of MicroFILM.
The Hollywood Reporter said: "A founding member of Romanian production collective MicroFILM, Solomon remains dedicated to the company's ethos of making "socially relevant films [that] ask questions which are not always comfortable and show perspectives which are not always visible." The producer of Berlin Festival winners Child's Play and Bad Luck Banging or Loony Porn adds, "I am not rich, nor famous, but I can look into myself in the mirror and say, 'You're OK, girl, still nothing to be ashamed of!'"
Ada Solomon also reacted to the news on social media: So proud to be featured in The Hollywood Reporter 40 Most Influential Women in International Film next to dear friends as Maren Ade, Janine Jackowski, Bettina Brokemper, Valerie Delpierre, Maria Ekerhovd, Leontine Petit, Carole Scotta or Cassandre Warnauts. Big thanks to all the filmmakers & partners that contributed to my path over the years!"
The list published by The Hollywood Reporter also includes successful women from the film industry in Nigeria, Germany, Sweden, the UK, Italy, France, Spain, Canada, Chile, China, India, Japan, and more.
The complete list is available here.
irina.marica@romania-insider.com
(Photo: screenshot from The Hollywood Reporter website; source: Facebook/Ada Solomon)
Normal