Site of silent protests in central Romania city set up for social dialogue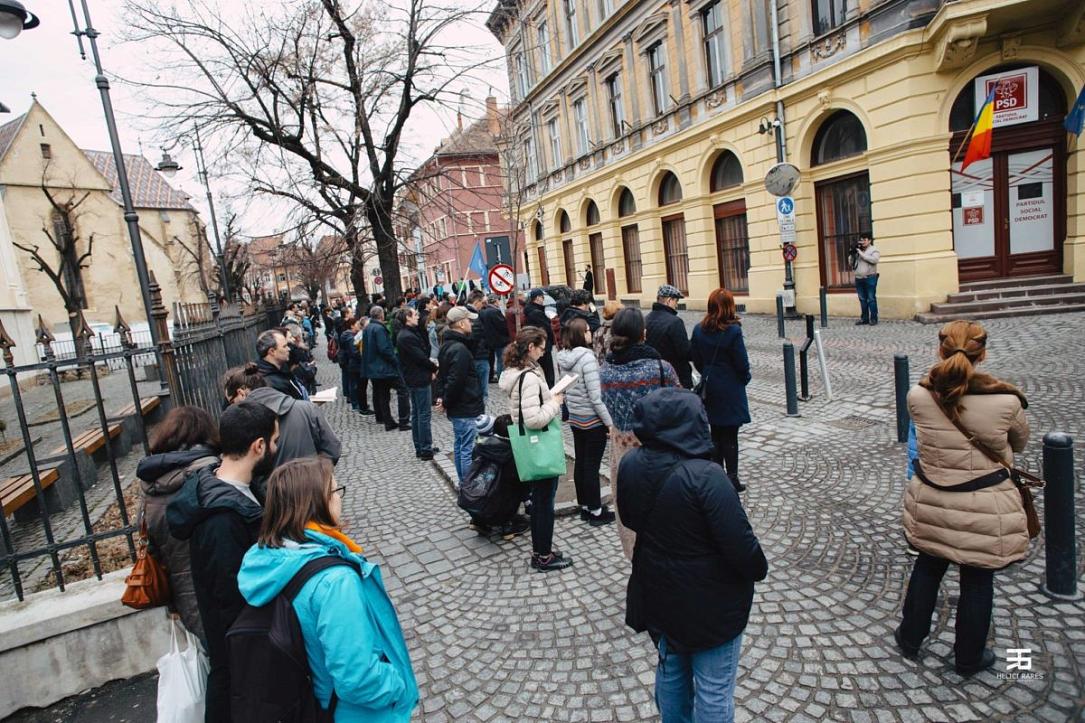 The space of the Huet Square, in the central Romania city of Sibiu, will be redesigned to facilitate the social dialogue.
The Huet Square is the place where the sit-in protests of the Va Vedem din Sibiu/ We See You from Sibiu community have been taking place since last year. A Corruption-free Zone was declared in the area, where silent protests have been held, in front of the headquarters of the Social Democrat Party (PSD).
The redesign comes after a contest for urban furniture solutions, organized by the Sibiu-Vâlcea branch of the Order of the Romanian Architects (OAR) in a partnership with the Sibiu Community Foundation. The contest was titled "Ne vedem în Sibiu!" (See you in Sibiu), in reference to the We See You from Sibiu community.
The contest was aimed at "generating architectural solutions that facilitate ad-hoc meetings in the public space, turn it into a landmark for social dialogue, a space where the voice of the village can be heard, where the civic spirit dedicated to concord and community is educated and activated."
The projects submitted in the contest were meant to deal with the urban furniture and related installations, without taking up the entire space or interfering on the Brukenthal High School – Evangelical Church premises.
The winning project was designed by architects Astrid Rottman, Cosmin Anghelache, and Cassandra Pop. The jury of the contest was made up of architect Horia Moldovan, a pro-rector of the Ion Mincu Architecture University in Bucharest, architects Matei Bogoescu, Andreea Tănase, and Ștefan Bâlici, author and professor Radu Vancu, and artist Dan Perjovschi.
"It is a form of fully occupying the space there and reusing it in many different ways: you can protest, you can go speak there, as if it was a Speaker Corner, but you can also simply gather to talk with friends, […] skate, or just sit," Radu Vancu explained, quoted by Mesageruldesibiu.ro.
The latest protest organized in Sibiu in the video below.
(Photo: Va Vedem din Sibiu Facebook Page)
editor@romania-insider.com
Normal