Romania's PSD and ALDE sign coalition protocol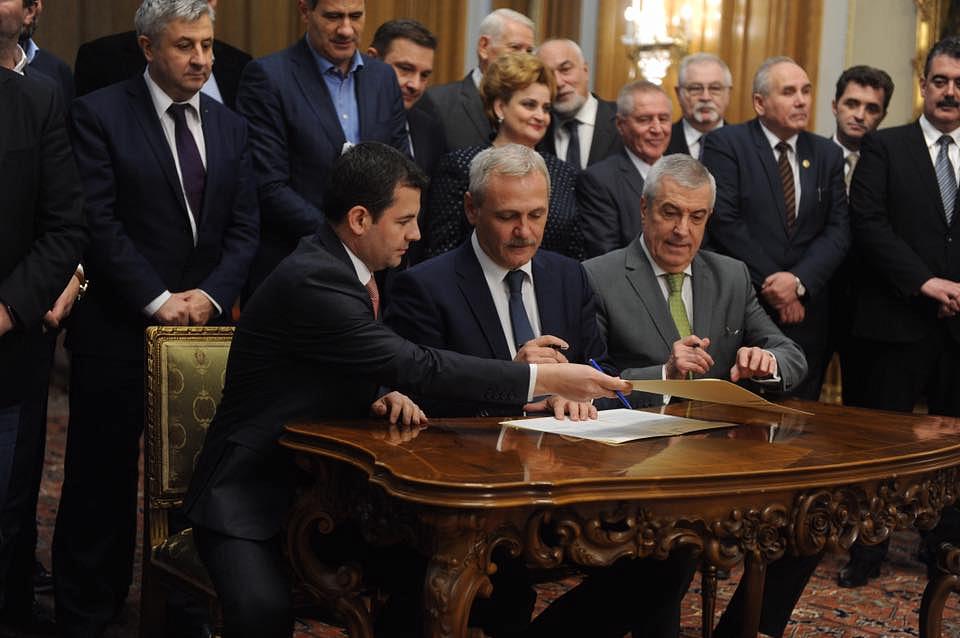 The Social-Democratic Party (PSD), which won more than 46% of the votes in the December parliamentary elections, and the Alliance of Liberals and Democrats (ALDE), which got 6% of the votes, have built a coalition for creating a government together.
PSD leader Liviu Dragnea and ALDE co-presidents Calin Popescu-Tariceanu and Daniel Constantin signed yesterday the document for creating the Government Coalition for Development and Democracy.
The two parties will support the same Prime Minister nomination and will build a Government where they will be proportionately represented. ALDE will thus have three or four minister mandates and PSD will hold the remaining positions in the cabinet.
Besides this, the parliamentary groups of PSD and ALDE in the Senate and the Chamber of Deputies will build a parliamentary majority. The two parties have 250 MP seats out of a total of 465.
PSD and ALDE are also negotiating a collaboration with the Democrat Magyar Union (UDMR) to strengthen their majority in the Parliament.
The Economist: Romania elects a party led by a vote-rigger
Social-Democrats get 221 of the 465 seats in Romania's new Parliament
editor@romania-insider.com
(photo source: Liviu Dragnea on Facebook)
Normal