The taste of Romania: Traditional foods & drinks for a real Romanian experience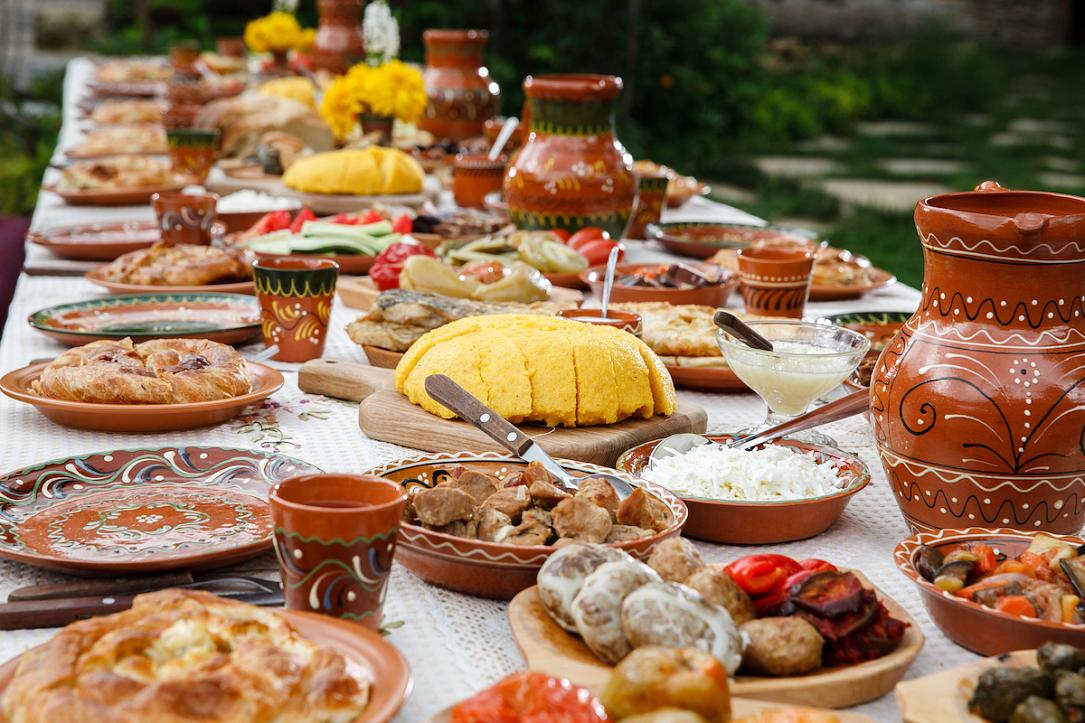 A real tourist experience also involves trying local foods and drinks and Romania's offer is varied and delicious (although not the healthiest, some could say).
Romania is much more than beautiful tourist attractions and natural landscapes, and those who want to have a real Romanian experience also have to try some of the local dishes and drinks. And don't worry: there are plenty of delicious dishes to choose from, starting with the appetizers and continuing with soups and the famous mici and sarmale, and the sweet bread cozonac.
To start your day (or your meal) like a Romanian usually means having cold cuts, local cheese or jam on your plate. There are plenty of choices for breakfast, appetizer or just a sandwich, and a really tasty one is zacusca – a vegetable spread very popular in Romania, mainly made of roasted eggplants, sautéed onions, tomato paste, and roasted red peppers. Romanians prefer to eat in on bread (and a slice of freshly baked bread with zacusca is definitely something worth trying).
Another food that goes well with freshly baked bread is salata de vinete (eggplant salad), which is also a vegetable dish made of roasted eggplant, onions, salt and oil. Some also add mayonnaise for a change of taste. Then, if there's still another slice of bread left, put some fasole batuta on it. This is another typical food that most Romanians love. This dish is traditionally served with fried onions as a garnish so better eat it as a starter than early in the morning.
The list of eat-like-a-Romanian appetizers (or breakfast ideas) also includes cold cuts and cheese. What most Romanians would recommend in this sense are the local Salam de Sibiu (Sibiu Salami), which in 2016 was registered as a "protected geographical indication" (PGI) product in the EU, various types of local cheese such as telemea (a white, salty cheese), branza de burduf (cheese prepared from sheep milk with a strong taste and semi-soft texture), and urda (a soft, white type of cheese), and locally-made jams.
Then, there's the main course dishes that Romanians simply love: sarmale (picture below) and mici. These two are extremely popular among locals, who eat them as often as they can. Sarmale, ­which, in short, are a mixture of rice and minced meat rolled in cabbage leaves, are usually cooked for big events (social or religious) such as Christmas, Easter, traditional weddings or big family meals, while the mici (short sausages without casings) never miss from barbecues. Sarmale are usually served with hot pepper and sour cream (but some locals also like to serve them with fresh garlic) while the mici are simply eaten with mustard and bread.
Romanians also like smoked pork (mainly ciolan afumat), and they usually prefer to eat it next to varza calita (steamed cabbage – which is also served with sausages, duck or pork ribs) or fasole (beans – which is turned into a star main course when served with sausages). Then there's mamaliguta (polenta), which basically goes with almost everything, from dairy products to sausages, meat stews or sarmale. But there's also a special dish called bulz, which is a mix of mamaliguta, bacon and cheese (telemea or branza de burduf) baked in the oven and served with sour cream and a fried egg on top.
Another popular dish is drob de miel (lamb haggis) - recipe here. However, this one is mainly cooked for Easter so make sure to try it if you have the chance to spend Easter in Romania. Another dish to try is piftie (inferior parts of the pig, such as the feet or the ears, spiced with garlic and served in aspic), which is mainly served at the Christmas table.
Those feeling like eating something lighter or end the day with a soup, there are plenty of choices in Romania. However, in addition to the usual vegetable or chicken soups, the locals' favorites include ciorba de burta (tripe soup) - recipe here, soured with sour cream or vinegar and served with hot pepper, and ciorba de fasole in paine (a soup with baked beans and bacon served in a special bread), which is something one should definitely try for a unique experience. Something else to try while visiting Romania are the fish soups cooked by the locals of Danube Delta – they are delicious!
And then there's the dessert. There are pancakes and many types of cakes to try, but, similar to the appetizers or the main course, the Romanians have their favorites. One of them is the papanasi (a kind of doughnut served with fruit syrup or jam and sour cream) - recipe here, the sweet bread cozonac (picture below) - recipe here, which the Romanians usually cook and eat around big religious holidays such as Christmas or Easter (but also for big family meals or major personal events such as traditional weddings), and the traditional Easter dessert pasca (a cake with a sweet cottage cheese filling at the center).
However, there's yet another dessert that Romanians like: coliva, which is made of boiled wheat mixed with sugar and walnuts, usually decorated with small pieces of chocolate, candy or icing sugar. However, don't ask for coliva at restaurants as this dessert is served at funerals or memorial ceremonies, or other special religious occasions. The Romanians who still keep traditions take the coliva to church for the priests to bless it and then give small portions to other people attending the religious ceremony or just passing by the street. In Romanian, this is called pomana.
Other desserts to try in Romania include branzoaice (soft cakes filled with cheese from the region of Moldova), cornulete (small pastries filled with jam, Turkish delight or a mix of cocoa and walnuts), and placinta cu mere (apple pie).
When it comes to drinks, a traditional Romanian alcoholic drink is tuica (plum brandy). Usually served before meals, this is a traditional spirit prepared from plums that contains a high volume of alcohol (up to 45%). Other spirits that are produced from other fruit or from a cereal grain are called rachiu, but there is also the palinca, which is even stronger than tuica. And there are also the local wines, which are really worth a try. Romania is one of the biggest wine producers in the world and the local wine sector has strongly developed in recent years.
Tips:
The Romanians really like to eat and a typical meal usually includes appetizers, main course, and dessert. And the portions are usually big. So, if you are invited to a Romanian family meal be prepared to eat a lot. Also, try not to refuse the food or drink offered to you because the Romanians tend to take it personally and think that you don't like what they've cooked.
Most foods, such as zacusca, the eggplant salad, the soups and other main course dishes, the cozonac or pasca can be ordered at restaurants or bought from supermarkets but the best are (of course) the ones cooked by the locals.
Although these dishes are usually cooked following the same "basic" recipe, the final result can vary from region to region. For example, sarmale come in different sizes in Transylvania or Moldova, and the filling may also vary a little. However, don't worry, as the taste is still good, regardless of the region.
newsroom@romania-insider.com
(Opening photo: Shutterstock)
Normal