Romania may appoint a Muslim woman Prime Minister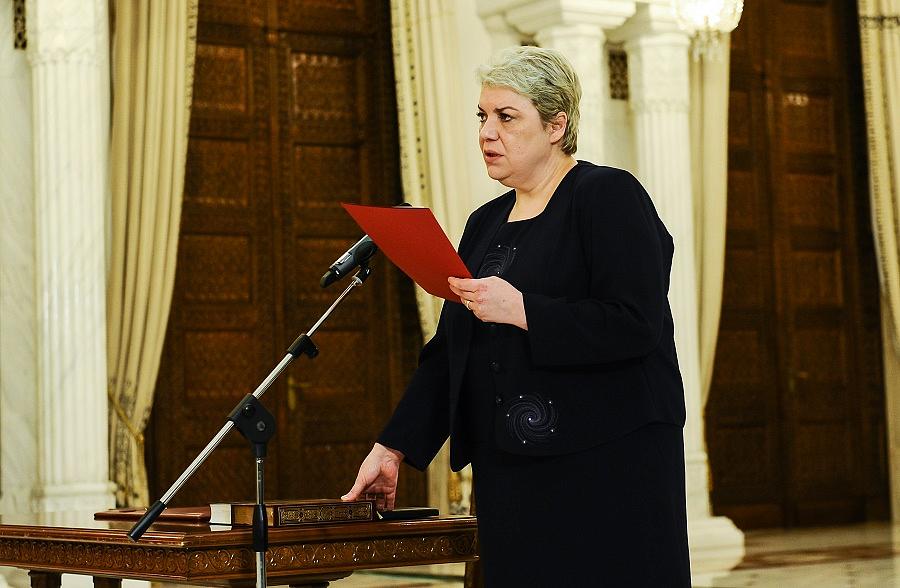 Sevil Shhaideh, 52, may become Romania's first Muslim Prime Minister as well as the first woman to hold this position in the country's history. She comes from a family with Tatar-Turkish origins and her husband is Syrian.
The Social Democratic Party (PSD) and the Liberal Democratic Alliance (ALDE) told President Klaus Iohannis that they support Shhaideh for Prime Minister. They made the proposal on Wednesday morning, during consultations held at the Cotroceni Palace in Bucharest.
The proposal came as a surprise, as PSD president Liviu Dragnea told nobody, not even his party's other leaders, the name of the person he wanted to nominate for the job.
Sevil Shhaideh replaced Liviu Dragnea as regional development minister in May 2015, when he decided to resign after a Romanian court had sentenced him to one year probation in the case related to the 2012 referendum against former President Traian Basescu. She held this position until November 2015, when the Victor Ponta cabinet resigned amid street protests, after the Colectiv club tragedy.
In April 2016, another court ruled a final two-year suspended sentence against Dragnea, which made it more difficult for him to nominate himself for the Prime Minister position. PSD leader Liviu Dragnea said after the consultations with President Iohannis that he couldn't nominate himself for Prime Minister "just yet," although he was "entitled to it" because he was the president of the political party that won the parliamentary elections.
Several PSD leaders said in recent weeks that Liviu Dragnea would be the best PM, but President Klaus Iohannis made it clear that he wouldn't nominate a Prime Minister with integrity problems. Moreover, an existing law prevents a convicted person from being a member of the Government.
To avoid a political conflict with the President, Dragnea decided to nominate one of his most trusted collaborators to lead the new cabinet.
"She is a person I fully trust and who will give me the possibility to take responsibility for the Government actions that must follow the governing program in detail," Dragnea said at the press conference after the meeting with President Iohannis. He added that he made sure the new PM would be a determined person, who has the capacity to work and understand what she is doing, instead of someone who would use this office to build a personal project and would do things only to have the media write about them. He also mentioned that Shhaideh would be PSD's only proposal for Prime Minister.
Before becoming development minister, Sevil Shhaideh was Dragnea's most trusted collaborator in the Ministry of Regional Development and Public Administration, where she was a state secretary, since 2012.
She previously worked at Constanta County Council, where she was an IT director from 1991 until 2007, and the general manager of the General Directorate for Projects, from 2007 to 2012. Famous PSD "barron" Nicusor Constantinescu was the head of the Constanta County Council at that time.
Between 2007 and 2012, Shhaideh was also the coordinator of the National Union of County Councils of Romania. This is when she started working with Liviu Dragnea. She joined PSD in July 2015, after becoming minister.
Sevil Shhaideh is an economist. She graduated the Economic Studies University (ASE) in Bucharest and holds a master's degree in business projects from the Ovidius University in Constanta.
Some Romanian media outlets have written in the past year that Liviu Dragnea and Nicusor Constantinescu were Shhaideh's godfathers at her wedding. However, Dragnea explained that there is no such things as godfather in Muslim religion and that he was just one of the witnesses at the ceremony.
Romania is a Christian country where 86% of the population is Orthodox and 4.5% is Roman Catholic. Muslims make only a small minority (0.3%) and most of them are Tatar-Turkish ethnics living in Dobrogea, in Southeastern Romania.
President Klaus Iohannis has called all political parties represented in the new Parliament to consultations, on Wednesday and Thursday, and will likely announce his Prime Minister nomination tomorrow.
editor@romania-insider.com
Normal