(P) Careers in RO: Life at Oracle, the Most Desired employer in Romania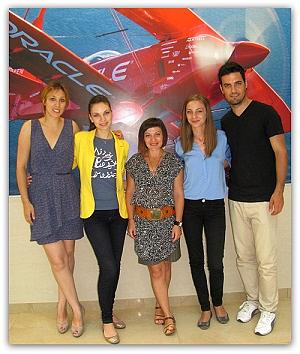 Being part of Oracle Romania, the number one local employer for 2 years in a row, is a privilege. Surrounded by young, enthusiastic people with an enormous appetite for growth, working in a state-of-the-art building and contributing to the success of one of the top corporations worldwide is a very strong reason for being motivated.
From the over 2500 employees that Oracle Romania currently hosts, the Global Renewals Service Center accounts for more than 300 professionals, which makes it one of the biggest Shared Service Centers within the company.
How is life in GRSC?
Extremely dynamic. 24 foreign languages spoken. A colorful multi-national environment. Challenges at every corner. A young and dedicated management team with focus on people. Customers to convince, bonuses and prizes to win.
The Center was inaugurated 8 years ago and it grew from the initial 13 people to the giant revenue generator it is today. We are dealing with customers in all the Europe, Middle East and Africa countries and also in the United States and Canada.
We have been entrusted with accounts starting from thousands to millions of dollars and we have proven successful every step of the way.
Within GRSC, we put a lot of emphasis on career growth, which is why we have especially designed programs for people with leadership, training or sales potential. Many of the managers and trainers within the Center have been promoted from within, which is a testament to the fact that when we see potential in people, we do our best to maintain and grow it.
Working together with us is your ticket to further success. Do not miss the opportunity!
We welcome you at GRSC! If you want to be part of our community full of different and friendly people please get in contact with Anca Roșu at [email protected].
For more information about careers at Oracle please visit oracle.com/careers.
Get the latest updates about life at Oracle by following us on Facebook.
(p) - this article is an advertorial
Normal