(P) Atra Doftana – Reinventing traditional food through Chef Alex Petricean's magic twist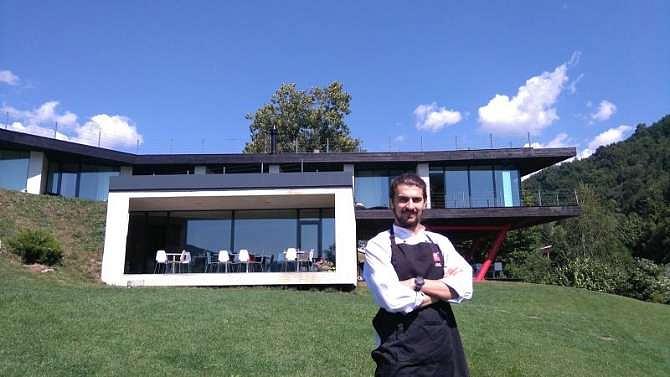 New Tasting Menu available at Atra Restaurant
Surrounded by Paltinu Lake, Atra Doftana is a pleasant guesthouse close to, yet far enough from the agitated life in Bucharest. Most of their guests are corporate employees, Atra Doftana being suitable for a variety of firm events (team-buildings, management meetings, to name just a few). However, the outdoor terraces and the leisure spaces also make for an appropriate family vacation choice.
Atra Doftana first opened the doors in 2011 and has became known for its relaxing atmosphere and professional services. Even if it was built with the scope of providing close friends a place to relax and enjoy a weekend away from Bucharest, over the course of time it became clear that such an atmosphere ought not to remain unknown. More and more guests enjoyed Atra Doftana and established that the experience is anything but forgettable. In 2013 it was awarded the "Guesthouse of the Year" Title.
In 2015, Alex Petricean became Head Chef at the Gourmet Restaurant. On one hand, he was feeling a stringent need to reinvent himself through personalized dishes and, on the other hand, the Atra Doftana Gourmet Restaurant wanted to continue offering better and better gourmet services for their guests. This collaboration, hence, became inevitable. The menu became highly sophisticated. The dishes are only described as an ordinary list of ingredients, allowing the Chef to prepare them creatively every single time, for an even more impressive culinary experience
Starting this September, Atra brought back another attraction which appealed to the guests tremendously in the past: a gourmet Tasting Menu, designed by Chef Alex Petricean. Consisting of 8 different dishes, including main courses and desserts of which the carrot cake seasoned with ginger, white chocolate, and sweet cheese is only just the most spectacular one, the Tasting Menu is perfectly fit for the corporate employees who have enjoyed the Atra Doftana experience during various events. "My firm organized this year's teambuilding at Atra Doftana and it was an incredibly relaxing and worthwhile. We only spent 2 days in Tesila, but were able to soak in the sun, taste some of the most extraordinary dishes prepared, as I understood, by Chef Alex Petricean, go canoeing and trekking. It was a great experience, resulting in getting us all closer to each other." (Adrian, 29, guest of Atra Doftana).
Atra Doftana can be an appropriate option for corporate events. Over the course of time, teambuilding sessions and management events such as business meetings, workshops and trainings have taken place at Atra Doftana, both in the Conference Room and out in the open, on the large terrace. The guests who enjoyed such experiences there appreciated the atmosphere the most. Not only is the surrounding view breathtaking, but also the service is kept in high regard. The rooms are cozy and comfortable, the fitness arena is welcoming and the adjacent rooms are perfectly fit for conversations, relaxation or even daydreaming. Yet, most of all, the Restaurant at Atra Doftana is by far valued highly by every single guest. Being prepared with traditional, bio ingredients acquired from the people in and around Teșila, the dishes are mouthwatering and unique.
To enjoy the atmosphere in Atra Doftana is a must, irrespective of the occasion. Fit for both corporate events and family trips, this particular guesthouse will allow you to relax and enjoy a full-service top experience.
For more information, please access www.atradoftana.ro or call +40735 020 110. Also, you can book online here.
(p) - this article is an advertorial
Normal