Romania travel: Coffee spots to try in Oradea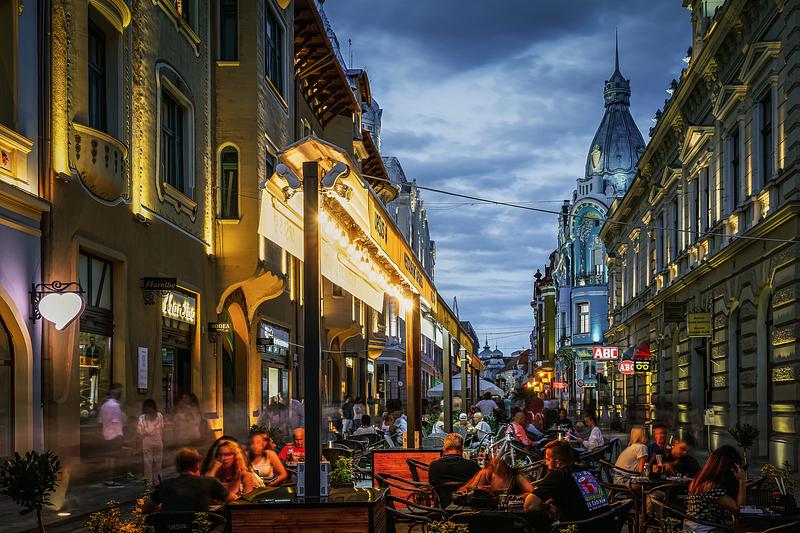 Savoring a delicious coffee in Romania's Art Nouveau Capital City, Oradea, while admiring the architectural heritage sounds like a good idea. After all, it's always coffee o'clock!
Oradea's coffee scene has developed significantly in recent years - it is cozy, gives good vibes, and, more importantly, the coffee tastes fantastic. Here are our top five coffee spots in Oradea to try.
SPIȚE Coffee & Cycling
For coffee connoisseurs, SPIȚE Coffee & Cycling is the ideal place to be. A short walk from the Calea Republicii, SPIȚE Coffee & Cycling can be found on the lateral 1 Aurel Lazăr Street.
Opened in 2021, the café has successfully combined the coffee and cycling culture and developed a small, independent specialty café.
The espresso coffee is locally sourced and tailor-roasted for the café, while the filter (V60, Aeropress) has national and international origins.
Moreover, the café takes great pride in its head barista, Claudiu Dumea, who won the National Aeropress Championship in September 2021.
SPIȚE encourages and promotes an open, laid-back, and friendly environment for coffee lovers, cycling enthusiasts, and everyone in between, to come together and enjoy a tasty cup of coffee and a healthy locally-made treat - banana bread, overnight oats, and many more.
The café has a small shop display for coffee and cycling accessories (an official Cinelli dealer) and a carefully curated selection of specialty magazines to browse while enjoying a savory cup of coffee. Nonetheless, SPIȚE welcomes children and pets, and Guba, the resident dog, frequently greets guests with a happy tail wag.
Street Coffee Roasters
Conveniently located at 1 Decembrie Square No. 5, Street Coffee Roasters was founded in 2017, at a time when Romania was witnessing the emergence of a new specialty coffee culture through the discovery of a distinctive and delicate coffee taste, freshly roasted and meticulously prepared, giving special attention to each step, from roasting to extraction to latte art. It has a total of five locations in Oradea.
As the café is aware that a good cup of coffee necessitates control over each necessary step, Street Coffee Roasters has its own roastery where the distinctive flavors of beans from various sources, including Brazil, Guatemala, Ethiopia, Costa Rica, and more, are unveiled.
The café invests in the best machinery to suit the expectations of coffee connoisseurs and others who are just learning how energizing coffee can be.
Street Coffee Roasters is a team of enthusiastic people brought together for their love of specialty coffee. As a result of the knowledge and passion for sharing the authentic flavor of coffee brewed by creative, hardworking, and friendly professionals, the business has grown significantly - the café began in Oradea and then ventured beyond the city's borders and reached Timişoara. Soon, hopefully, it will reach the whole country.
Il Centro Café
Il Centro Café (formerly known as ZAȚ Café) is centrally located at 1-5 Madach Imre Street.
Here, you can enjoy a freshly brewed cup of coffee while admiring the unique interior design by Ada Rotar, or enjoying the view of Queen Mary Theater, as the café is located close to the building.
Inaugurated in 2020 on Oradea's City Day, the café's walls display the drawing of Moskovits Palace, an Art Nouveau iconic building, designed by artist Florence Sabău together with Art & Architecture students. As her workshop encourages apprenticeship and practice, the Il Centro Café project confirms that art is a dynamic that must be further exploited, while working with students is a signature for the future.
Il Centro Café has a secret coffee blend, unique in Oradea, and roasts about five different coffee blends to get the final magic brew. Moreover, it has a wide selection of delicious breakfasts, such as pastries, sandwiches, chia puddings and more, but also tasty salads for your lunch break.
Club Pedalăm Snack&Bar
Club Pedalăm Snack&Bar, which is located inside the CSM Oradea Tennis Club on Splaiul Crişanei 27 Street, was established in 2022 for those who love cycling and as a meeting place for the members of the NGO Pedalăm Association to enjoy a tasty coffee blend, a snack, or a cold beer.
The NGO brings together individuals who are passionate about the environment, cycling, hiking, and a sense of community.
Additionally, the association frequently participates in cycling-related charitable events, encouraging a healthy lifestyle for a good cause. Furthermore, the PEDALĂM Academy is an educational initiative created by the association that aims to inspire children to behave appropriately towards their surroundings, from cycling and its excellent benefits for both nature and the environment to hiking with the theme of environment protection and road education - all of which are important but frequently overlooked aspects of daily life.
It's wonderful to stop by Club Pedalăm Snack&Bar for a late coffee or a cool drink while catching up with friends. You can also try out the hammocks, shoot a bow, or jump on their trampoline.
A first aid fundamentals course, karaoke, and board game nights are just a few of the events the Club hosted; be sure to keep an eye out for many more in the future.
Snoozz
Snoozz is the place to go if you want specialty coffee in a warm, inviting setting.
The café, conveniently located at 7 Parcul Traian Street, has a cozy atmosphere for a cup of flavorful coffee from their excellent range of brews or a delightful snack like a bagel, croissant, muffin, and many more.
The interior design, a contrast between intimacy and the magnificent natural light that permeates the entire area, enhances the café's atmosphere. The lamps, a further distinctive feature, were custom-made out of ceramic and feature the café's logo. The locally painted coffee cups, which feature some of Oradea's most famous buildings, give even more charm to the overall experience.
(Opening photo: Lazar Adrian Catalin | Dreamstime.com)
iulia@romania-insider.com
Normal