Romanian mathematician and activist takes his party to next level after good result in the Bucharest local elections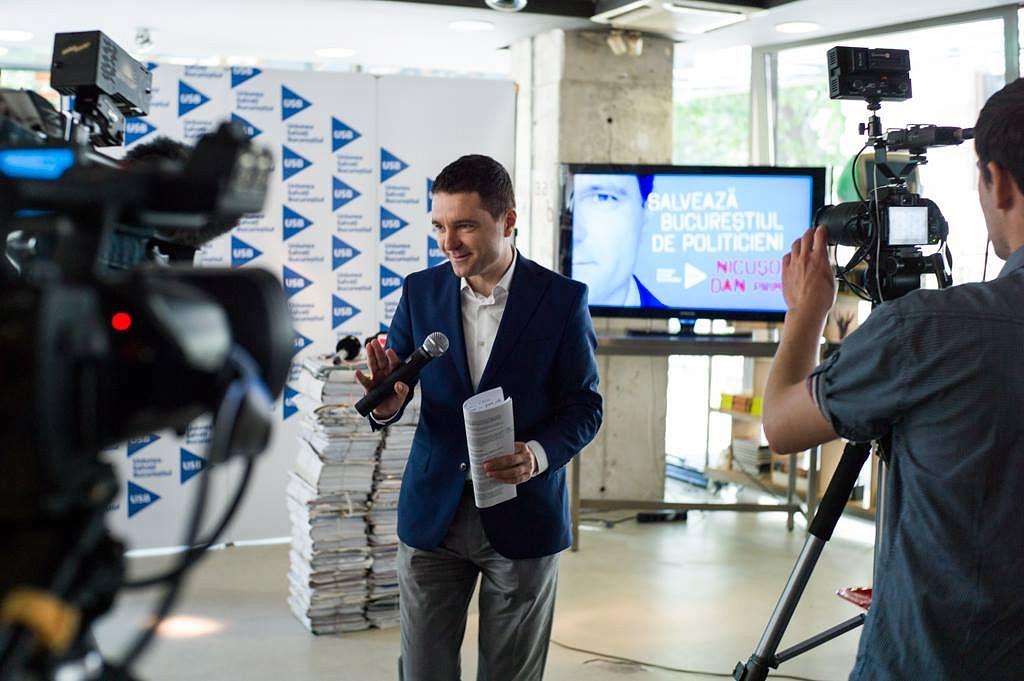 Romanian mathematician and activist Nicusor Dan and his newly founded political party Save Bucharest Union – USB have been the revelation of this year's local elections in Bucharest. The anti-system party, which was officially registered at the end of 2015, emerged as Bucharest's second biggest political party.
Nicusor Dan came second in the race for the Bucharest mayor seat, with around 30% of the votes, according to the exit polls. The Social Democratic Party – PSD's candidate Gabriela Firea won the elections with over 40%, the same polls show.
Nicusor Dan's USB was second in Bucharest, with 27% of the votes, behind PSD (39%), but over 10 percentage points ahead of the National Liberal Party (PNL), the country's second-biggest political party. Moreover, USB managed to get very good scores in Bucharest's districts, with little-known candidates, surpassing PNL.
The biggest surprise came from Bucharest's District 1, where USB's candidate for mayor, Frenchwoman Clotilde Armand, was in front of the PSD candidate, according to the exit-polls. Armand got 32.5% of the votes compared to 29.7% for the social democratic candidate, the polls show. However, her victory will only become official after the final results are announced.
USB also had its best result in District 1, where a third (32.7%) of the citizens who went to vote opted for Nicusor Dan's party, compared to 30.3% who voted for PSD. PNL only got 18.6%, according to the polls.
The results confirm USB as Bucharest's second biggest party and Nicusor Dan used the favorable moment to announce his plan to take the party to a new level.
"USB is made of people who haven't been politically involved until now, competent people who sacrifice their careers. We don't do it for money but for the common good, because the current political class has disappointed us so many times," Nicusor Dan said after the first exit-poll estimates were announced.
He added that Romania needed a political force that would represent the citizens in fighting corruption. "USB will become Save Romania Union and will compete in the parliamentary elections this fall," Dan announced.
Nicusor Dan, a brilliant mathematician, returned to Romania after studying abroad and decided to get involved in stopping what he called Bucharest's destruction. Starting 2006, he founded and led and activist movement that tried to prevent the demolition of many historical buildings in Bucharest and the development of illegal real estate projects that were damaging the city. His movement managed to win several important lawsuits against real estate sharks, which increased his notoriety.
In 2012, he ran for Bucharest mayor as an independent against Sorin Oprescu. He came third, with 9% of the votes, a surprising result given that most Bucharesters didn't know him at that time. He continued his activist work but also prepared for this year's elections by turning his Save Bucharest Association into a political party.
He came with a message against the big political party, which represent the corrupt system that has led Romania in the past 25 years, aiming to attract educated people who felt that the traditional political parties didn't represent them. Thus, much of his campaign was based on social media.
Some of Nicusor Dan's main financial backers in his campaign for the local elections were Nicolae Ratiu, famous Romanian politician Ion Ratiu's son, Florin Talpes, the owner of local IT&C group Bitdefender, Iulian Stanciu, the CEO of local online retailer eMAG, and George Iacobescu, who runs the Canary Wharf business center in London, according to Digi 24.
(Photo source: Nicusor Dan on Facebook)
Normal