Romanian recipe: Poale'n brau cheese pies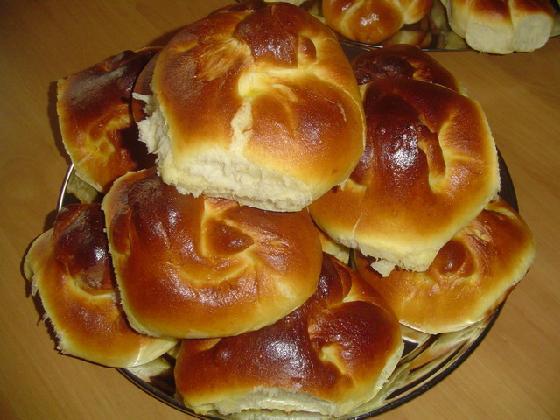 This recipe is from the Moldova region of Romania (North of the country), and if the literal translation is ...well, not very appetizing - let's just call it an amazing cheese pie. 'Poale in brau' roughly means 'the bottom of the skirt raised to the belly band' and to some extent illustrates the form of the pie, with the folded margins.
Anyway, the short language lesson aside, let's start cooking.
For 25 pies, you will need
1 glass of water
1 glass of oil
4 eggs
700 g flour
300 ml milk
200 g sugar
500 g Sweet cheese
1 cube of yeast
vanilla
100 g raisins
 lemon zest from 1 lemon

First work on the dough. Put the flour in a bowl and make a small hole in the middle for the crumbled yeast and the glass of warmish water. Stir gently to dissolve the yeast. Then add the glass of oil, 100 g of sugar, half of the lemon zest and two eggs. Slowly incorporate the flour into this mix until obtaining  an elastic, non-sticky dough. Knead energetically for a couple of minutes, than let it rest in a warm place until it doubles in volume.
After that, put some flour on the table or the work area and from the dough create a finger-thick layer using the rolling pin. Cut this layer into many squares with sides of around 15 cm.
Meanwhile prepare the stuffing. Mix the cheese with the raisins, one egg, 100 g of sugar, the rest of the lemon zest. Put a spoon of this stuffing in the middle of each of the dough squares and then fold every corner in an envelope style. Make sure to press each corner so that they stay together. Then, fold the corners of this new shape again to the middle.
Oil the baking tray or sheet and then place a thin layer of flour on it – or use special baking paper – and put the pies on top, leaving a few centimeters between them, as they will rise in the oven. Paint the pies with egg – the composition used for scrambled eggs, as it will give them a nice color. Then leave them for ten more minutes. After this, put them in the oven for half an hour. When they're done, dust with icing sugar and serve.
(photo source: Produsinro)
Normal