From engineering, to fashion: Young Romanian pursues his passion for clothing and entrepreneurship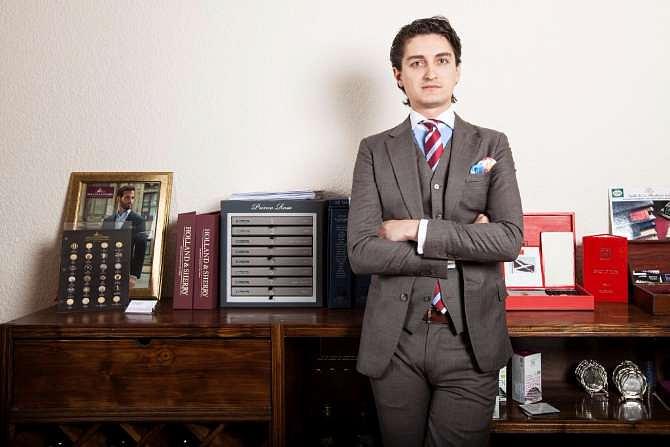 Vlad Maris is a young Romanian entrepreneur who managed to make the unexpected switch from engineering to fashion. Although he holds a Ph.D. in engineering, Vlad, 29, decided to pursue his passion for fashion. After having worked with two other tailoring companies, he founded Maris – Made to Measure, a family business that creates luxury suits for men, made on demand.
Last year in spring, Vlad and his wife opened their first showroom in Bucharest, in an old building on Bruxelles street. For Vlad, the switch from working in fashion, to owning a business in this area was bound to happen, as entrepreneurship was "in his blood": both his parents and his father are running their own businesses.
His business caters to the needs of modern business people, who are busy and also need a personal touch. Vlad meets clients, discusses the type of suit they want, the style, and then counsels them and makes recommendations.  "If the client has a good impression about the fabrics and the counseling, we move on to the second step: taking his measures. This is a rather complex process, from many points of view. First, we take the measures only once, and this requires some 40-45 minutes. Second, this is very important because, after you take the measure, you create the client's file.  Thus, only one meeting lasts 2 hours," Vlad explains.
After that, the client chooses the fabric, places the order and then waits the suit to arrive. If the client is too busy - and they usually are - the two business owners also make home visits.
With an average of 15 orders a month, Maris – Made to Measure posted a turnover of around EUR 20,000 in the first year. Vlad wants to double it in the second year, and add more expensive products. So far, apart from business suits for men, suits for ceremonies or casual suits, they also sell shirts, ties, handkerchiefs and socks.
They get the suit fabrics from two major categories of suppliers – from Italy and the UK. The suppliers in Italy make classic fabrics in large quantities, which are also cheaper. The price of a suit made with Italian fabric varies between EUR 450 and EUR 900.
On the other hand, the English suppliers make smaller series and change them every season taking into account the season's influences. So the price per suit is higher - it starts from EUR 800.
The first year in the life of Maris – Made to Measure was about creating and perfecting the products. The second will be about investing in sales and marketing. The entrepreneurs also consider expanding to the women's segment. "It is another market with different requirements, much more complex. It is just a plan, and we want to make it perfect," Vlad says.  In the meantime, they will start hiring to expand the team of two.
Irina Popescu, [email protected]
Normal