Ten things to know about Romania's national poet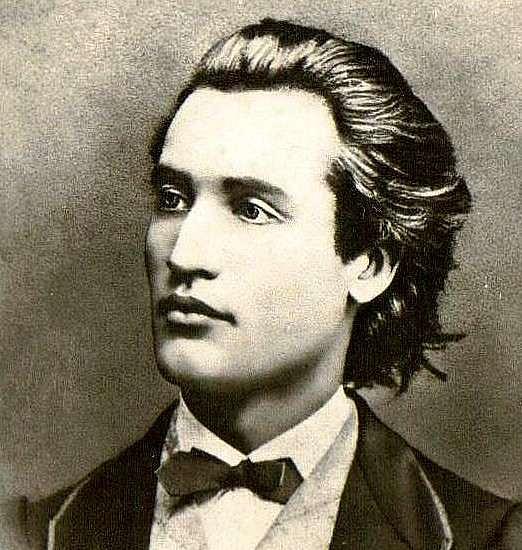 Romania celebrates today its National Culture Day, also the birthday of Mihai Eminescu. His work influenced generations of local writers, and won him the label of Romania's national poet. Below are a few things to know about him and his impact.
The birth date of Mihai Eminescu is celebrated on January 15. The date has been, since 2010, Romania's National Culture Day. Beginning 2013, the Republic of Moldova celebrates its National Culture Day also on January 15.
However, before historians decided on the date, several versions were circulated. As a teenager, Eminescu listed December 20, 1849 as his own birth date in the records of Junimea, a Iasi-based literary society. The archives of the Cernăuţi secondary school, which Eminescu attended, list December 14, 1849 as his birth date. Romanian literary critic Titu Maiorescu, the founder of Junimea, has put forth the January 15, 1850 date, using the historical research of N. D. Giurescu, which included a file with baptism dates of a church in Botoşani, Eminescu's birthplace. Eminescu's older sister, Aglae Drogli, also confirmed the date.
Since Eminescu is considered an canonical Romanian author, whose influence spanned over generations of local poets, his work has been widely translated. Some of the first translations of Eminescu's poems belong to Romania's Queen Elizabeth, the wife of King Carol I. Queen Elizabeth, who wrote her own literary work under the pen-name of Carmen Sylva, translated some of Eminescu's poems in German in the 1881 anthology Rumanische Dichtungen, put together in collaboration with Mite Kremnitz.
He published his first poem when he was 16 years old. The poem De-as avea (If I had) appeared on February 25, 1866 in the magazine Familia (The Family). Iosif Vulcan, the director of the magazine, received the poem enthusiastically, and also changed the poet's signature from Eminovici to Eminescu.
Eminescu was educated both in Romania and abroad. Between 1860 and 1861 he studied at the Ober Gymnasyum in Cernăuţi, in today's Ukraine. In 1869 he enrolled at the Philosophy Faculty at the University of Vienna, as an 'extraordinary' audit student, meaning he did not have a required set of subjects to study and did not have to sit any examinations. He remained in Vienna until 1872 but did not specialize in any subject.
Between 1872 and 1874 he was a student in Berlin. The Junimea society granted him a monthly financial help to pursue his PhD in Berlin, a plan he never completed and argued was not prepared for. He enrolled at the Humboldt University of Berlin as a regular student. He studied History, Law, Philosophy and Politics.
Eminescu worked a variety of jobs throughout his lifetime. In 1867 he was hired as a prompter in the theater company of Mihail Pascaly, a Romanian actor and director. Between 1877 and 1883 he worked as a journalist for the daily Timpul, the outlet of the Conservative Party. He was also the newspaper's chief editor between 1880 and 1881. He contributed articles to several other newspapers and magazines of the time, among them Albina, Familia, Federațiunea, Convorbiri literare, and Curierul de Iași.  In august 1874 he was appointed a director of the Central University Library in Iasi. He also worked as an examining teacher and school inspector for the Iasi and Vaslui counties.
Literary historians have associated Eminescu with Romanticism. He is described as a late Romantic, who emerged at a time when European literature was turning to Modernism, through the works of Charles Baudelaire and Stéphane Mallarmé. His studies in philosophy and the work of Arthur Schopenhauer and Immanuel Kant in particular have influenced his writing.
Eminescu's poems cover themes such as nature, love, nostalgia but also include social commentary. One of his most notable works of poetry is Luceafărul (variously translated as The Vesper/The Evening Star/The Lucifer/The Daystar).  It is considered his masterpiece and a unique accomplishment in Romanian literature. Other well-known works include Odă în metru antic (Ode in Ancient Meter), and the five Letters (Epistles/Satires).  These are also the works that are widely studied in Romanian schools. His literary work also encompasses prose. He authored fragments of a novel (Geniu Pustiu) and the novellas Sărmanul Dionis, La aniversară, Cezara, and Făt-Frumos din lacrimă. He was also a translator, the first one in Romania of Immanuel Kant.
Eminescu's love affair with Romanian poet Veronica Micle was his most important one, and lasted since they met, in 1872 in Vienna, throughout the rest of their lives. What started as a friendship, as Micle was married when she first met Eminescu, become a tumultuous relationship. Unable to cope with Eminescu's death, Micle committed suicide less than two months after he passed away.
What caused Eminescu's death is unclear and several versions were circulated at the time, ranging from a disturbed attacker or an infection to a medical error or mercury poisoning. Throughout his life, he suffered from depressive episodes, and some sources speak of a syphilis diagnosis. He passed away in Bucharest, on June 15, 1889, at only 39 years. He is buried in the Bellu Cemetery, which is the resting place of many other significant Romanian personalities.
The manuscripts of Eminescu are compiled in 46 volumes. Critic Titu Maiorescu entrusted them to the Romanian Academy at the beginning of 1902. Translations of his work are available in several of languages, among them English, French, German, Spanish, Portuguese, Italian, Hindi, Arabic, Hungarian, and even Esperanto. There is only one complete edition of Eminescu's work, which belongs to Romanian literary historian and critic D. P. Perpessicius.
editor@romania-insider.com
Normal