Bucharest five-star brunch: The Sunday brunch at the Crowne Plaza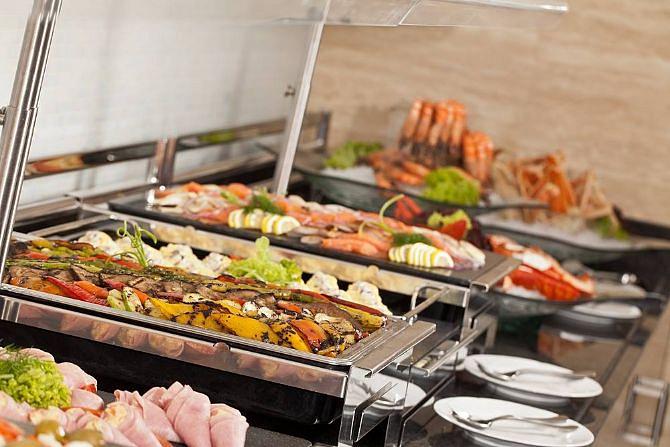 What makes a good brunch? Good food and variety to choose from. At the Sunday Brunch at Crowne Plaza, we found both.
The brunch at the Crowne Plaza features a great variety of starters to choose from- salads and all sorts of raw vegetables to make your own desired mix, to smoked salmon, all sorts of cheese, duck breast, quiche, terrine and seafood. If not enough, there's also sushi and foie gras. And then, the hot dishes: soups and all kinds of meats (fish, chicken, duck, beef) prepared in various ways, plus lots of side dishes. Let's not forget the large turkey from which the cook would carve your favorite piece. There was absolutely no way anyone could try everything in the menu and still be able to walk from the table on their two feet.
My favorite was the live cooking station where you can order stir fried vegetables cooked in the wok and/or pasta. My wife on the other hand enjoyed the salads, the sushi and the lighter choices, whereas I indulged in heavier food.
The deserts were also a hard choice. I usually can't resist trying one of each, but I didn't dare to do this this time, as there were too many: chocolate cakes, white chocolate cakes, refreshing fruity tarts, mousse, a delicious crème brulee and even a chocolate fountain. We really liked the apple cake, with big chunks of caramelized apples.
In brief, it was a feast. And to wash it all down, the waiters kept filling the guests' glasses with sparkling wine.
The location added to the whole experience. Crowne Plaza Hotel is located in a park in the Northern part of Bucharest, putting some distance between its guests and the bustle of the city. The large hall of the La Veranda restaurant is surrounded by green space and trees. The only downside is that smoking is allowed is one of the rooms, and if several people light up their cigarettes you will feel it immediately. There's also a non-smoking saloon, where the open bar is located, but it's smaller, so I'd encourage reservations with some time in advance.
However, during warm days you can also stay on the terrace, which is what we did and it was very nice to have the brunch in open air.
Many of the people at the brunch were either families with children, who have a dedicated room and entertainers, or large groups. It appears the brunch is widely used for taking friends on special occasions, such as anniversaries, as you won't have to worry about them having their orders taken. They will simply go and choose whatever they want, and the price is fixed.
The brunch costs RON 185 for one person (some EUR 42) and is organized every Sunday, from 12:30 to 16:30. For reservations, call +4 021 224 00 34.
Andrei Chirileasa, [email protected]
Normal