Ten traditional desserts to try in Romania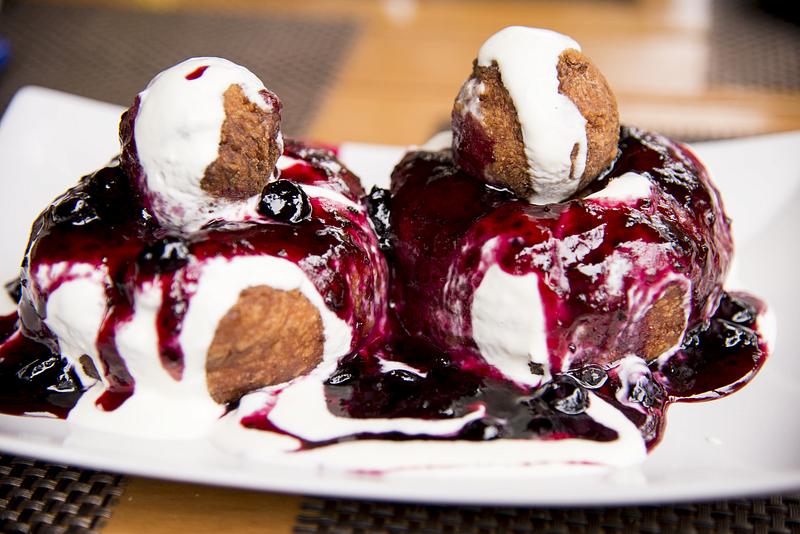 Some of the most popular desserts served locally have developed under various regional and international influences, borrowing and adapting from many other cuisines. Many come with few ingredients to add to the mix, but deliver a yummy experience and can satisfy anyone's sweet tooth. Here is a selection of local desserts to try.
Papanași, a fried pastry filled with cottage or soft cheese and covered with sour cream and jam, is a staple in restaurants serving Romanian food. The name of the dessert (pictured in opening photo) is thought to come from the Latin papa or pappa, describing a dish for children. Its origin is in the Austro-Hungarian Empire, and it has been adopted locally as well. So unwavering is the appeal of the papanași that, post-lockdown, it was one of the most demanded foods at the terraces of Romanian restaurant chain City Grill after the reopening. Likely at other restaurants serving local food as well. You can find a papanași recipe here.
The biscuit salami - salam de biscuiți is another favorite dessert, whose popularity many associate with the food shortages of the communist era. It needs only a few, basic ingredients, it's no-bake and a hit with children. The Portuguese or Italian chocolate salami is believed to have been the source of inspiration for the local dessert, made using biscuits, milk, cocoa, raisins, and Turkish delight. A video recipe with English subtitles is available here.
When it's plum season, it's time for some găluște cu prune – plum dumplings. The dish is often encountered in the Transylvania and Banat regions and has spread to other parts of the country as well. It is similar to the dessert that can be encountered across Central and Eastern Europe, from Germany and Austria to Hungary, Poland, or Serbia. The dough is made of potatoes, flour and they are served covered in breadcrumbs mixed with granulated sugar. It is a filling dish, so sometimes it is eaten as a second course instead of dessert. A recipe is available here.
Poale-n brâu, delicious buns filled with sweet cheese, are traditionally made in the eastern region of Moldavia. They are also known as brânzoaice and add to the list of local desserts made with sweet cheese, which includes the papanași or the Easter dessert pască. The name of the dessert, which roughly means "the bottom of the skirt raised to the belly band," refers to the folding technique used when making buns. Vanilla, raisins, and lemon zest are added to the cheese filling, giving this dessert a wonderful aroma. The recipe is available here.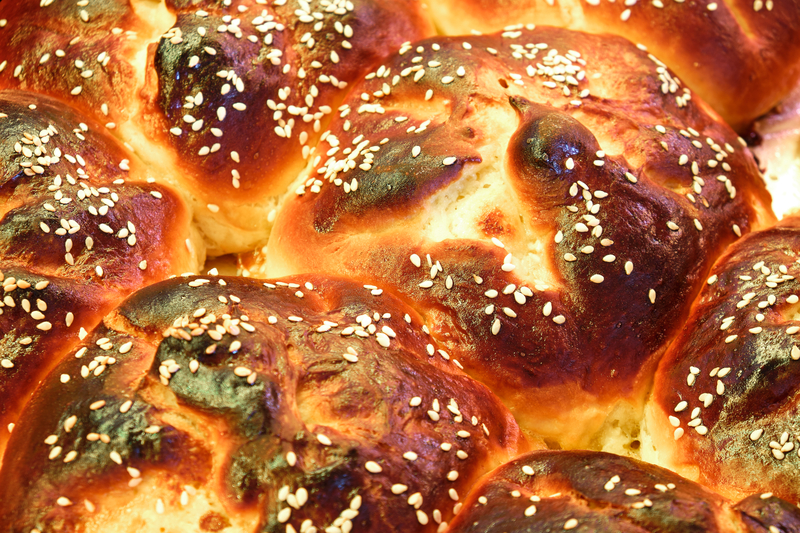 The rice - orez cu lapte - or semolina - griș cu lapte - puddings are some of the most popular desserts prepared in Romanian households. Served either warm or cold, they include milk, rice or semolina, sugar, vanilla, and cinnamon or fruit jam as a topping. They are easy to make, and many regard them as their favorite childhood desserts. The rice pudding is also served on walnut leaves on the Saturday before Pentecost (Moșii de Vară/ Saturday of the Souls).
Unpretentious and easy to make, frigănele are the local version of the French toast. It can be a good way to use bread that is going stale. As in the French toast recipe, the slices of bread are soaked in milk and eggs. After frying, it is served topped with sugar. It can also work as a salty treat when topped with cheese and herbs.
Some of the most popular local desserts are those prepared for various religious celebrations. Top of the list is cozonac, made for Christmas or Easter. It is a sweet bread, with a filling of cocoa and walnuts, raisins, or Turkish delight. Baking the cozonac is a tradition women still pass on from mother to daughter, especially in the countryside. You can find a recipe here.
On Easter, the staple dessert is pasca, a cake with a dough base filled with sweet cheese, raisins, eggs, and sugar. Similar versions can be found in other countries where the Orthodox Christians are in the majority. A recipe is available here.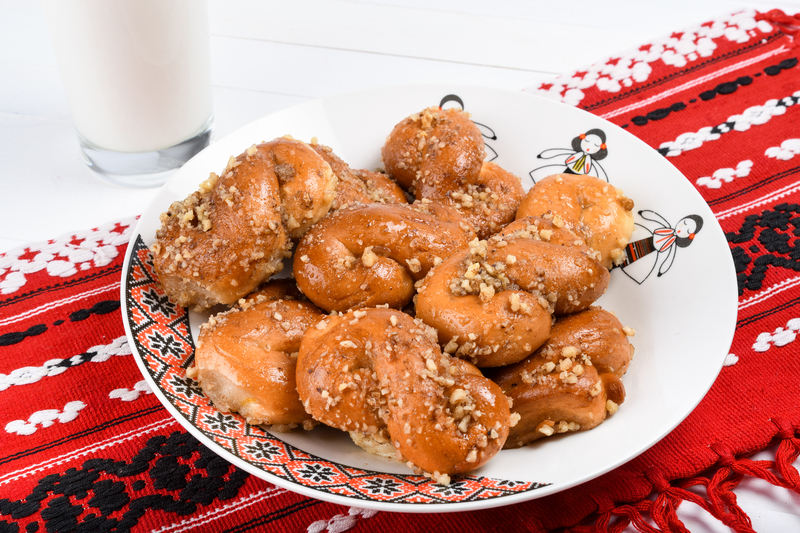 The mucenici are made on March 9, the day Orthodox Christians hold the feast of the Forty Martyrs (Mucenici), soldiers in the Roman army during the reign of Emperor Licinius (308-324), who were tortured and executed in Sebaste (capital of the Roman province Armenia Minor) because they refused to renounce their Christian belief. 
Two versions of the mucenici dessert can be encountered locally. In the region of Wallachia, the flour, water, and salt dough is shaped in the form of figure eight, a stylized human form of the martyrs, and boiled in sweetened water (vanilla or lemon zest can also be added). It served with cinnamon and crushed walnuts on top. In Moldavia, the mucenici, sometimes called sfințișori, are of similar shape but much larger. They are baked and served with honey and crushed walnuts on top.
Last but not least, one of the most popular sweet dishes locally is coliva, made of boiled wheat mixed with sugar and walnuts, and covered with icing sugar. The dish is only made for religious services – it is blessed at funerals or the memorial service performed at various intervals after a person's death. Although you won't be able to order this at a restaurant, you might receive it as pomană, food offered to the attendees of a funeral, or at memorial services. 
(Opening photo: Adfoto | Dreamstime.com)
editor@romania-insider.com
Normal