(P) NRCC Orange Night 2017 – meet, eat & party with the Dutch!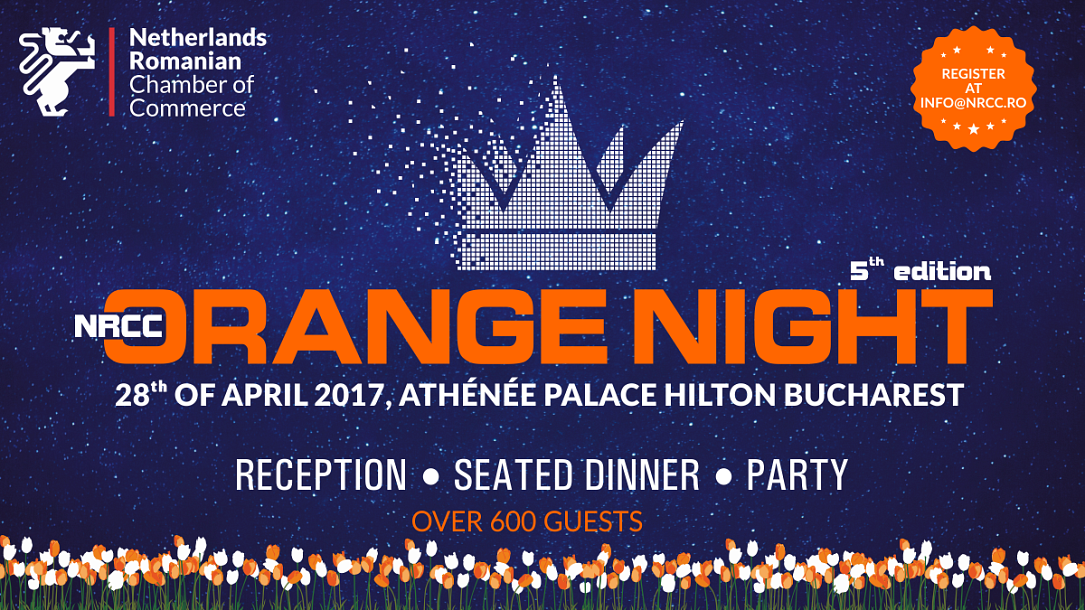 On 28th of April, Netherlands Romanian Chamber of Commerce (NRCC) will organize in Bucharest the 5th edition of NRCC Orange Night, the biggest event of the Dutch-Romanian business community.
The event is dedicated to Koningsdag or King's Day, the celebration of the 50th birthday of King Willem Alexander of the Netherlands and will gather over 600 guests for a Reception, an exquisite Gala Dinner with Dutch specialties and a great Party afterward (with live music, DJ and raffle with attractive prizes). This year, special guest of the party will be the well known Romanian band, TAXI!
"NRCC Orange Night is our flagship event and a great opportunity for us to strengthen the warm relationships we have developed within the Dutch-Romanian community. We are happy to see that, with each edition, the event gathered more people, confirming its high-quality profile and relevance". declares Mr. Maurits Dohmen, Executive Director of NRCC.
The dress code of the evening is Business with an Orange Touch because it is also about the 'oranjegekte', the 'orange madness' that takes place in the Netherlands, transforming King's Day in the biggest birthday celebration on Earth. For the 3rd year in a row, the event will be hosted by Athénée Palace Hilton Bucharest, proud member of the NRCC.
A Special "Thank You" to all the sponsors confirmed so far:
GOLD SPONSORS: NN, ING, ORTEC, Philips Romania, FrieslandCampina, DMT Marine Equipment, KLM Romania
SILVER SPONSORS: Fokker Engineering Romania, Colliers International Romania, Heineken, Athénée Palace Hilton Bucharest
BRONZE SPONSORS: Business Lease, ES Elektro Romania
SUPPORTERS: Noerr, VAPRO Romania, Zeelandia, CMC Broker Grup de Asigurare
Tickets are available online or by request, at info@nrcc.ro (same email available also for sponsorship requests). Please note that for all types of tickets, payment must be made in full prior to the event to guarantee admission.
ABOUT NRCC
Since 2006, by means of dedicated events and industry-focused projects, NRC supports and promotes the Dutch-Romanian business community. After 10 years of activity, NRCC network now includes 180+ members, representing 20+ industries.
(p) - this article is an advertorial
Normal