King Charles' five-day visit to Romania to end in the Transylvanian town of Viscri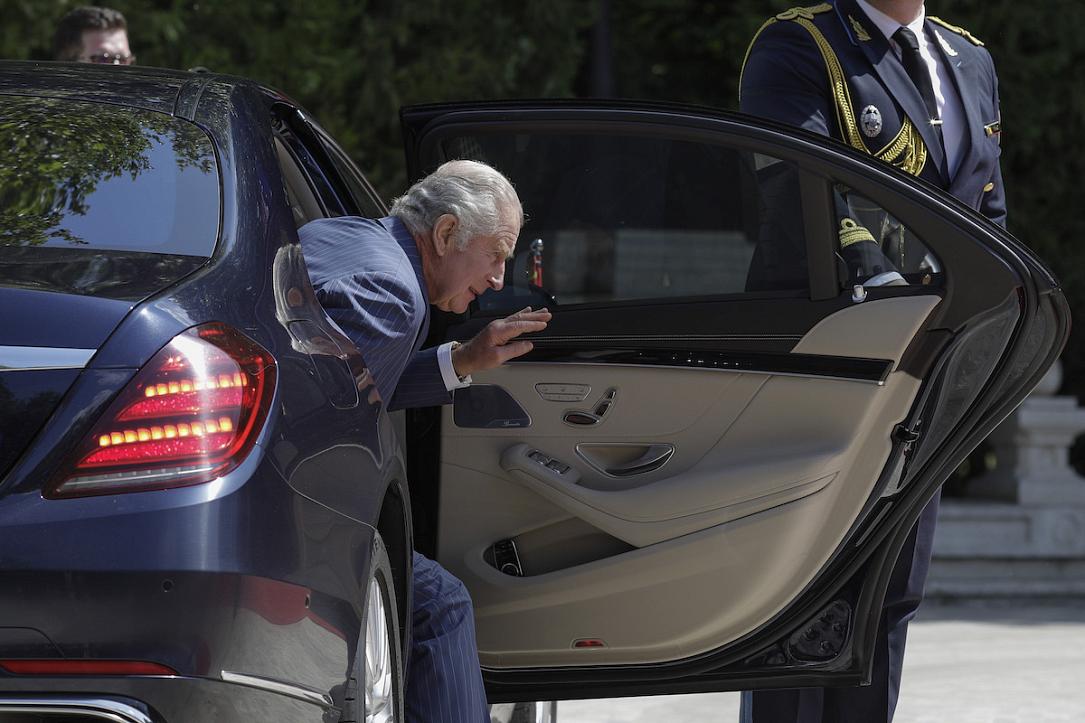 King Charles' five-day visit to Romania is set to conclude on Tuesday, June 6, with a visit to the Transylvanian village of Viscri.
Britain's King Charles III arrived in Bucharest on Friday afternoon, June 2, where he was welcomed by president Klaus Iohannis at the Cotroceni Palace. At the reception in Bucharest, the king said he has "always felt rather at home in Romania" in reference to his links to the infamous Vlad the Impaler through his great-grandmother Queen Mary.
Afterwards, as the visit was largely private, the king preferred to stay at the house in Valea Zălanului and take short walks in nature. Tourists came to the area from all parts of the country to speak with His Majesty. They offered him traditional delicacies, which Charles graciously accepted as he spoke with them, ProTV reported.
King Charles was received by locals and children with flowers and "welcome" messages when he arrived in Valea Zălanului, where he owns three guesthouses that are 100 years old and that he has restored. He visits the small village, home to just 120 inhabitants, located in the county of Covasna, as often as he can, according to Digi24.
At the end of the 20th century, the descendants of the Saxon settlers brought here in the 12th century by the kings of Hungary to repel Mongol and Ottoman invasions emigrated en masse from Transylvania to Germany, leaving behind hundreds of fortified churches and medieval houses. Through funding, tourism development, and mobilizing architects and other conservation specialists, Charles has contributed to the preservation of these buildings.
The locals brought King Charles a giant pie, which is offered in the villages of Covasna only at important events such as weddings and baptisms. Several women from a neighbouring locality worked tirelessly for hours to make the giant pie.
Charles' visit also caught the eye of the international press, which covered his stops and his affection for Transylvania. While in Romania, the British king kept to the places that won his heart a quarter of a century ago. He first went to Viscri in 1998. Attracted by its few dirt roads, horse-drawn carriages, and brightly coloured houses, Charles bought his first house here in 2006, which has now been transformed into a small museum dedicated to his passion for botany.
An official from the local mayor's office quoted by France24 said his return to the region was being welcomed as an "emotional gesture." But in contrast to earlier visits, his trip as a newly crowned king had a "more formal, official" nature amid heightened security.
"Until 10 years ago, Charles would walk around, go inside the villagers' courtyards, discover, without someone protecting him," said local guesthouse owner Alexandru Toader. "Now he can no longer do that because every time he comes, it is highly publicized," he added.
"It will be a unique moment for our community to welcome the king, a sign of recognition for the work carried out in all these years," emphasized Caroline Fernolend, president of the Mihai Eminescu Trust Foundation dedicated to the preservation of Transylvanian heritage and long placed under Charles' patronage. And to respond to this honour, the village relied on simplicity: no grand ceremony is planned, and no banners are displayed. "We won't dress up, beautify the place, what's the point? The beauty is already there, around us," she said, cited by Antena3.
radu@romania-insider.com
(Photo source: Inquam Photos/Octav Ganea)
Normal