French Film Festival in several Romanian cities this spring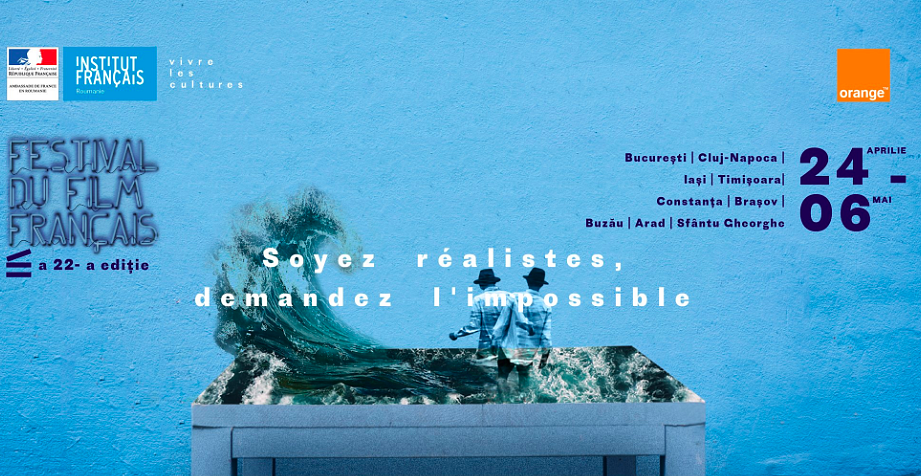 The 22nd edition of the French Film Festival will kick off on April 24 in Bucharest, but it will also take place in several other Romanian cities, namely Arad, Braşov, Buzau, Cluj-Napoca, Constanta, Iasi, Sfantu Gheorghe and Timitoara. The event will end on May 6.
The French Film Festival will open on April 24 with the screening of Madame Hyde, a 2017 drama film directed by Serge Bozon, at the Elvire Popesco Cinema in Bucharest.
By cities, the festival will take place at Arta Cinema in Arad between May 4 and May 6, at Cinemateca Patria in Brasov on May 3-6, at the George Ciprian Theater in Buzau on May 4, at Victoria Cinema in Cluj-Napoca on May 3-6, at Tomis Mall Cityplex in Constanta on May 3-6, at Ateneu Cinema in Iasi on May 2-5, at Arta Cityplex in Sfantu Gheorghe on May 3-6, and at Vest University in Timisoara on May 3-6. In the capital Bucharest, the French Film Festival will be organized between April 24 and May 6.
The event will be split into four sections. One of them will mark the 50-year anniversary of the May 1968 events in France, and will include feature films and documentaries of the period. Meanwhile, the Competition section will comprise six films from which the public will select the winner.
The festival will also include the Cahiers du cinema Week. The movies to be screened within this section were selected by Cahiers du cinema critic Joachim Lepastier.
The fourth section is Panorama, which will comprise some of the finest French cinematic creations, films that have won both the cinema and in major international festivals. Among them, Jusqu'à la garde directed by Xavier Legrand (2017), which will close the event in Bucharest.
More information about the festival can be found here, and the tickets for the screenings in Bucharest are available online here.
Irina Marica, irina.marica@romania-insider.com
Normal