Nature in Făgăraș Mountains: The European Yew in Romania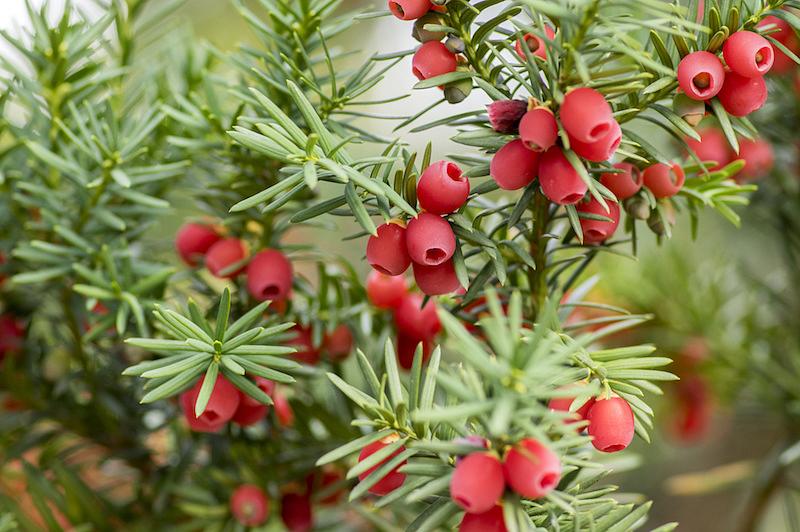 Romania-Insider.com is publishing a series of articles about wildlife in Romania, zooming in on the wild animal and plant species in the Fagaras Mountains area. This editorial series is sponsored by the Foundation Conservation Carpathia.
The long-living yew, thought to be among the oldest tree genus in Europe, has seen in the past hundreds of years one of the largest declines of any species on the continent. This happened in Romania as well, and while reserves of yew exist in the country, its distribution is far sparser in other areas.
The characteristics of the European yew (Taxus baccata L.) help explain both its exploitation and decline but also to the many legends surrounding the tree.
Longevity is an attribute of the yew and across Europe there are trees believed to have reached impressive ages. But while it lives long, it also grows very slowly, with its strategy described as being one of survival. Because it is a long-living tree, it means the yew can have trunks that are very large, up to four meters in diameter. It rarely exceeds 20 meters in height and is often multi-stemmed.
The precise age of the older yew trees is difficult to determine as they are often hollow, which makes the estimation of their age based on their tree rings infeasible. Kingley Vale, a National Nature Reserve in Britain and one the few major groves of yews still standing in Europe, hosts yew trees that are 500 years old, some of them even older. The Fortingall Yew, in the Scottish village of the same name, is reputed to be in between 2,000 and 5,000 years old.
The yew, which tolerates shade very well, is usually found in forests by itself or in small groups. With its associations with immortality, it is also found in churchyards and cemeteries in the United Kingdom, France, or Spain. Sometimes called "the grave guardian" or "the tree of the dead," the yew is surrounded by a host of mystical beliefs and legends. Druids are thought to have used the yew and its poisonous seeds in religious ceremonies, and the wood for spears and bows. The warrior Norse god, Ull, the deity of bows, is said to have lived in yew dales. Later, in Christian times, the tree became a symbol for resurrection and its branches were used as palms on Palm Sunday.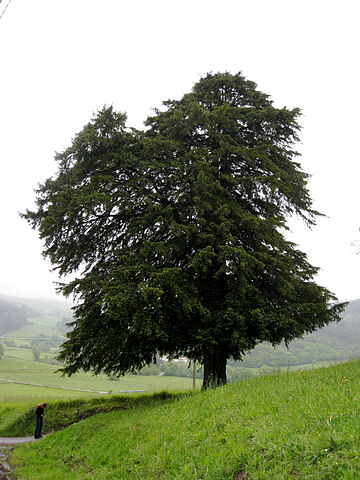 As far as its geographical distribution is concerned, the yew is native to most of Europe, the Atlas Mountains and Asia Minor. In Europe, it cannot be encountered beyond Ireland and southern Scandinavia because of the low temperatures and waterlogging, while in the south its distribution is limited by drought and high temperatures.

In Romania, it can be found from hill areas to mountainous ones, in forests. It is called tisa in Romanian. The country has a few forest reserves, like the one in Tudora-Botoşani, where the yew can be found inside a beech forest or the one in Cenaru-Vrancea, where it is mixed in between beech trees and conifers. In other parts, the yew is more dispersed. In the area of the Făgăraș Mountains the yew has been reintroduced recently after the Foundation Conservation Carpathia (FCC) planted 150 yew trees in three places in eastern Făgăraș.

The toxicity of the tree is one of the factors contributing to its decline. The only non-toxic part of the yew is the red flashy aril of the scarlet berries it produces after wind pollination. Unlike other conifers, the yew does not bear cones but berries. The red aril makes food for the birds, which also spread the seeds. But because it was overall very poisonous to livestock, it was usually cut.

Its wood was also heavily used, and the properties of yew timber, which is heavy but elastic, made it very sought after. In the Middle Ages, it was used for making longbows, as well as for furniture and musical instruments. Because of the popularity of the longbows, a "yew tax" existed in 15th century England. It amounted to four "bowestaffs" for every cask of wine unloaded at an English harbor, sparking the extensive cutting of the tree and furthering its decline. The practice of clear-felling in forestry added to the tree's decline as the yew cannot cope with this kind of forest management.

More recently, the yew has also seen renewed interest after its importance as a source of taxane alkaloids for the manufacture of cancer-treating pharmaceuticals emerged. Because it grows at a slow rate, today the yew is not considered a commercial crop but the trees are valued for hedging and topiary.

The yew is now protected and the European Commission has designated the forests where the tree is found as special protection areas through the 1992 Habitats Directive concerning the conservation of natural habitats and of wild fauna and flora.

Simona Fodor, Associate Editor, [email protected]

Sources:

Benham, S. E., Houston Durrant, T., Caudullo, G., de Rigo, D., 2016. Taxus baccata in Europe: distribution, habitat, usage and threats. In: San-Miguel-Ayanz, J., de Rigo, D., Caudullo, G., Houston Durrant, T., Mauri, A. (Eds.), European Atlas of Forest Tree Species. Publications Office EU, Luxembourg.

Sălăjan Robert Mihai. Tisă. Taxus baccata in Silva News (silvanews.ro). Published September 29, 2017.

Smith Roly. Unforgettable yew in The Guardian. Published on October 7, 2000.

Natural England – Kingley Vale. National Nature Reserve – Nature Trail leaflet, 2013.

Yew (Taxus baccata) in A-Z of trees. Woodland Trust website.

Christoph Promberger, Foundation Conservation Carpathia

(Photos: Adobe Stock; Sitomon/ Wikipedia)

This article is part of the "Nature in the Fagaras Mountain" editorial series, currently sponsored by Foundation Conservation Carpathia. 

-->

Normal

-->