EP Intergroup on LGBT rights asks Romanian Parliament to not support referendum for family redefinition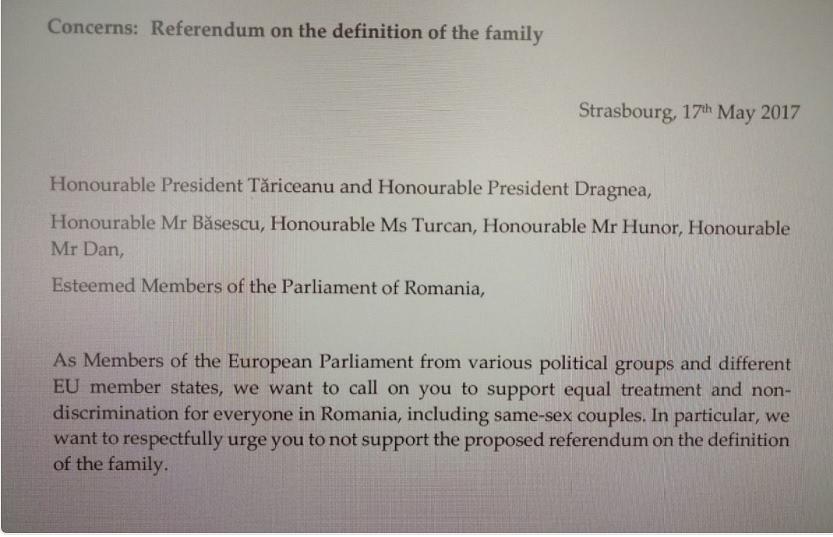 Thirty-three MEPs of the European Parliament's Intergroup on LGBT rights have sent a letter to the leaders of the Romanian parliamentary parties urging them to not support the referendum for changing the definition of the family in the country's constitution.
The local organization Coalition for Family has been looking to change the definition of family in the Constitution. The Chamber of Deputies adopted on May 9 the initiative changing the definition of family from the current "free-willed marriage between spouses" to the "union between a man and a woman." The Senate also has to vote on this initiative before a national referendum will be called to have Romanians decide if they agree or not to making this change in the Constitution. The change in the definition would make same-sex marriages impossible in Romania.
The 33 MEPs called the redefinition proposal "most surprising" as Civil Code provisions already forbid same-sex marriages, also prohibiting the recognition of same-sex civil marriages or partnerships legally entered into abroad.
"By allowing the referendum to take place, without providing for any alternative form of legal recognition for non-married couples, you would appear to condone the ongoing human rights violations of same-sex couples and of children living in families where the partners are not married or children living in single parent families," the letter reads.
The letter points to the situation created by a lack of recognition of same-sex unions, where "people are not entitled to the protection of the family home and are not allowed to take care of their partner's children when it is the most necessary, e.g. when he or she passes away."
At the same time, the letter mentions that the European Court of Human Rights has recognized the right to respect for private and family life for same-sex couples and obliges member states to provide an alternative form of recognition of same-sex couples.
The 33 MEPs signing the letter urge the Romanian Parliament "to not support the organization of a referendum which would further divide society and enshrine discrimination of same-sex couples and non-married different sex couples in the Constitution," while calling for the creation of an alternative form of recognition for all couples, including same-sex ones.
The full text of the letter can be read here.
31 diplomats express support for Romania's LGBTI community
Normal