Top Romanian news websites: Which are the biggest online publishers in Romania and who owns them?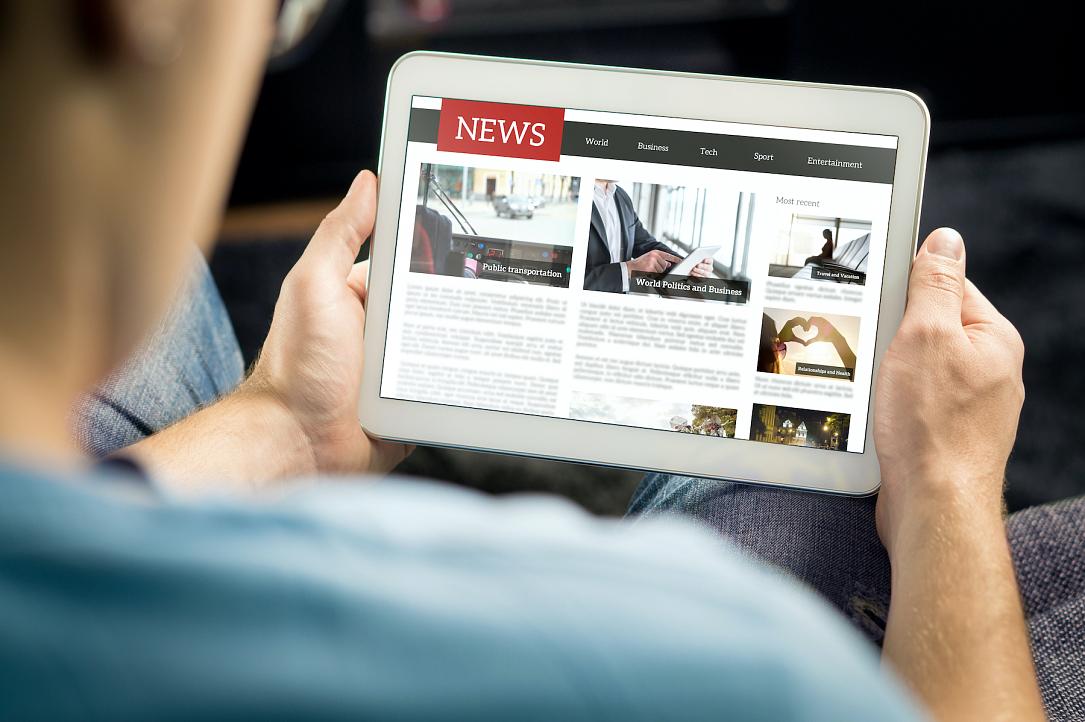 Some 40 Romanian news and content websites recorded over 2 million unique visitors in March 2022 and six local publishers had over ten million unique users on all of their websites in the same month, according to data from BRAT, the local organization that represents news publishers.
This exclusive Romania Insider article brings you the latest official ranking of news websites in Romania based on their traffic, the ranking of local online publishers as well as information about who owns the top publishers. You can read this article and support us to write more such analyses by getting a Romania Insider membership. With our Premium membership, you will also get seven premium newsletters, including our Daily Press Review and Weekly Press Review.
March was a good month for Romanian publishers as the war in Ukraine boosted the local online news consumption and the overall traffic of the news websites. The 194 websites monitored by the local publishers' organization BRAT recorded over 2.1 billion page views in March, up from 1.85 bln in February and almost 2 bln in January.
The total number of visits on these websites also jumped from around 800 million in January and February to 928 million in February. Meanwhile, the total number of unique clients (unique devices and browsers) that visited the websites monitored by BRAT was 102 million, slightly higher than in January and February.
Some 41 news and content websites recorded over 2 million unique visitors in March 2022. Combined, these 41 websites recorded 182 million unique users, 692 million visits and 1.34 billion page views, standing for over three-quarters of the total traffic monitored by BRAT.
The majority of these websites publish general news but there are also several business, sports, entertainment, lifestyle and health websites on the list.
In terms of ownership, all of the top news websites in Romania are privately owned.
Which are the top 10 news websites in Romania?
The undisputed leader of the Romanian online media is digi24.ro, a general news website belonging to Romanian telecom group Digi Communications. The website appeared as an annex to the group's news channel Digi 24 TV, but has strongly outperformed the television. In March, Digi 24 was only the sixth TV channel and the third news channel by viewers in Romania, with significantly lower audiences than its top competitors Antena 3 and Romania TV, according to rating figures presented by Paginademedia.ro. However, digi24.ro firmly dominates the online media landscape in Romania with 11.8 million visitors who generated over 130 million page views in March, representing about 7.5% of the total page views recorded by local content websites.
Second in the March ranking was libertatea.ro, the top news site owned by the Swiss media group Ringier in Romania, which had over 10 million unique visitors. Libertatea started as a tabloid newspaper in Romania, but in recent years it has switched to social and political news and analyses as well as investigative journalism.
Third in the ranking is adevarul.ro, part of Adevarul Holding, which is linked to one of the biggest and oldest general newspapers in Romania. Adevarul Holding is controlled by Romanian businessman Cristi Burci, who also reportedly owns Playtech.ro, which is fourth in this ranking. Playtech.ro was launched as a platform for gamers and technology buffs but has diversified its content turning into a general news website that targets the younger public.
Fifth in the ranking is stirileprotv.ro, a news website run by the biggest TV channel in Romania – PRO TV, followed by Hotnews.ro, an independent news platform that launched as an online news aggregator, and observatornews.ro, the main news website of Antena 1, the second-biggest TV channel in Romania in terms of audience.
The top 10 also includes romaniatv.net and antena3.ro, which are linked with the biggest news channels in Romania – Romania TV and Antena 3, and cancan.ro, a tabloid news website.
Here are the most visited 30 news websites in Romania with March traffic data: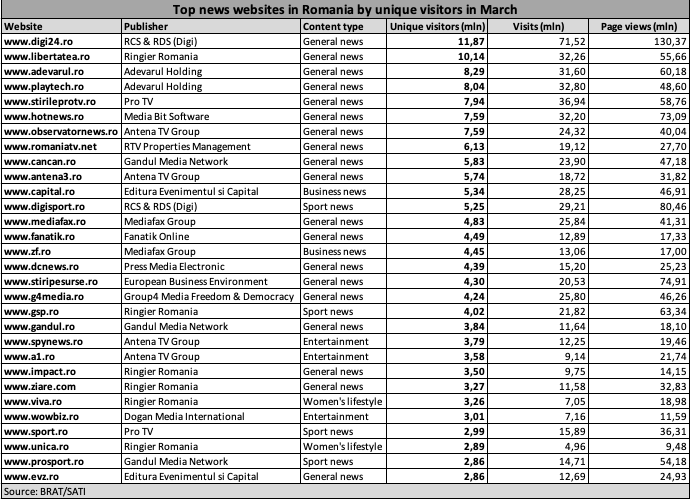 Which are the top 10 online publishers in Romania and who owns them?
Most of the top news websites in Romania in terms of traffic are owned by ten publishers. The online properties of these publishers cover approximately 60% of the total visits and page views recorded by the local content websites in March, based on BRAT data.
Ringier Romania and the Intact/Antena Group both recorded over 17 million unique visitors on their websites in March. However, the leading online publisher in terms of visits and page views in March was RCS & RDS (Digi), which owns the most read news site in Romania – digi24.ro.
Digi Communications is a Romanian telecom group listed on the Bucharest Stock Exchange. It is the local market leader in the cable TV and broadband internet segments. Digi's majority shareholder is Zoltan Teszari, probably the most discrete among Romania's richest. He lives in Oradea and never appears at public events, which is why there are very few photos of him in the Romanian media. Legend has it that even many of his employees don't know what he looks like as only communicates with a couple of trusted people who run his businesses. Besides digi24.ro, Teszari's group also owns the sports website digisport.ro and several other smaller ones.
Ringier Romania is the local subsidiary of the Swiss group Ringier, one of the first foreign media groups that entered the local market after the fall of the communist regime and one of the few that haven't left. Ringier owns libertatea.ro as well as gsp.ro, one of the top sports publications in Romania. Ringier also manages the advertising sales for a wide portfolio of websites in Romania.
Intact Media Group or Antena Group is a media group founded and controlled by the family of Romanian businessman Dan Voiculescu. The owns the second-biggest generalist TV channel in Romania – Antena 1 and the top news channel – Antena 3. Its top internet properties, observatornews.ro and antena3.ro are linked to these two TV channels. Dan Voiculescu, who rose as one of the top media owners in Romania after 1989, was a collaborator of the former communist secret police – Securitate. In the last 30 years, he has used his televisions to influence local politics. He was a strong opponent of the former president Traian Basescu and closer to the Social Democratic Party (PSD) at times.

The next three big online publishers in Romania are Gandul Media Network, PRO TV and Adevarul Holding.
Gandul Media Network owns the cancan.ro tabloid and several other websites bought from local businessman Adrian Sarbu (gandul.ro, prosport.ro, csid.ro). Gandul Media Network is controlled by local investor Radu Budeanu, who started as a journalist and founded some of the first tabloid and paparazzi publications in Romania.
PRO TV is the biggest media group in Romania in terms of turnover and owns the biggest TV station in the country. Founded by local businessman Adrian Sarbu in the early 90s, the company is now controlled by Prague-based CME, a group founded by American investors. In 2020, the US group AT&T sold CME to the Czech group PPF, founded by Petr Kellner. PRO TV's top websites are stirileprotv.ro and sport.ro.
Adevarul Holding is a local media group built around the Adevarul newspaper. After changing several owners, the group is currently owned by local businessman Cristian Burci, who built his fortune after 1990 by taking over several wagon factories from the state. Burci is also among the controversial media moguls in Romania due to his political connections. In 2021, he was indicted by the local anticorruption directorate (DNA) for arranging former PSD leader Liviu Dragnea's participation in an event connected to Donald Trump's inauguration in office.
editor@romania-insider.com
(Photo source: Tero Vesalainen | Dreamstime.com)
Normal