Romanian film review – Holding a mirror to the world: One World Romania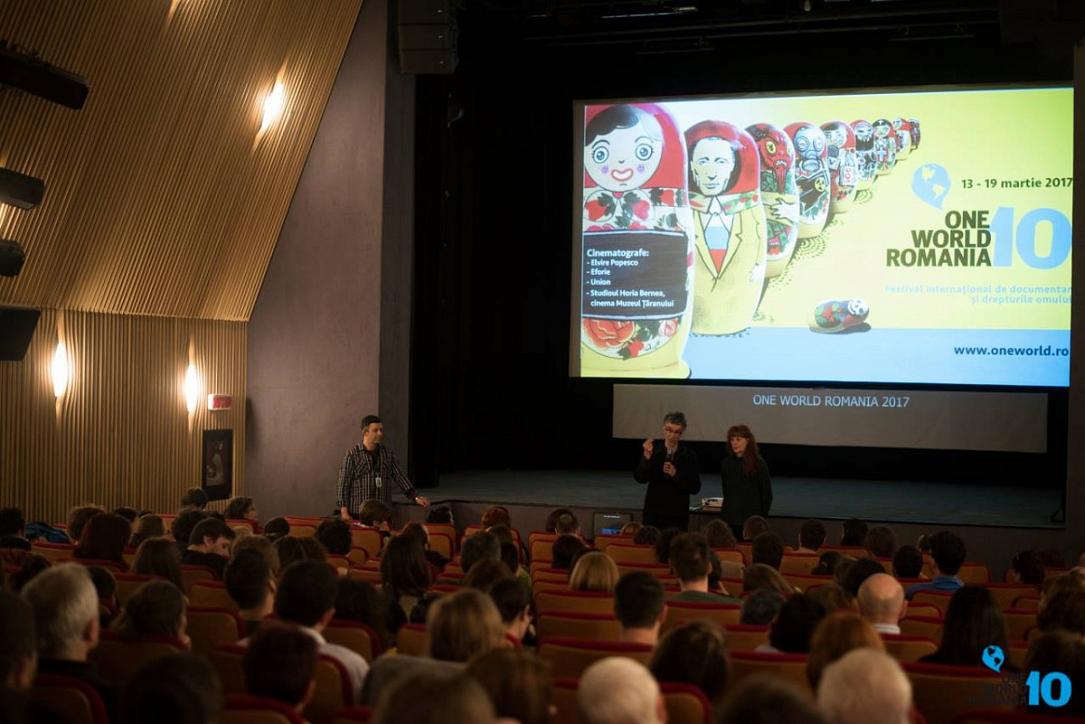 "The tenth year. We'll get over our fear." This was the (rhyming) motto of this year's One World Romania, turning ten. From its very beginning a dedicated, no-nonsense documentary festival on human rights, the project has grown (up) beautifully, and its anniversary edition (from 13 to 19 March in Bucharest) more than delivered.
Like every year, the selection is so good and varied that I wouldn't know where to start, so I will simply begin with the winner. The festival awards one title only, and this year it was a Czech observational documentary on autism. Normal Autistic Film follows five children and teens with different degrees of Asperger syndrome, and does it with patience, respect, and great empathy, also posing thought-provoking questions on what is normal.
The selection is organised in thematic categories and Normal Autistic Film was screened in "Diseases of the Health Systems". Other sections include "Political Animals", "Ministry of Fear", or "Against the Tide", while the festival's side-events include debates on some of these highly relevant topics – especially in Romania –, the fears many or some of us experience daily: the crisis of the health system, discrimination against same-sex couples, domestic violence. True to its profile, One World Romania dedicates just as much importance to discussions as it does to cinema, and each film is followed by a talk between audience and either the filmmakers or an expert on the particular topic. There is generous time for questions and answers (it's not an exception that some discussions go on for more than an hour), and these are always on point, and often revelatory.
These section are comprised of international entries, some of them with an impressive collection of awards, like Samuel in the Clouds, a poetic take on global warming from a personal perspective (in case you didn't know you could ski in the Andes, now you do), or Tower, a tense mix of animation and live-action which re-enacts the 1966 mass shooting at the University of Texas. The most lingering impression was left by Kirsten Johnson's Cameraperson, an incredibly ambitious study on cinema and being human. Johnson has worked as a cinematographer for 25 years, working on such Oscar-winning documentaries as Citizenfour and with this films she aims at weaving a personal memoir, mixing film footage with videos of her family. Needless to say, she has a trained eye, but what impresses most is her maturity and sensitivity in approaching her themes and subjects and creating connections between the personal and the universal. It is a film of many horrors (Johnson shot often in war-ravaged areas), but also of enormous beauty and empathy. If you were to watch only one documentary this year, make it this one.
The Romanian selection was especially strong, with its most interesting entries in the Work-in-Progress section. The absolute highlight here (and I would venture to say the festival's most talked-about film) was Radu Jude's The Dead Nation/Țara moartă. Using pictures from the relatively newly discovered archive of studio photographer Costică Acsinte, with its touch of nostalgia and romanticised view of the past, Jude accompanies and juxtaposes the visuals with a reading from the diary of Jewish author and physician Emil Dorian on the brutal persecution of the Jews during the Second World War (also the years the featured photographs were taken). These crimes are still at thorny topic in Romania, and each occasion to trigger a discussion on them is more then welcome, especially if it comes in the shape of such a challenging, intelligent artistic product. What is even more unsettling than the horrors of the past is that the populist rhetoric featured in the film sounds frighteningly familiar today. On the opposite emotional note, the optimistic, feel-good alternative of the Romanian section was provided by The Brotherhood/Frăția, a portrait of the now-famous Bucharest fifth division soccer team Frăția, which includes a trainer from Congo, a one-armed goalkeeper, and Roma players. It's a lively, warm proof that a common passion can erase all differences. My favourite Romanian slot, as every year, is a selection of short films from the archive of Alexandru Sahia studio, the only production house for documentaries in the communist years, founded in the 1950s. It's all commissioned work for party-relevant issues (work, aspects of national identity etc), shot by excellent professionals. What may sound dry is actually an eye-opening, often very amusing, and moving experience (I suspect even more so for the generation who experienced those times).
The Romanian films mentioned above, and some more, will hopefully be screened soon in cinemas. The other films are already out on DVD (Cameraperson), or VoD channels (Tower), and I hope scheduled for TV screenings (I am counting on HBO for that). Have a look at the festival's line-up and if you can catch any of the titles, don't hesitate to do so. These are the films that really show the world in all its facets.
By Ioana Moldovan, columnist
(Photo source: One World Romania on Facebook, Photo by: Diana Paun)
Normal