Romania events: Concerts, festivals, exhibitions in 2023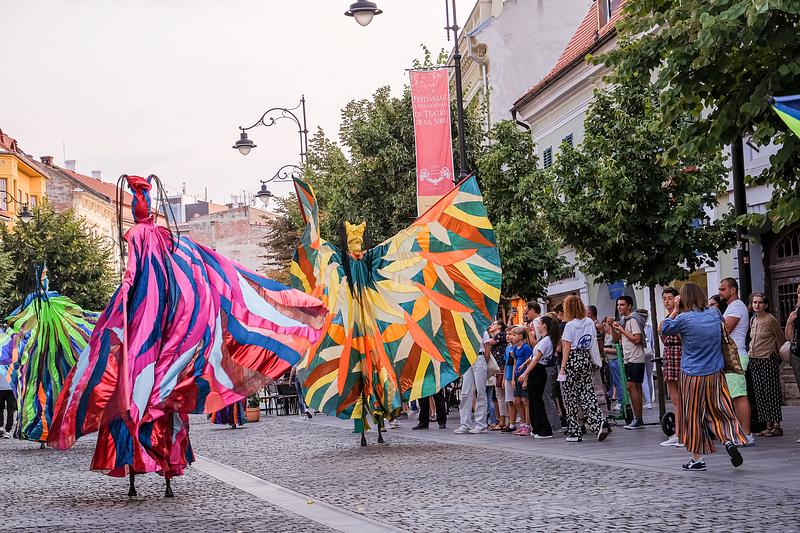 The European Capital of Culture program in Timişoara is one of the highlights of this year's local agenda of events, alongside exhibitions dedicated to Brâncuși and Picasso, while names such as Robbie Williams and Depeche Mode are among those scheduled to perform in the country. We outline below some of the festivals, concerts, and fairs scheduled for 2023.
Art Safari
February 10 - May 14
The 11th edition of the art event Art Safari will cover four exhibitions: a retrospective dedicated to the work of Romanian painter Ion Theodorescu Sion (1882-1939), curated by Elena Olariu; an exhibition looking at the career of the Spanish painter Joaquin Sorolla (1863 - 1923), curated by Helena Alonso; The Memory Palace - a selection of eight artists and two duos of the French art scene who participated in the Marcel Duchamp Prize in the past fifteen years, curated by Daria de Beauvais; and Young Blood 2.0. – an exhibition of contemporary Romanian art curated by Mihai Zgondoiu. More on the event here.
UPDATE: Art Safari holds three editions in 2023; exhibitions in the second part of the year include Love Stories, featuring works from the National Portrait Gallery, and Bags Inside Out, covering iconic bags from the collection of London's Victoria and Albert Museum.
Timişoara – European Capital of Culture
Starting February 17
Alongside Elefsina (Greece) and Veszprém (Hungary), Timişoara is hosting the European Capital of Culture program. It is only the second Romanian city to host the program, after Sibiu in 2007. The official opening is scheduled for the weekend of February 17-19, with various events, ranging from outdoor concerts and exhibitions to theatre in unconventional spaces, film premieres, and more. Details about the program are available here. The city will also host in September a large exhibition of works by Constantin Brâncuși.
Massif
March 3 – 5
Set in Poiana Brașov, the festival will have two large stages located on the Bradul plateau. Smaller stages and music spots will be placed in other areas of the ski resort. More details here.
Andre Rieu concert
February 28- March 4
The Dutch violinist and his Johann Strauss Orchestra return to Romania for five concerts in Cluj-Napoca at BT Arena. More here. The dates are listed here.
Bookfest
May 24 -28
One of Bucharest's two main book fairs, Bookfest will have this year Italy as the guest country. Other local editions of the event are planned in Timișoara, Cluj-Napoca, and Brașov, among others. More details here.
Robbie Williams, Sam Smith concerts
June 3-4
Summer in the City, the music festival held in Bucharest's Constituției Square, has Robbie Williams and Sam Smith as headliners. They will be joined by Editors, LP, Calum Scott, and Abby Roberts, among other artists. More on the event here.
Johnny Depp and Hollywood Vampires
June 8
This concert, held at Romexpo in Bucharest, is part of the group's European tour. It will see Johnny Depp perform alongside Alice Cooper, Aerosmith's Joe Perry, and Tommy Henriksen. More details here.
Transilvania International Film Festival
June 9-18
The largest international film festival in Romania reaches its 22nd edition this year. Romanian and international filmmakers can already submit their films for this year's edition in various sections of the festival, ranging from the official competition, aimed at first and second-time directors, to documentaries, Romanian Days and other non-competitive programs. The program of the event is updated here.
Sibiu International Theater Festival
June 23 - July 2
This will be the 30th edition of the highlight theater and performing arts event, which brings every year to Sibiu top names from around the world and a variety of events, sections and performances. The program is updated here.
Saga
June 23 – 25
The festival, described as a combination of "music, massive production and stage design, and epic performances," is held at Romaero. More details here.
Neversea
July 6 - 9
One of the biggest music festivals in the country is preparing a program of events from top international DJs and producers, as well as Romanian artists. It will also host various interactive activities, water sports, and creative workshops. Updates about the program are available here.
EUROPAfest
July 7 - July 15
The festival covering the genres of jazz, blues, pop, and classical music will hold its 30th edition this year. The concert evenings will be combined with a coffee festival, contests, workshops and master classes. More here.
Electric Castle
July 19 - July 23
The festival, held at Banffy Castle in Bonţida, near Cluj, has already announced part of its lineup, which includes at this year's edition Iggy Pop, The Chemical Brothers, George Ezra and The Hu. More details here.
Depeche Mode concert
July 26
The British band returns to Bucharest for a concert at Arena Nationala. The performance is part of the group's Memento Mori world tour. More here.
ARTmania
July 28 – 30
Bands such as Wardruna, Haken, TesseracT, Port Noir, and Vulture Industries are among those coming to Sibiu for this year's edition of the rock festival. More details here.
Untold
August 3-6
The event taking place in Cluj-Napoca attracted a public of more than 360,000 people last year. This year it is preparing its usual mix of live acts and shows from EDM, techno, tech-house, deep-house, house, trance, hip-hop, pop, drum'n'bass, trap, dubstep, trip-hop names, and more. Updates about the program are posted here.
Summer Well
August 11 – 13
The festival takes place at the Știrbei Domain in Buftea, close to Bucharest and usually delivers a lineup of international and local names from across a range of genres. Updates are available here.
George Enescu Festival
August 27 - September 24
The largest classical music festival in the country is holding this year its 26th edition and the first with conductor Cristian Măcelaru as artistic director. Ensembles such as London Symphony Orchestra, Royal Concertgebouw Orchestra, Maggio Musicale Fiorentino, and Wiener Philharmoniker will perform at the event alongside names such as conductors Sir Simon Rattle, Zubin Mehta, Manfred Honeck, and Paavo Järvi, pianist Yuja Wang, cellist Gautier Capuçon, and violinists Renaud Capuçon and Janine Jansen, among others. The program is available here.
Jazz in the Park
September 1-3
The Cluj-Napoca event, which won Europe's Best Small Festival title in 2019, is gearing up for another edition of performances from international artists. Details about the program are updated here.
Fall In Love
September 1 – 3
A new run of the music festival held in Mogoșoaia, close to Bucharest. Updates are posted here.
Picasso Effect
September 25, 2023 - January 8, 2024
Forty-five works by the Spanish artist and 50 by Romanian artists inspired by Picasso are grouped in this exhibition due to open at the Museum of Recent Art (MARe) in Bucharest. The exhibition, organized in partnership with the Picasso Museum in Paris, is the largest Picasso one organized in the last 50 years in the country. Among the Romanian artists whose works will be included are Alexandru Tzipoia, Corneliu Baba, Constantin Piliuță, Florin Mitroi, Horia Bernea, Sorin Ilfoveanu, Henri Mavrodin, Ion Grigorescu, Octav Grigorescu, Valeriu Mladin, Dumitru Gorzo, Victor Man, Alexandru Rădvan, Mircea Suciu, Marius Bercea, and Șerban Savu. Other exhibitions open at MARe are listed here.
Animest
October 6 – 15
This is the only festival in Romania dedicated to animated film. It gathers films from all over the world, in six competitive categories, both for short and feature films, ample retrospectives and focus on various countries, animation studios and film schools. More details here.
(Photo: Sibiu InternationalTheater Festival 2021 by Opreanu Roberto Sorin | Dreamstime.com)
simona@romania-insider.com
Normal