Prince Charles' favorite village in Romania may ban cars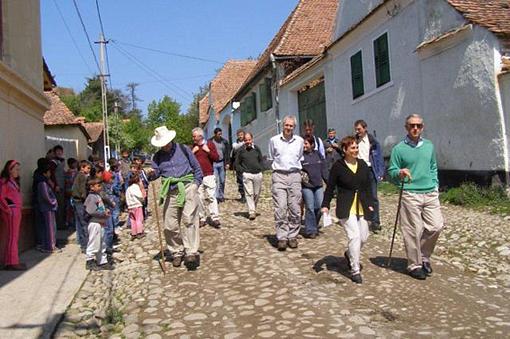 The Saxon village of Viscri, in Romania's Brasov county, where the Prince Charles of Wales owns a 18th century guesthouse, could introduce new rules for tourists starting next year. The new rules are aimed at preserving the village's authenticity, which has determined the heir to the British throne to return there every year.
Tourists' access by car could be banned between April and October. Instead tourists might have to leave their cars in a parking place outside the village and reach the center of the village by horse-drawn carts, according to Caroline Fernolend, an expert working with the Framework Convention on the Value of Cultural Heritage for Society within the Council of Europe, also known as the Faro Convention, quoted by local Agerpres.
Fernolend is also vice president of the Mihai Eminescu Trust (MET) a foundation dedicated to the protection of the historical Transylvanian heritage, patronized by Prince Charles from 2000 until 2013, and a member of the Brasov County Council.
This year, some 35,000 tourists have visited Viscri, a higher number compared to last year. "These tourists have created problems for village infrastructure, animals (...) considering that cars are parked on the roadside," said Fernolend, who has been a guide for Prince Charles during his yearly visits to Transylvania in recent years.
She explained that this was the reason why local authorities contacted experts from the European Commission to help them create regulation that is acceptable both to the community and the tourists visiting Viscri.
"We are in great danger, similar to what happened in Venice, where locals took to the streets saying they do not want tourists because of the overcrowding," Fernolend added.
The local authorities are currently building a parking lot with 150 places outside the village. Tourists will be transported from here by one of the 25 carts.
Tourists would not be fined if they failed to respect the new rules, but Fernolend believes that this will not happen and tourists won't mind travelling by cart.
The regulation will be sent to travel agencies once it's completed and will be posted on the village's website.
The village of Viscri, with its fortified church originally built around 1100 AD, is included on the UNESCO World Heritage list. Prince Charles bought and restored a farmhouse in Viscri in 2006.
This year the Romanian tourists who've visited the village were the majority. Until 2008, Viscri was very popular among the French tourists. A group of Swedish farmers have come to the village this year to exchange information about the village's activity, how animals are raised.
"Crafts are the attraction that we do not want to lose, as well as the culinary authenticity. If we say Viscri we say authenticity, and we do not want to lose it," Fernolend added.
How did Prince Charles start his yearly visit to Romania?
editor@romania-insider.com
Normal