First photo exhibition of Romanian director Cristi Puiu opens at new Cluj art center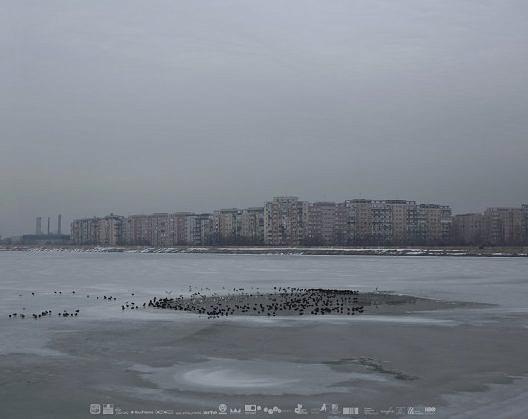 The first exhibition of Romanian film director Cristi Puiu, whose latest film Sieranevada was screened in the Cannes 2016 official competition, will open at Centrul de Interes, a contemporary art and culture center set to open in Cluj-Napoca, in western Romania, on June 8.
Puiu's exhibition is titled Sieranevada and includes photographs taken by the director during the post-production phase of the film of the same name. One of them was used for the poster of the film (pictured).
The exhibition is hosted by Baril art gallery, one of the five galleries to be hosted in the new center. The other four are Bazis Contemporary, Camera, Sabot, and Spatiu Intact. Centrul de Interes, which will open at the former Tehnofrig industrial platform in the city, also hosts four spaces for projects, three spaces for artistic residences, and workshop areas where 30 visual artists, designers, and architects work.
Centrul de Interes is meant to further enrich the cultural life of Cluj-Napoca and bring contemporary art to the community. It formed at the initiative of artist groups that left, at the end of 2016, Fabrica de Pensule, another art space in the city.
Centrul de Interes will also host the first individual exhibition of US artist Bill Viola in Romania. The video artist had over 130 personal exhibitions, including at MoMA New York, the National Gallery in London, the Guggenheim Museum in Bilbao, the Venice Art Biennial or the Grand Palais in Paris. His exhibition, titled Encounters, will stay open until July 15.
Cluj-Napoca is not the only Romanian city to welcome a new art space. Bucharest will host the new art gallery Sector 1, starting July 16. The gallery will open with an exhibition titled The exquisite corpse drinks the new wine, curated by Bogdan Iacob. The exhibition will feature eight contemporary artists working in Cluj-Napoca. They are: Radu Băieş, István Betuker, Norbert Filep, Pavel Grosu, Lucian Popăilă, Marcel Rusu, Alexandra Şerban and Ioan Sbârciu.
Centrul de Interes is located at 9A Fabrica de Chibirituri St., Cluj Napoca
Sector 1 is located at 29 Băiculeşti St., (inside the Combinatul Fondului Plastic), Bucharest.
Normal