(P) Romania's international community joins third and most popular edition of the Expat Fair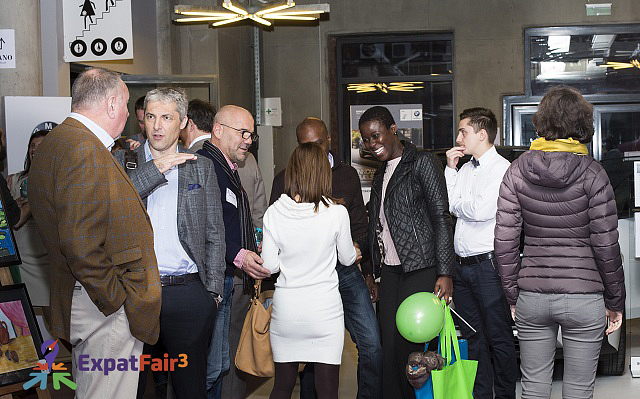 One main focus in Romania is to continuously build relationships and have a strong network in order to succeed.
"Understanding and adapting to this rapidly changing country - its culture, people, products and services - takes place through first hand information, physical presence and helpful people at one place", said Volker Moser, co-founder of City Compass Group, at the third edition of the Expat Fair.
The third edition of the Expat Fair happened on the 19th of November at The Ark and gathered more than 500 participants representing 150 companies. For three editions, the Expat Fair has been helping expats and internationals adapt in Romania and feel at home here.
The visitors and partners described the third edition of the Expat Fair organized by the City Compass Group as the best one so far in terms of number of participants, concept of the event and organization. The event offered both business to consumer and business to business opportunities in a mixed format.
"In Romania the relationships are more valuable than in other countries", said Don Lothrop, Founder PressOne and RomaniaOne and participant in the panel discussion at the Expat Fair about managing a successful business in Romania.
"What I experience here is a little bit different than in other countries and very important for me, as Argentinian: here, the relationship part plays a role. As an example, I have several customers all over the world and they usually treat you very bad depending on the industry, but here in Romania, each time I visit a customer it is an experience: I am well appreciated and perceived, communication and respect are involved. That makes my job really nice and I think this is a thing we can build on", continued Gustavo Navarro, the Managing Director of CRH Romania.
For Dragos Anastasiu, President and Founder of Eurolines Romania, it is easier to do business in Romania than in western countries: "In Romania it is easier to do business because the competition is not fierce and if you have the right attitude you can succeed having a prosperous business here", added Mr. Anastasiu, who is also the President of The German-Romanian Chamber of Commerce and Industry (AHK Romania).
Although the productivity in Romania is three times lower than in the western countries, the employees are very competent, creative and speak different foreign languages: " Romanians can speak a lot of foreign languages, in our company, for example, I can talk to them in English, French, Spanish", said Gustavo Navarro.
Unfortunately, there is still not enough trust among Romanians, and foreign entrepreneurs have picked this up "One of the biggest problems Romanians have is their general attitude of distrust in other people and sometimes even in themselves. The most difficult thing in my opinion, is to change the people's attitude", added Dragos Anastasiu.
"Both for foreign managers and for Romanians, motivation through leadership is essential", said Magda Niculescu, executive coach, Rise & Shine Coaching.
It is also challenging to do business in Romania for expats as well as for Romanians. Bureaucracy and corruption make it even more difficult. "If you are an expat coming from an efficient culture, you could have a cultural shock, at least at the beginning", concluded Elena Calin, Founder and CEO of Customer Focus, who also moderated the panel discussion at the Expat Fair.
The fair participants visited the stands, talked to the companies and benefited from their special offers, got contacts and started building business relationships at the moderated business networking, attended workshops and the panel discussions, celebrated the launch of the newest edition of the City Compass Guide. Moreover, BRD Groupe Societe Generale launched a new banking package for expats at the fair.
During the fair, the 3 workshops and 2 panel discussions tailored for expatriates were fully booked and focused on topics of interest for the community, such as the benefit of being part of a community, tips and tricks for travelling in Romania, expat career coaching, networking in Romania and how to manage a business in Romania.
Kids had a blast this time as well, at the two indoor and outdoor playgrounds created by AGS Movers (the bouncy truck) and Divertiland. BRD Groupe Societe Generale had a surprise for their parents offering them the chance to have a credit card customised with the drawings of their children.
The beautiful BMW i3 displayed by Automobile Bavaria was for one day the centrepiece of The Ark and an important point of attraction for the visitors and exhibitors alike.
We would like to thank all our partners for joining and supporting the third edition of this event!
You can read more about all our partners here.
The beautiful pictures were taken by Kathrin Weident Photography and Mihai Constantineanu Photography; more pictures can be found on our Facebook page.
Stay tuned for more information about the next edition of the Expat Fair! We also look forward to hearing from you with ideas, feedback and partnership proposals for future events. Our contact data is below.
City Compass Group, the organizer of this event, includes three divisions: City Compass Media, the leading publisher on the English – language niche in Romania, publisher of Romania-Insider.com and City Compass Romania: Bucharest & Beyond – the print travel and expat guide, City Compass Tours & Events that offers guided tours, corporate events and services, exclusive team buildings, executive retreats, travel tips and City Compass Intercultural Consulting that offers intercultural consulting and training for expats and repats, corporate consulting, family consulting, intercultural awareness and global leadership in Romania.
Contact:
Oana Pascu, Business Development Manager at City Compass Group
oana.pascu@citycompass.ro
+40734 611 223
(p) - this article is an advertorial
Normal