How multicultural chefs, unusual food, life stories boost ratings for Romanian cooking show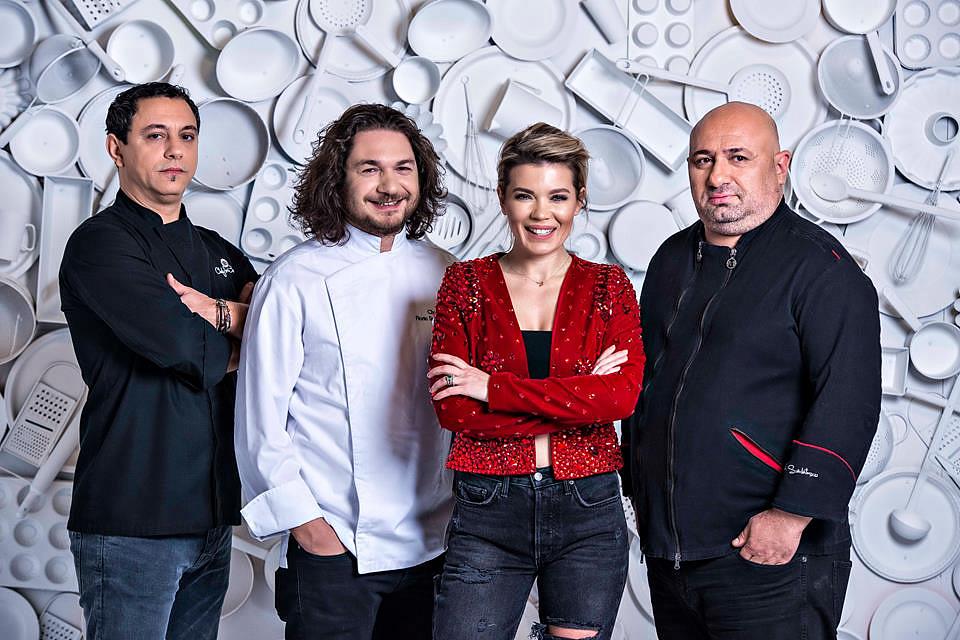 A Romanian cooking show has been enjoying top TV ratings largely due to having found its own success recipe: a team of charismatic chefs as the jury, contestants and food from all over the world, unusual life stories and lots of behind the scenes jokes and pranks.
The show Chefi la cutite is the Romanian version of the international format Game of Chefs and has been airing on Antena 1 since the spring of 2016. Now in its third season, the show has managed to constantly attract over 1.5 million of viewers for each of its two episodes every week, often outranking or being at par with competitor ProTV. Chefi la Cutite has also lured novice and experienced chefs from all over the world, who signed up as contestants: one of the keys to its success.
The current season, with 12 weekly editions aired so far and over 250 contestants in the blind taste tests stage, has welcomed a big number of Romanians who work abroad - many of them as chefs, and many coming from famous restaurants in UK, Spain, France, Greece, Australia, or having worked on cruise ships. They are all hoping to make a comeback to their home country via this show. While cooking recipes they've learned from all over the world, they also share their life stories and the hardships of making it abroad.
The number of foreigners who attend the show is also up compared to previous seasons. Among others, Chinese, Canadian, Italian chefs, they all try to impress the three chefs in the jury, not only with their food, but with their unbelievable life stories as well.
The show is highly multicultural, and not only when it comes to the contestants' origins and their current residence. The choice of ingredients has also been keeping viewers glued to their screens: kangaroo meat, snake, crocodile, exotic fruits and vegetables, worms & locusts, among others, have made it onto the plates of the jury, stirring reactions that helped ratings go up.
The Romanian diversity is no stranger to the show: many contestants speak regional dialects, wear traditional clothes, cook traditional Romanian recipes, and even play traditional songs from their regions. From very young (16) to very old (over 70) contestants, the show seems to manage to offer something for all tastes.
Most of the team now producing the show Chefi la Cutite has migrated from competitor show Master Chef, currently aired by competitor TV station ProTV. The three judges, chefs Sorin Bontea, Florin Dumitrescu and Catalin Scarlatescu (pictured above) have become increasingly popular ever since they first appeared together on TV as Master Chef jury at ProTV back in 2012.
In 2014, they moved to competitor Antena 1, first for the Romanian version of Hell's Kitchen, which was however canceled after the third season. They seem to have hit the jackpot with their current show, now also in its third season, and constantly more popular than their previous one.
The interaction between the three chefs (both spontaneous and staged) is one of the main success drives for Chefi la Cutite: from teasing each other with past successes or failures, cooking sessions during filming breaks, interacting with show anchor-lady Gina Pistol (pictured above), pranking each other during the blind taste tests, wearing wigs, costumes and crazy hats, or competing on who loses more weight during auditions, the trio and their producers know how to push ratings up.
Chefi la Cutite is produced by Mona Segall and her team, who left competitor ProTV in 2014, after 21 years with the station.
The show airs on Antena 1 every Monday and Tuesday starting 8.30 PM Romania time. It can be watched online live and recorded on antenaplay.ro, via a subscription.
The edition to be aired on March 27 will see the selected 120 out of over 250 contestants fight for a chance to be part of the three teams led by the jury chefs during the next stage.
The international format Game of Chefs debuted in 2014 on Channel 2 in Israel. The show has four stages: blind taste tests, training camp, kitchen battles, and finals.
editor@romania-insider.com
(photos: Chefi la Cutite on Facebook)
Normal