Largest religious pilgrimage in Romania starts on Thursday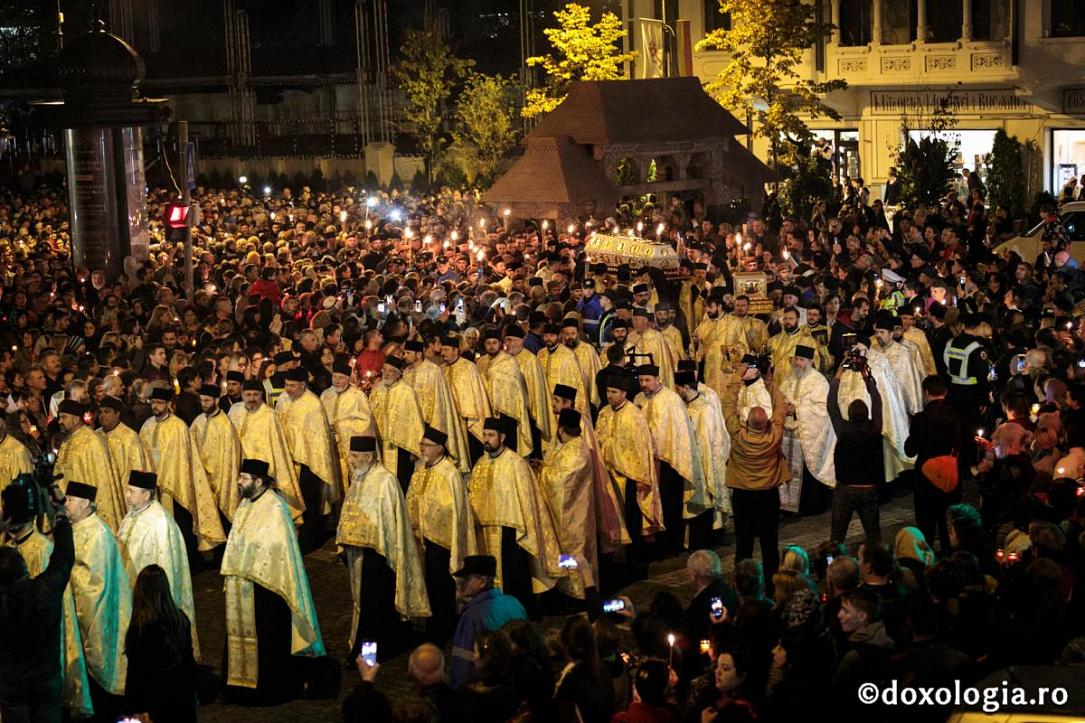 The largest pilgrimage in the country, which last year brought some 200,000 people to the Eastern Romania city of Iasi, will begin on Thursday, October 11.
People go to the cathedral in Iasi every year around October 14, the feast day of St. Parascheva, to pray at the Saint's relics. They usually spend hours in queues that can span over several kilometers, as Saint Parascheva is considered the protector of Moldova and Bucovina and Christians believe in the miraculous powers of the relics.
The pilgrimage and religious processions dedicated to the day of St. Parascheva will end on Monday, October 15. The Holy Liturgy is scheduled for Sunday, and will be held in front of the Metropolitan Cathedral in Iasi.
This year, the pilgrims can also pray at the relics of Holy Great Martyr Catherine, which will be brought to Iasi from Katerini, Greece.
In the context of this important religious event, transport company Memento Bus, part of the Christian Tour group, announced that it would introduce temporary buses to Iasi between October 10 and October 14, local News.ro reported. The buses will run daily on the Bucharest-Iasi route, with several stops in cities such as Urziceni, Buzau, Ramnicu Sarat, Focsani, Adjud, Bacau, and Roman. A one-way ticket costs EUR 14.9.
Railway carrier CFR also announced it would introduce extra trains on the routes to Iasi in the period October 11-15.
Saint Parascheva lived in the first half of the 11th century and was born at Epivata, nowadays Boiados in Bulgaria. Her entire body preserved and wrapped, placed in a casket with a glass top, is on display at the Iasi Metropolitan Cathedral. The Saint's relics were brought to Iasi in 1641, during the reign of the ruler Vasile Lupu.
Religious Romania: Churches and monasteries that attract the largest crowds of pilgrims every year
Irina Marica, [email protected]
Normal