Famous Romanians: Gheorghe Zamfir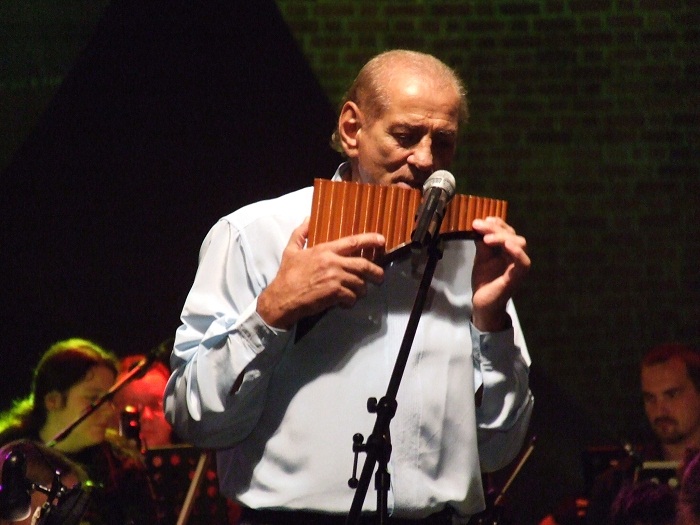 Gheorghe Zamfir is a famous Romanian composer and pan flute musician who has received 90 golden and platinum discs, released over 200 albums and sold over 40 million recordings. He is known worldwide as "The Master of the Pan Flute".
By Alexandra Fodor
Gheorghe Zamfir was born in 1941 in Gaesti, Romania. He was discovered in Bucharest by Swiss music producer Marcel Cellier and the two began performing concerts together in 1969.
In 1970s, he reached international fame when his song "Doina de Jale", a traditional Romanian funeral song was used as a theme for a BBC television series, The Light of Experience. In 1976, the song reached 5th place in UK Top 100 Hits. "The Lonely Shepherd" was his second European hit.
In 1972, he created the Pan-flute organ style, introducing new repertoires and ways of interpreting. In 1974, he composes the first "Mass for the Peace" for pan flute, choir, organ and orchestra.
He gave concerts in USA at Carnegie Hall and Kennedy Center, Australia, New Zealand, Japan, Canada, South Africa, Belgium, France, Switzerland, Austria.
His repertoire contains pieces from baroque and classic composers like Bach, Vivaldi, Schubert, Schumann, and Puccini to modern composers such as Lennon, McCartney, Billy Joel and Elton John.
His discography includes albums such as Classics by Candlelight (1980), Magic of the Pan Pipes (1982), The Lonely Shepherd, Harmony (1984), Zauber Der Panflöte (1992), The King of the Pan Flute and Other Favorites (1994), The Feeling of Christmas (1995), Gheorghe Zamfir: Les plus grand succès (1996), Music from the Movies (1998), The Feeling of Romance (1999), Rodrigo: Fantasia para un Gentilhombre – Zamfir: Concierto de Barcelona (2000).
In 1981, his albums were released on the American market where they were sold in millions of copies. In USA he won two golden discs awards, which was a unique event for a European artist and in Canada he has beaten all the records with five millions discs sold.
In 1982, he created the first rhapsody and the first concert for pan flute that he recorded for Philips with the Monte Carlo Philharmonic, under the Lawrence Foster's leading. In 1984, he created the first quintet for pan flute and string quartet called "The Poplars Quintet" that he sang with the Oxford Quartet in Toronto in a live radio broadcasting.
His music appears on the soundtrack of movies such as The Tall Blond Man with One Black Shoe (1972), Picnic at Hanging Rock (1975), Once upon a time in America or The Karate Kid (1984). "The Lonely Shepherd" song can be heard in Quentin Tarantino's movie Kill Bill.
Between 1988 and 1990, he was received for three times at the Vatican, being the first musician that sang during the private mass with the Pope John Paul II.
In 1993, he began teaching at the DAJOERI Pan Flute School in Zurich, and five years later, he established his own pan flute school in the Swiss capital.
In 2009, Animal Collective has sampled Zamfir in the song "Graze" on their EP Fall Be Kind.
Normal