Six Ukrainian artists featured in manifesto-exhibition in Bucharest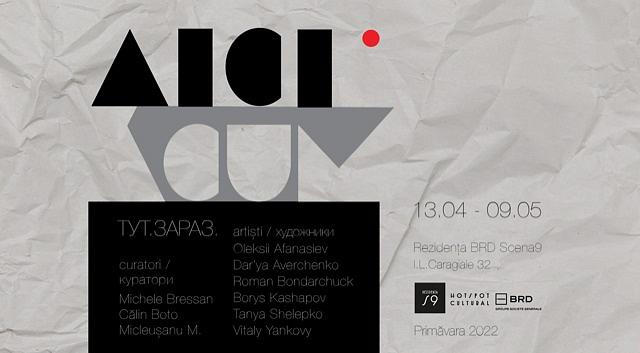 Six Ukrainian artists are featured in the exhibition HERE. NOW. The Artists Are Present, set to open at Rezidența BRD Scena9 on April 13.
The six Ukrainian artists are Roman Bondarchuck, Dar'ya Averchenko (cinema), Vitaly Yankovy, Borys Kashapov (visual arts), Tanya Shelepko, and Oleksii Afanasiev (music).
Some of the guest artists are still in Ukraine: director Tanya Shelepko and musician Oleksii Afanasiev are part of a contemporary theater company whose activities and rehearsals continue in a Kyiv basement at the moment.
Vitaly Yankovy is a designer who also works with video, animation, and 3D art. Borys Kashapov expresses himself through video and performance and has also developed his own style of painting. The two artists are currently in Bucharest, as are documentary filmmaker Roman Bondarchuck from Kyiv and screenwriter Dar'ya Averchenko.
The exhibition, described as a dialog about the power of art and presence against the backdrop of a dramatic historical context, is curated by Michele Bressan (visual arts), Micleușanu M. (music) and Călin Boto (cinema).
The project will also have an online component, consisting of a series of conversations between curators and artists, to be posted on all the communication channels of Rezidența BRD Scena9, and a cultural mediation program dedicated both to the Ukrainian community and the general public that have relocated to Bucharest, but also to local audiences.
"In 2010, Marina Abramović created her famous performance The Artist is Present, in which she invited members of the audience to take turns sitting across the table from her and look each other in the eye. The moment became iconic. Marina Abramović's performance was about time, perception, presence, and deep involvement. These are all aspects that we intend to propose, at another level, in the HERE.NOW exhibition. Today we are facing a critical moment, witnessing an ongoing war, framed by the prospect of its expansion on a global scale. Ukrainians are leaving their homes in a forced exodus, one that resets the continuity of life and human rights. Among many other initiatives already underway, we thought of organizing an event in which Ukrainian artists participate, an event built as a discreet but powerful artistic commentary. Artists will not be asked to create works for this project, but they will be present - physically or not - in the exhibition space," Michele Bressan, one of the event's curators, explained.
"We cannot remain indifferent to the war in Ukraine, and, as a cultural space, we can only assert ourselves and consolidate our position through art. Together with the three invited curators, we decided to turn the HERE.NOW moment into a manifesto conceived with the participation of six Ukrainian artists. The context of the HERE.NOW moment cancels out the importance of displaying works, of exhibitions articulated on the basis of aesthetic criteria, and imposes the need for dialog, communication, and sending out a common message of the artistic community," Suzana Dan, manager of Rezidența BRD Scena9, said.
The exhibition will be open until May 9, at Rezidența BRD Scena9 (32 I.L. Caragiale St.). Entrance is free of charge.
(Illustration courtesy of Rezidența BRD Scena9)
simona@romania-insider.com
Normal