Romania's chief anticorruption prosecutor gets Sweden's Polar Star order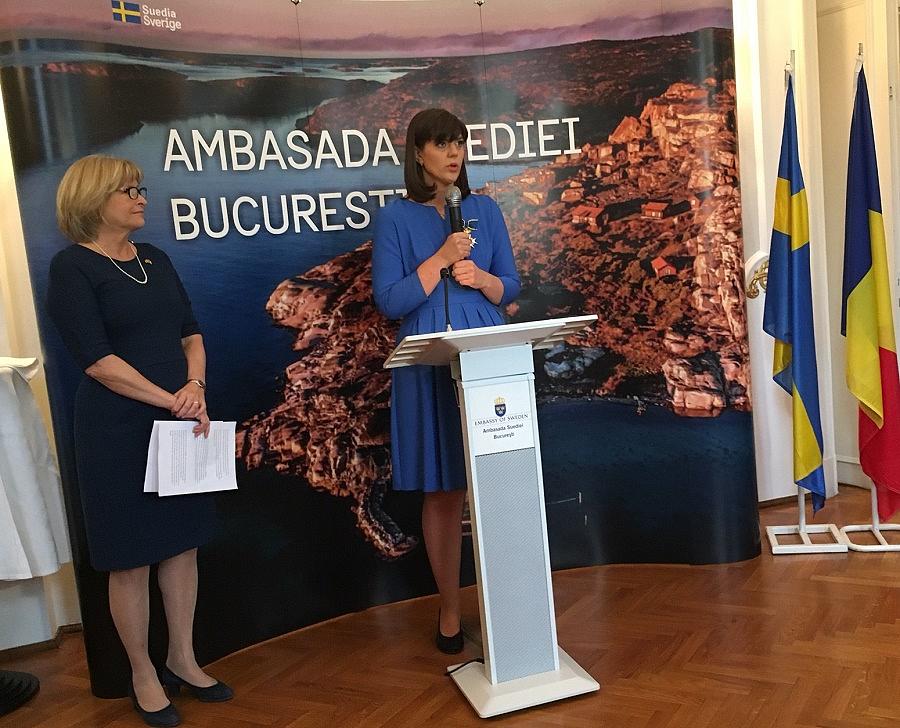 Laura Codruta Kovesi, the chief prosecutor of the National Anticorruption Department (DNA), has been awarded the title of Commander of the Order of the Polar Star by the King of Sweden, the Embassy of Sweden in Bucharest announced on Wednesday, November 2.
Kovesi was decorated for the "sustained and courageous fight against corruption in Romania, which constitutes significant steps toward improving transparency and the rule of law in Romania," according to the embassy's announcement, reports local Hotnews.ro.
Swedens Ambassador to Romania Anneli Lindahl Kenny offered the Commander of the Order of the Polar Star decoration to Laura Codruta Kovesi on Thursday. Several ambassadors in Romania attended the event.
The Order of the Polar Star is a Swedish order of chivalry created by King Frederick I on 23 February 1748. It is often awarded to foreign office holders such as prime and senior ministers during Swedish state visits, and to junior members of royal families.
This is not the first important decoration that Kovesi receives from a foreign state. In early-June, the chief prosecutor received the Legion of Honor National Order's Knight distinction from France's Ambassador to Romania Francois Saint-Paul, as recognition for her devotion in fighting corruption.
Back in 2011, Laura Codruta Kovesi received the French Republic's Order of Merit, in 2011. Then in April 2014, she was also given the "International Women of Courage" award by the US Embassy to Bucharest.
These decorations show that most Western countries support the anticorruption campaign in Romania, which has put several local politicians behind bars and has led to removing many others from key positions following the prosecutors' investigations. However, the chief anticorruption prosecutor has also been strongly criticized by a significant group of local politicans, including former Prime Ministers Victor Ponta and Calin Popescu Tariceanu and former President Traian Basescu, who claim that the anticorruption cases are driven by foreign interests.
Romania's chief anticorruption prosecutor gets the Reader's Digest European of the Year 2016 award
Who is the Romanian included in a list of 28 people "shaping, shaking and stirring Europe"?
Irina Popescu, [email protected]
Normal