Romanian film review – Gold diggers: The Treasure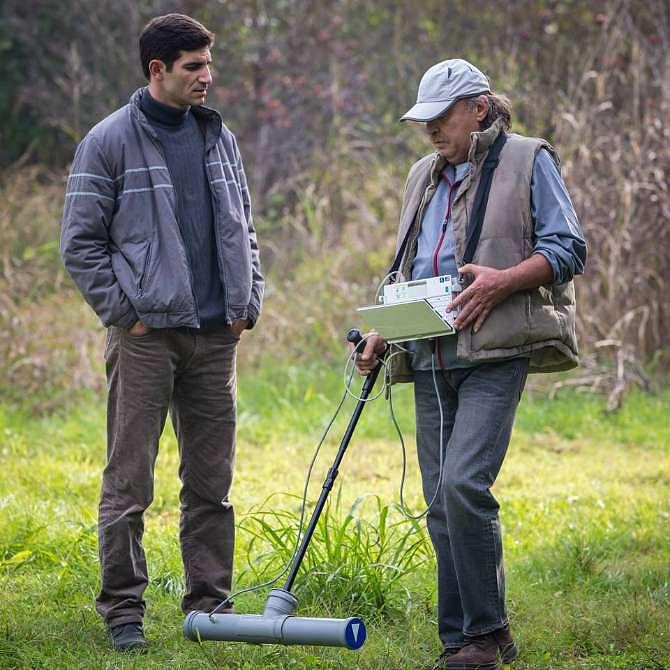 Three guys look for a treasure in grandfather's garden. This would sum up the plot of Corneliu Porumboiu's latest, Comoara/The Treasure. But the deceptively simple film has much more to offer and discovering its many pleasures is a delight. The film is currently showing in cinemas across the country and in its (very) art-housy way, it's the perfect summer film: a feel-good adventure.
Unlike Porumboiu's previous features, this is a straightforward, more classical story of a nice, decent family guy (Costi) drawn into a treasure hunt by his neighbour in need of money. After the latter says that apparently there is a treasure buried in his grandfather's house, Costi manages to find the money to hire a metal detector and they get started. The detector comes with an older guy handling it and the long scenes with him searching the yard with his annoyingly-beeping machine is a masterclass in deadpan humour and one of the funniest scenes I have seen in a long time. There is indeed something hidden in the garden and the following events leading up to the ending may alienate some viewers but it is in absolute line with the film's previous events and logic, a good addition to Porumboiu's series of glorious endings. There is also a hilarious police scene which is reason alone to watch the movie.
Did I mention the story is set in contemporary Romania? Despite its storybook elements and occasional 'older' look, it is, and what Porumboiu achieves to say about the current state of affairs is remarkable given the film's slight plot and apparent wide-eyed innocence. There is a razor-sharp commentary on social and economic issues and a terribly clever dissection of human relations. Romania's history is also approached as well as its legacy. All wrapped in a gentle, retro look with a touch of the surreal.
The Treasure is slow and patience-demanding (one could use the term 'minimalist'), its laughs are quiet and it requires a willingness to go along with its premise, laconic style and genre-busting ending. Much of the film's strength lies in its details, both narratively and visually: if you blink you might miss something relevant. Like with all Porumboiu films, the more you think about it, the more you appreciate its precision and admire its complexity.
It may not be the most bombastic release of the year but it's one of its most endearing, gently amusing and intelligent pictures. And something you haven't seen before in Romanian cinema. A warm-hearted treasure.
by Ioana Moldovan, columnist, [email protected]
Normal