Ten more bison released in Romania's Tarcu Mountains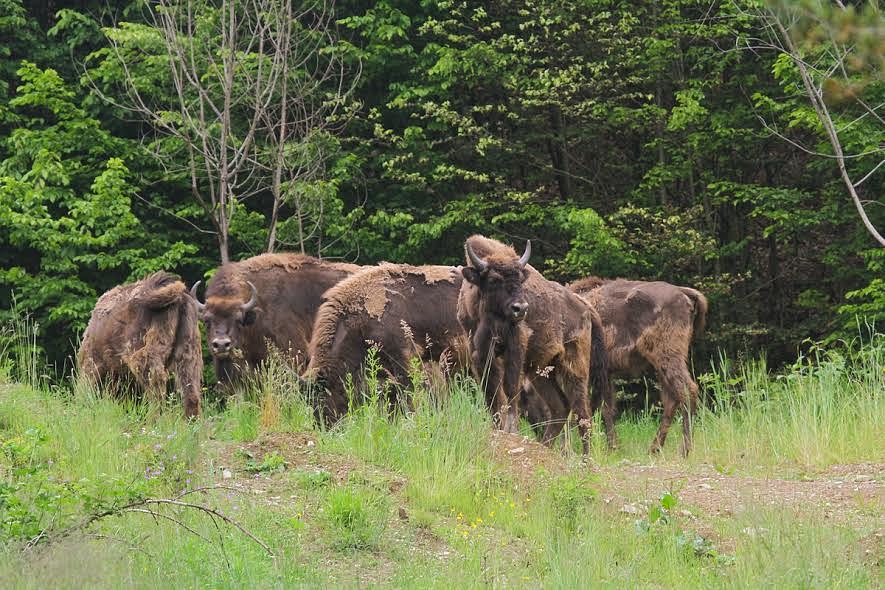 WWF Romania and Rewilding Europe have brought a new heard of ten European bison in Romania's Tarcu Mountains, in the Southern Carpathians area, this June.
The bison come from three reservations in Germany and Belgium and are the first ten of at least 100 animals to be released in the Southern Carpathians in the next five years. Once they adapt to the new ecosystem, the bison will be released into the wild and live in Romania's Southern Carpathians.
A total of 20 bison are currently living in Tarcu Mountains. WWF Romania and Rewilding Europe started in 2013 a project under which they aim to repopulate the Southern Carpathians with this special species of bison. In cooperation with local authorities and the community in Armenis and Fenes – the villages near the area to be repopulated, two bison releases have taken place in the Tarcu Mountains so far, with the first one taking place in 2014.
After about a month, once they get used to the new environment, the ten new bison will be released into an area of 150 hectares where they are expected to regain their wild instincts and form a heard. Once the WWF-Rewilding experts see that they are strong enough to survive on their own, the ten bison will join the other 20 animals already living in the Tarcu Mountains Natura 2000 site, which covers 59,000 hectares.
Other such events are to take place for at least five more years, part of the LIFE "Urgent actions for the recovery of European bison populations in Romania" (LIFE Bison) project financed by the European Commission through the LIFE programme. Moreover, in May this year, Rewilding Europe and WWF Romania took the first steps towards establishing a bison breeding center at Hunedoara Zoo, Romania.
Within the LIFE Bison project, Rewilding Europe and WWF Romania aim to create a viable wild population of at least 193 bison by 2020, which could grow to 300 animals by 2024.
Tarcu Mountains in Romania to host herd of 20 European bison brought by Rewilding Europe
Irina Popescu, irina.popescu@romania-insider.com
(Photo credit: Frans Schepers, Oana Mondoc)
Normal